We see a lot of houses working at America's Best House Plans and we fall in love with new ones every single day. Our staff spends hours daily exploring our 17,000+ plans in order to give you the best possible presentation of each house plan. With so many options, we tend to find house plans that we like more than others. That being so, it's impossible not to daydream about multiple homes at one time but we asked our staff to share their current favorite house plan with you. After analyzing the results, we found that each team member seems to like different styles and layouts. Below are their picks: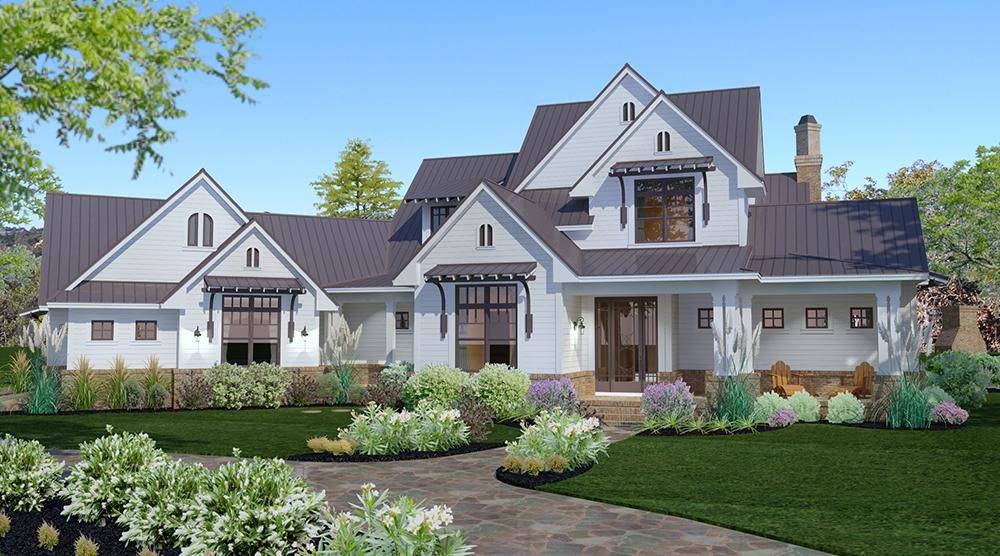 Modern Farmhouse Plan 9401-00018
Brandon, Co-Owner of America's Best House Plans, has caught the Modern Farmhouse bug that's been going around. His favorite house plan, Plan 9401-00018, reflects his preference for the clean lines, bold accents, and excellent porch space. This gorgeous Modern Farmhouse plan has a highly detailed exterior that draws you into its 2,984 square feet interior. The exterior facade highlights deep-set covered porches, multiple gables, a stone perimeter skirt, and stunning window awnings adding to the charm and character of the home. The angled garage hosts plenty of space for three vehicles with a pedestrian door, space for a workbench, and access to the utility porch. The remaining porches of this house plan include an 8-foot wide veranda granting front entrance into the home, the lanai serving as an entertainment area, and the side porch.
Stepping inside of this three-bedroom, two-plus bathroom house plan highlights an open floor plan, a main floor master, a two-story ceiling, and a bonus room. The master suite steals the show on the main floor with its vaulted ceiling, 5-fixture master bathroom, and generously sized walk-in closet. The common rooms entail a warming fireplace centered in the 2-story family room surrounded by wall-to-wall windows and an adjoining kitchen with a breakfast nook. This kitchen details two islands with a bar top, a walk-in pantry, and a butler's pantry leading to the semi-closed dining room. Designed with other key architectural elements, this Modern Farmhouse plan covers all the bases in the two-story home.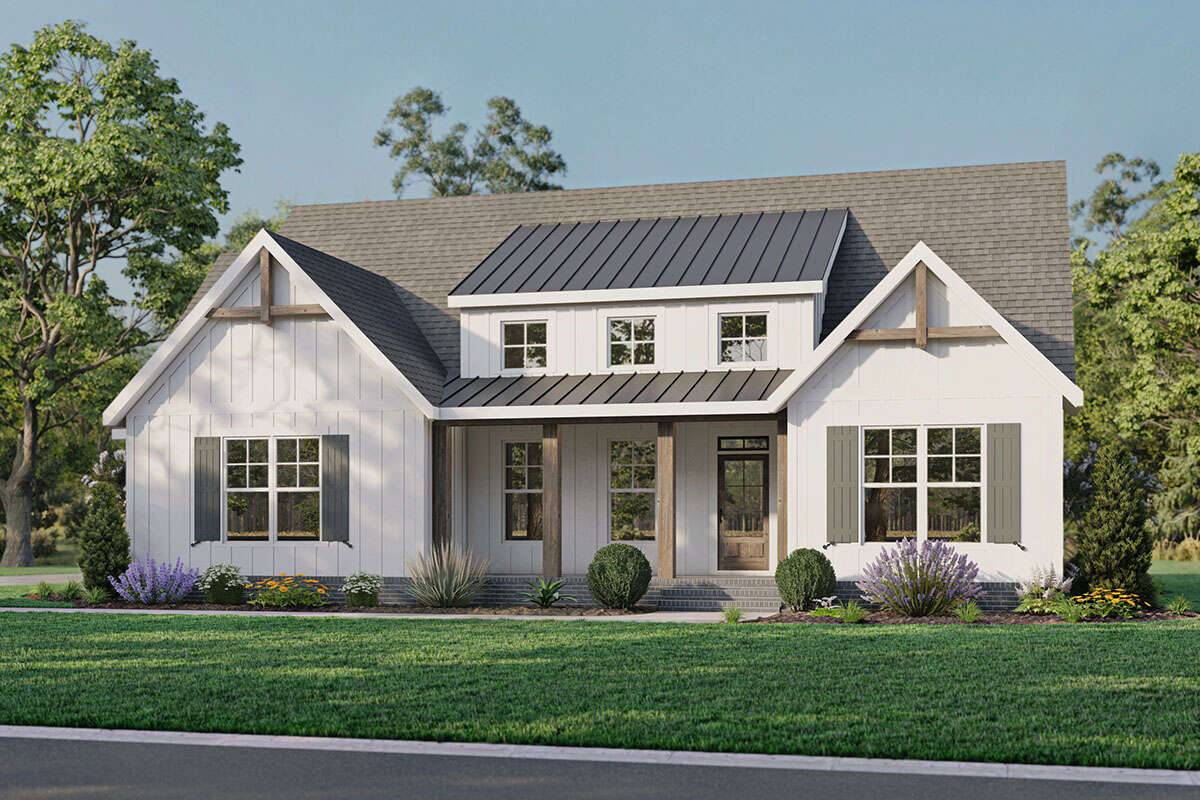 Modern Farmhouse Plan 009-00292
While Mark, Co-Owner of America's Best House Plans, is drawn to Craftsman homes more than any other house style, his favorite house plan is an exclusive Modern Farmhouse: Plan 009-00292. An 1,884 square foot home, this single-story house plan has an eye-catching board and batten exterior with exposed timber beams, window panels, and window dormers sitting under a steel roof. The rear countenance is equally as charming as the front. Here, you'll find a vaulted covered porch with just enough space to place a grill or add a few pieces of furniture. The two-car garage is a side-entry with a pedestrian door and a storage area.
The incredible interior of this Modern Farmhouse plan is full of architectural details that draw the eye and provide modern conveniences. Right off the front entry, the vaulted family room boasts of a 16-foot height outlined with exposed beams calling attention to the warming fireplace. Thanks to its immediate entry, this room receives extra amounts of natural light from the windows overlooking the front of the home and the dormer windows above. The open layout encourages a family-centered lifestyle as the adjoining kitchen and dining room configuration keeps the family cook in the loop at all times. Split bedrooms and the bonus room continue to make this house plan a flexible and comfortable place for you and your family.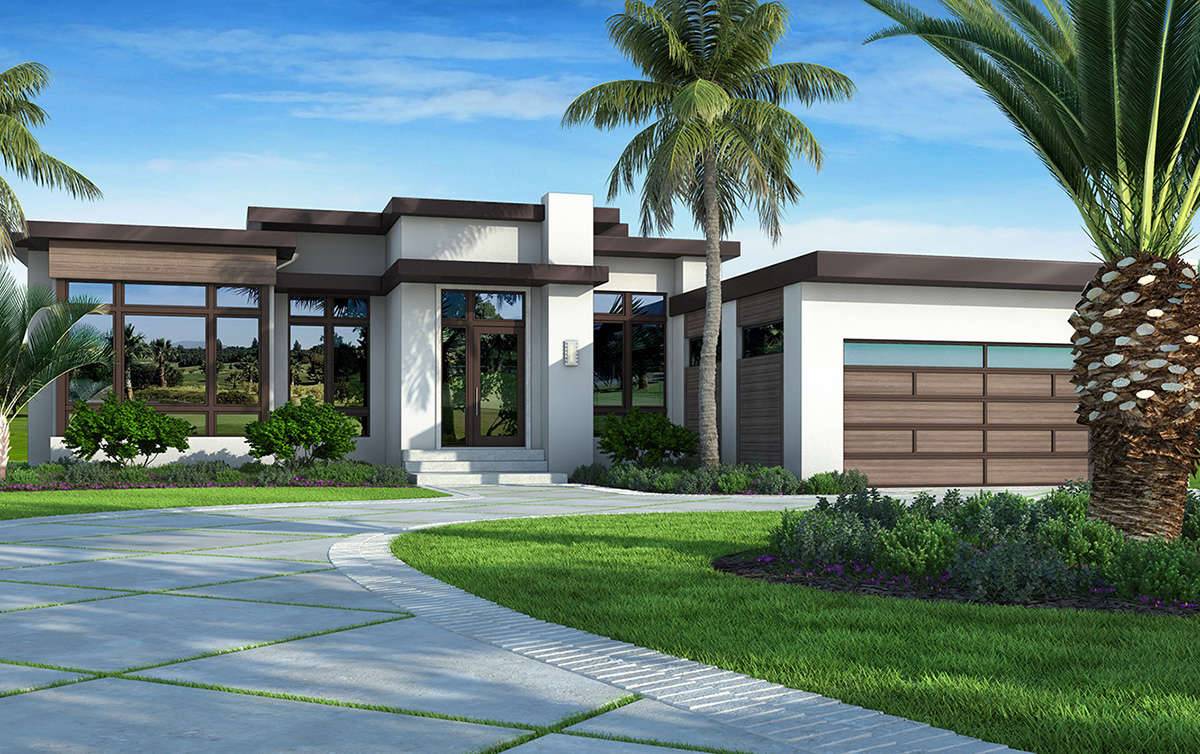 Shawn, our Team Lead, leans more towards the Modern and Contemporary styles and Plan 207-00084 definitely reflects that. This 3,083 square foot Modern home design treats you with an exterior that attracts glamour, showcases straight lines and big windows, as well as unique architectural details that represent the Modern style impeccably. The interior draws inspiration from the exterior as it removes the fluff of unnecessary design elements and sticks to clean lines sparking an energy-efficient use of space. With very few walls, the open floor plan of this Modern home design is brightened by natural light pouring in from the tall windows surrounding the entire home.
The highlight of this house plan is the entertainment factor provided by the covered lanai. Spring and summers will be filled with memories as this outdoor living area is complete with a warming fireplace, an outdoor kitchen, and plenty of space to decorate the area with relaxing patio furniture. With amenities as calming and festive as these, this gathering spot is sure to please during any time of the day, making this three-bedroom, three-plus bathroom house plan Shawn's favorite.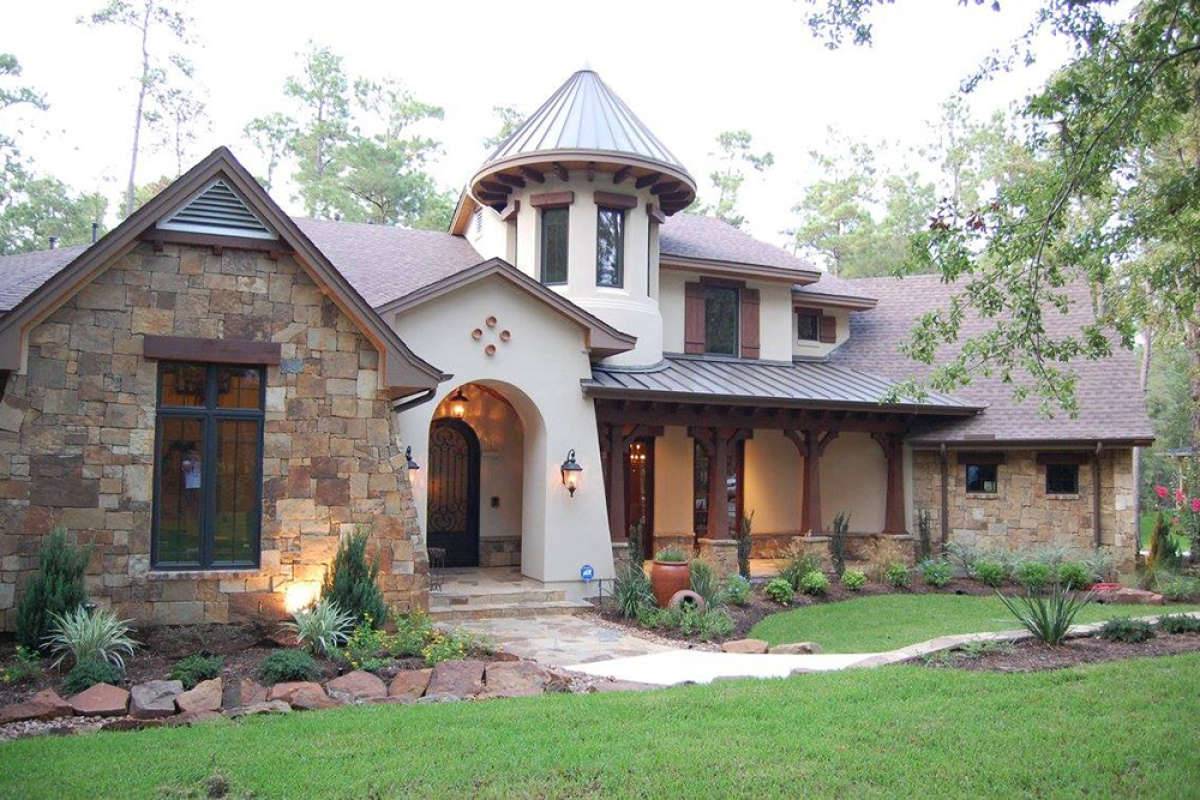 French Country Plan 9401-00083
Cynthia, our Jill of all trades and Head of the Customer Service Department, seeks charming characteristics when choosing her preferred style. Drawn to her love for whimsical cottages, Cynthia's favorite home, Plan 9401-00083 brings together a range of architectural styles to create this French Country home design. Its 3,230 square foot boasts a storybook-like exterior complete with a combination of warm woodwork, smooth stucco, a tower window accent, and a turret. In addition to its dedication to stylish elements composing the home, the functional use of the exterior highlights a welcoming place to create an outdoor oasis on the lanai and multiple porches. Complete with a fireplace to sit around during those chilly nights and a barbecue grill space to fire up your favorite foods, the rear of the home provides plenty of room to lounge and relax. The front covered entry greets the homeowner through an archway which then leads to the 6-foot wide veranda. This area makes the perfect spot for welcoming friends and family into the home or having delightful conversations with the neighbors while overlooking the beautiful courtyard.
The interior of this house plan equally satisfies the eye through its dedication to decorative ceilings and its family-centered, open layout. As each room lies under a different ceiling type, the dramatic archways create an Old World vibe adding to the warmth of the overall house plan, making it a place to settle in as home sweet home.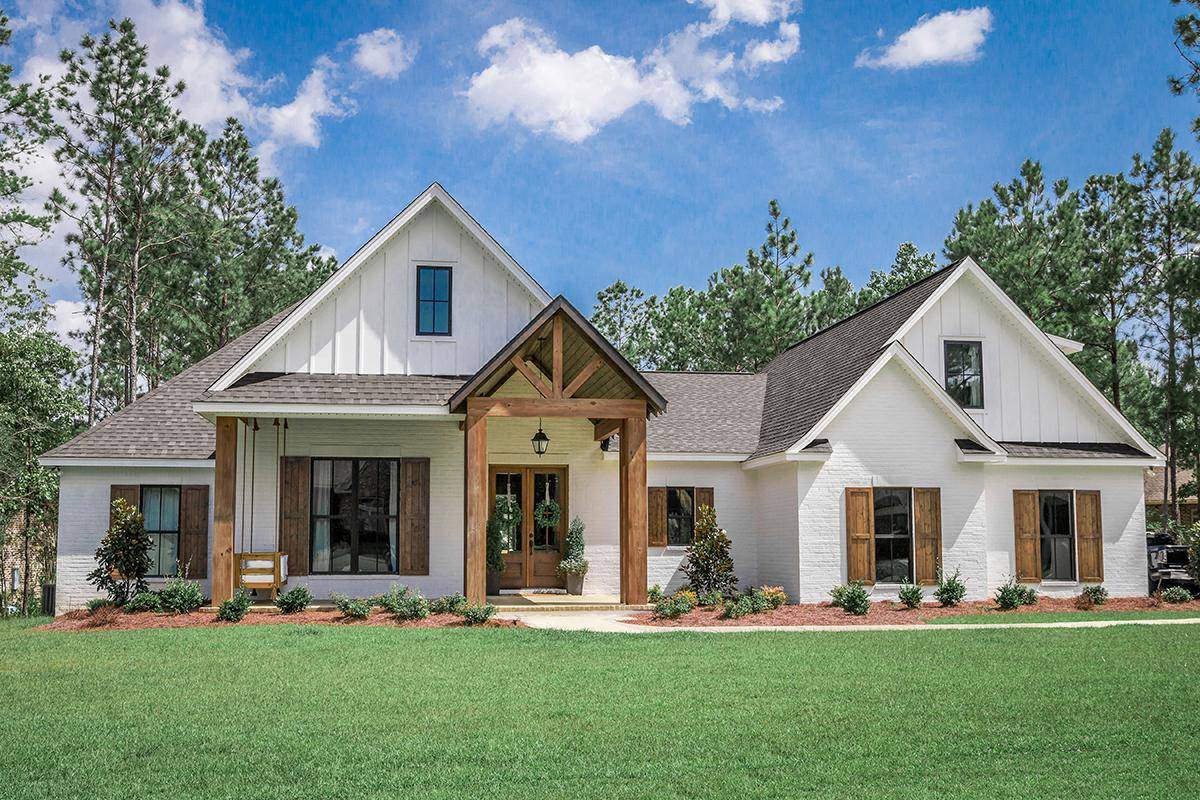 Brent, one of our Customer Service Representatives, thinks the European details combined with the Southern-style found in Plan 041-00187 make for a phenomenal place to call home. That's what makes this French Country design his ideal pick. The massive curb appeal of this house plan delivers a fabulous mixture of brickwork, board and batten, and timber for a contrasting rustic pop of color. Matching rustic window panels, gable roofing, and the vaulted front covered porch add to this plan's appeal as the two-car garage offers a side-entry for uninterrupted views of the front countenance.
The simple interior layout is designed for convenience and openness in a 2,373 square foot, four-to-five bedroom home. The split bedroom layout united with the hallways adds a much-appreciated element of privacy to all the bedrooms. This, in addition to, convenient design features such as the built-in shelving flanking the fireplace, the walk-in pantry in the kitchen, and the lockers in the mudroom work together for a comfortable dwelling lacking in nothing. Moreover, the best highlight of this house plan is the flexibility of the bonus room. Functioning well as a guest bedroom, crafts room, game room, or home office, the bonus room marks this French Country house plan as a wonderful family-friendly option.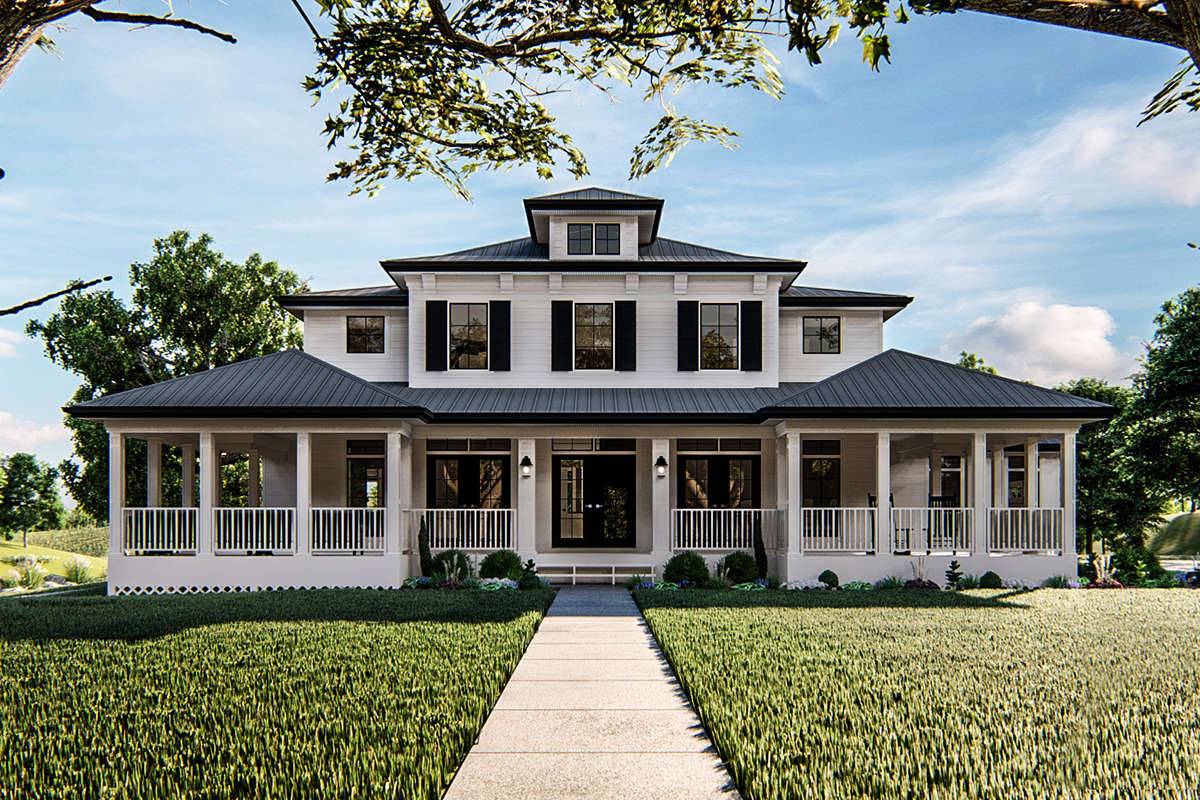 Meghan, our Marketing Director, normally falls more in love with the Modern and Contemporary style homes as its sleek lines and unique angles draw her eye but her favorite plan is surprisingly the complete opposite. Plan 963-00372 speaks to her southern roots as this Southern house plan presents a charming modern take on this old school southern style dwelling. Right off the bat, the grand wrap-around porch sets the tone for the remainder of the home as a feature you won't be able to take your eyes off of. A porch like this just beckons for long, relaxing rocking chair conversations while sipping a cool glass of fresh lemonade. This just adds to the attractiveness of the pergola on the rear patio as it presents a place to dine al fresco under the semi-protection from the sun. The remaining exterior of the home blends clapboard siding, metal roofing, and window shutters together harmoniously to create a perfect southern mixture. A ton of multi-panel window views draws natural light while the two-car garage offers a side-entry leading to the convenient mudroom complete with double benches, double lockers, and access to the guest powder room.
Once inside, the dedicated family spaces makeup the entire main floor right from the two-story foyer. When your family is ready to retreat to privacy the second floor houses the sleeping quarters which all enjoy the accommodation of en suite bathrooms. Whether you envision hosting formal or casual gatherings, this house plan is designed to provide you with all the needed spaces with built-in elements for convenience and an open floor plan.

Southwest House Plan 425-00029
Briana, our Marketing Assistant, gravitates toward a variety of house plan styles that provide a good balance of indoor and outdoor living spaces. Once she feasted her eyes on Plan 425-00029, she knew she found the one. The unique elements of the enclosed courtyard, the two-sided fireplace located between the dining and great room, and the large covered deck are all highlighted features of this Southwest house plan. The exterior is composed of smooth stucco, natural elements of stone veneer and timber, and two outdoor living areas. The courtyard entry splits the garage entries into a double and single bay. The front entry garage leads to the mudroom where there are lockers, a guest powder room, and a storage room, while the second garage entry leads to the hallway where the sleeping quarters are located. The main entrance leads to an entry tower behind a steel gate for an extra layer of protection as the entry tower opens to the enclosed courtyard. This area, in addition to the covered deck, makes for an exciting place to entertain. The spacious courtyard features a warming fireplace to gather around as you gaze at the stars, while the deck provides the ideal spot to host barbecue luncheons.
The wonderful thing about these two outdoor spaces is the natural light provided from the near wall to wall windows from the sliding glass doors. In its 2,770 square footage, the interior of the home showcases an open floor plan with three bedrooms and two bathrooms. Each bedroom provides en suite access to the adjoining bathroom and walk-in closets. Separated from the secondary bedrooms by the laundry room, the master suite enjoys a little privacy and provides private access to the rear deck, his and her walk-in closets, and a 5-fixture bathroom with style. The option to build a basement foundation adds to the captivating nature of the home as it adds extra bedrooms and dedicated entertainment spaces. As a whole, this Southwest house plan delivers a modern layout with unique features and a brilliant exterior design.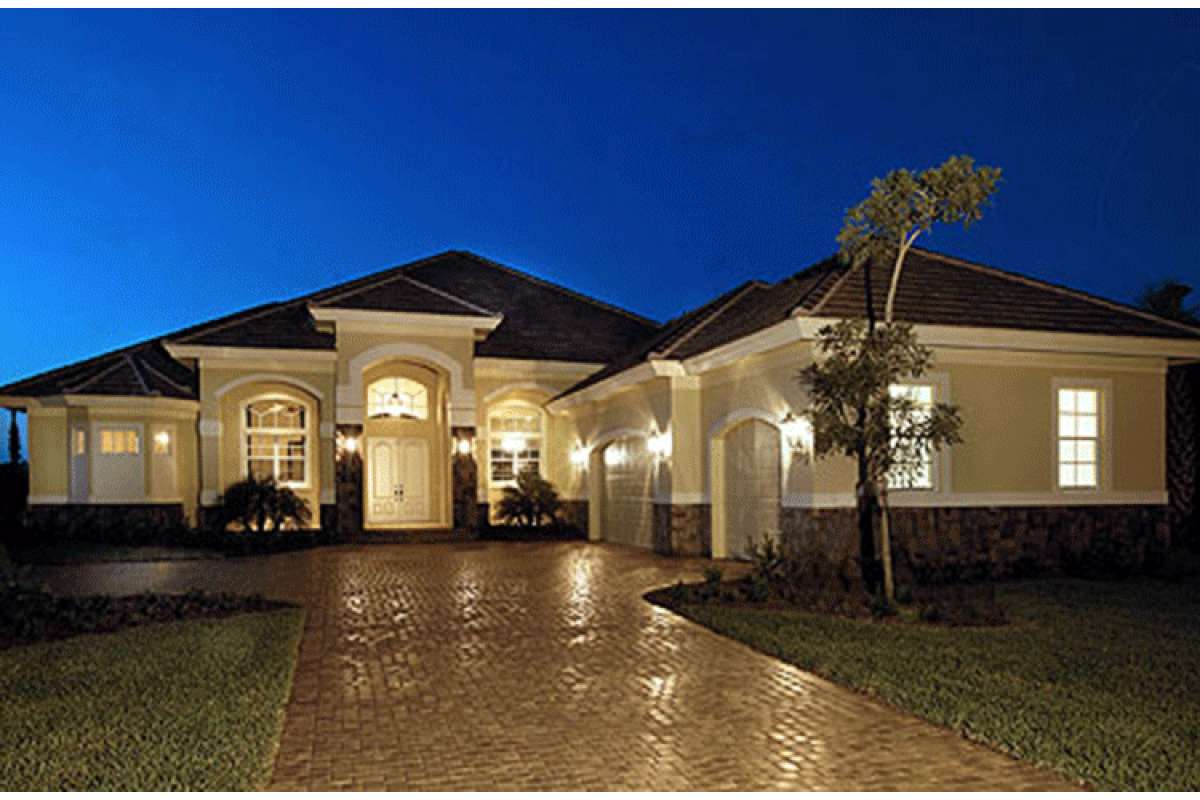 Mediterranean House Plan 1018-00054
Ashley, our Builder Relations Specialist, fancies Plan 1018-00054 with all of its elegant Mediterranean details. This swirling one-story home design features an exterior countenance consisting of smooth stucco, brick, and a grand courtyard entry leading to the three car garage. The rear of the home details a covered lanai spanning almost the entire width of the home and is complete with an outdoor kitchen, pool bathroom, and a fireplace. This, in addition to the large space for outdoor furniture, is an area just right for hosting pool parties and other summer activities while delivering a convenient 3-fixture pool bathroom complete with a shower. This brilliant addition removes the chances of water being tracked into the home.
The 3,089 square foot interior offers three bedrooms with three bathrooms in a split bedroom layout, allowing for plenty of privacy between rooms. Right off the foyer, the great room presents a considerable size with a double-sided fireplace shared with the dining room. Both rooms lie under a tray ceiling, host excellent window views overlooking the lanai, and deliver a good deal of room for family gatherings and dinners. As the homeowner, you'll love the master suite so much you'll be tempted to never come out. Not only does the bedroom host excellent space under a tray ceiling, there is also a romantic fireplace, a sunlit sitting room with private access to the lanai, and a spa-like bathroom past his and her closets. Step into this master bathroom and either dive into the bump-out soaking tub with extra window views overlooking the front of the home or step into the large shower with two shower heads. With a warm exterior façade highlighted with multiple outstanding outdoor spaces this Mediterranean house plan functions as a comfortable dwelling you will love to call home.
As you can see, we seem to gravitate toward a wide variety of styles, sizes, and features in our dream house plans. Thanks to our dedicated house designers, we receive new plans on a daily basis so the pool of homes to pick from grows constantly. That being said, we might fall in love with completely different homes tomorrow but for now those are our favorites. Do you have a current favorite house plan? Has your favorite style changed over the years? Let us know in the comments and make sure to explore our website to find your dream home.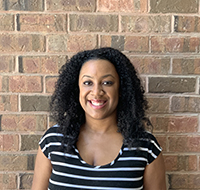 Latest posts by Briana Nixon
(see all)