What is a Barndominium? Its Origin, Purpose, and Evolution
If you're an HGTV enthusiast or love home renovation shows like Fixer Upper, chances are you've heard of this term. However, if you've been shopping for house plans for a while, you may have seen ultra-unique unique residences have exploded in popularity. Barndominium floor plans, or barndo as often called, are barn-inspired homes usually comprised of steel, batten, or rustic materials. They offer beautifully designed residences that meet a functional home's modern convenience, offering a unique exterior design with an oversized garage or workshop space.
Barns have become one of the most innovative home designs, originally designed for architectural purposes, such as storing hay, grains, fruits, and the farm's livestock. The first mention of constructing a barn into a home came from a Connecticut real estate developer named Karl Nilsen. A New York Times article from 1989 credits Nilsen for coining the term "barndominium" as its purpose was to create a community for horse owners to live in houses with barns or stalls.
The Evolution of the Barndominium
The term "barndominium" and the idea of living in a barn-style home didn't become popular until the third season of Fixer Upper when Chip and Joanna Gaines renovated a barn into a home. Ditching the idea of actually living with horses and making a garage/workshop a key feature, the style generated much interest in Texas, Oklahoma, and other southern states before spreading across the rest of the country.
House plan designers and builders alike took note of the cost-effectiveness of this home design, and thus barndominiums grew in popularity. As you explore our top 20 barndominium floor plans, you'll see how they offer carefully designed homes with stunning curb appeal and top key features to satisfy any size family.
Characteristics of Barndominiums
Barn house plans are one of our most creative and inspirational house styles. Closely related to the architectural characteristics of one of the most popular house styles this industry has ever known, the Modern Farmhouse, Barndominiums continue to gain popularity.
The Uniqueness of Barn House Plans
When you think of a traditional barn and how that could transform into a home, you will house the home to reflect all the conventional elements. Our barndominium floor plans echo the actual distinctive aspects of a traditional barn while keeping the style's character and charm. Modern features are included throughout our plans to make these designs a functional and comfortable home. A combination of rustic, steel, or board and batten siding. This house plans generally showcase a rectangular shape, gabled roofing, extended porches, and barn-style doors and windows. Our interiors typically feature an open floor plan to mimic a traditional barn's open and airy nature. They also include soaring ceiling heights, lofts, and decorative exposed beams.
Barndominiums Come In All Sizes
The size of our barn house plans ranges to suit the homeowner's needs. Our smallest barndos run just under 1,200 square feet for those looking for a lighter footprint. Our biggest barndos reach up to 4,913 square feet. Depending on your and your family's needs, our barndominium floor plans showcase a wide range of housing designs and features. For example, check out our top barn house plans below that present the best craftsmanship, desirable home features, and practical layouts.
Our
Top 20 Barndominium Floor Plans
Plan 963-00660

–

"The Stylish Barndo"

One of our newest additions to the barndominium plans collection is Plan 963-00660, an ultra-modern modern dwelling. Large windows surround this unique house plan welcoming plenty of natural light. With its black exterior, this three-bedroom plan features 2,752 square feet, 2.5 bathrooms, an open floor plan, a mudroom, and an office.
Plan 5032-00140

– "The Exclusive Barndo"

This 3,040 square foot barndominium showcases an exceptional and desirable home design you can only get on our website. Exclusive to our website, Plan 5032-00140 includes five bedrooms, three bathrooms, an open floor plan, a loft, and an office.
Plan 963-00625

– "A Barndo Dripping with Sophistication"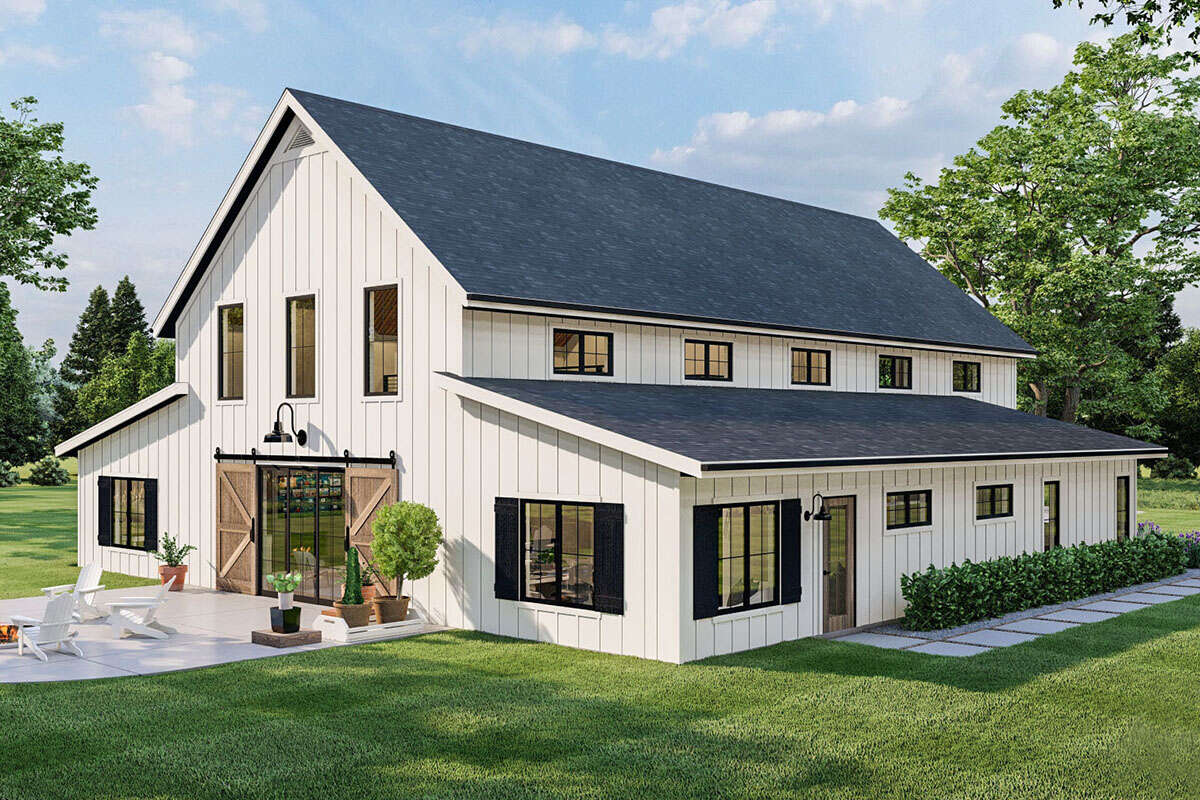 Who could have imagined that "barn" and "sophisticated" would be in the same sentence? But this house plan couldn't be described as anything less. Isquare-footuare foot interior inspires sophisticated finishes, featuring three bedrooms, two bathrooms, split bedrooms, an open floor plan, a loft, and an office.
Plan 963-00432

– "Holy Garage!"

This barndo combines different materials to enhance its architectural exterior and boasts an incredible 3,570 square foot garage! Plan 963-00432 also details 2,776 square feet, four bedrooms, 3.5 bathrooms, cathedral ceilings, and a loft.
Plan 963-00602

– "The Sunny Barndo"

Part of our 3-bedroom barn house plans, this rustic beauty highlights an enormous sunroom featuring a fireplace and cathedral ceiling. This house plan entails two bathrooms, an open floor plan, and a 3-car garage.
Plan 5032-00136

– "A Barndo with a Workshop"

Plan 5032-00136 prwell-thought-outought floor plan with plenty of separate entertaining spaces and a workshop in the garage. This 2-story barndominium includes 2,765 square feet, two bedrooms, two half bathrooms, and a loft. For an up close and personal view of the floor plan, check out our exclusive 360° tour of this plan!
Plan 963-00644

– "The Rectangular Barndo"

Forming a perfect rectangle, Plan 963-00644 welcomes you with a large covered front porch. Cathedral ceilings are a running theme throughout the home, from the porch to the interior. Its 1,695 square-foot interior also features three bedrooms, two bathrooms, split bedrooms, and an open floor plan.
Plan 5032-00117

– "A Barndo with Garage Storage"

If you are looking for a well-thought-out barndominium floor plan with room for your boat or RV, this may be your plan. Plan 5032-00117 details three bedrooms, 2.5 bathrooms, an open floor plan, a spacious wrap-around porch, a loft, and an office. Step inside this 2,456 sq. ft. plan with our exclusive 360° tour and get a load of the 1,280 square foot garage space.
Plan 8318-00115

– "The Red Barndo"

Inspired by the rustic red color of a traditional barn, this single-story barn house plan features a wide-covered front porch with a main front entry. Plan 8318-00115 offers 3,277 sq. ft., five bedrooms, 3.5 bathrooms, split bedrooms, an open floor plan, a loft, and a mudroom.
Plan 963-00387

– "The

Ranch Style Barndominium

"

This open-concept barndominium showcases unique glass garage doors and a covered patio with a tall window wall to brighten the interior. With the master on the main floor, this two-story barndominium floor plan includes 3 bedrooms, 2.5 bathrooms, and a loft within 2,079 square feet with an additional 1,164 square feet for the garage.
Plan 5032-00152

– "A Barndo for an RV"

This industrial house plan is sized just right for those needing space for an RV. The impressive 1,480 square-foot garage also includes a half bath. The inside of Plan 5032-00152 is complete with 2,311 square feet, 3 bedrooms, 2.5 bathrooms, a wrap-around porch, a loft, and a mudroom.
Plan 963-00601

– "The Small Barndo"

A popular 1,460-square-foot design, Plan 963-00601, proves that bigger isn't always better. Sometimes all you need are the essentials. With two bedrooms, one bathroom, and an open floor plan, Plan 963-00601 is complete with a garage workshop.
Plan 9401-00114

– "A Barndo with Outdoor Living Space"

This dazzling house plan perfectly uses every inch of its 2,486 square-foot layout. No space is left unplanned, as Plan 9401-00114 hosts three bedrooms, 2.5 bathrooms, an open floor plan, a mudroom, an outdoor kitchen, and a study. Check out the 360° tour to walk through this well laid out plan.
Plan 041-00260

– "The Classic Barndo"

A classic beauty, Plan 041-00260 offers a nostalgic nod to simple country life. This 2-story barndominium plan boasts a spacious 2,992 square foot home design with 4 bedrooms, 3.5 bathrooms, an open floor plan, a loft, and a mudroom.
Plan 6849-00064

– "The Grandiose Barndo"

This popular house plan has marveled our customers since its arrival on our website with its spacious outdoor spaces and exceptional exterior details. The incredible 4,357 square-foot layout includes many unique features, including a butler's pantry, a pet kennel, extra storage spaces, and a workshop. This 5-bedroom barn house plan also consists of 4 bathrooms, 2 half bathrooms, an open floor plan, a loft, a media room, a mudroom, and a study.
Plan 963-00411

– "The Apartment Barndo"

Plan 963-00411 offers a versatile 2-bedroom barndominium floor plan that sits on top of a 1,554 square foot garage as an apartment. There are two bedrooms on the top floor and one bathroom in an open floor plan layout. The garage hosts space for two vehicles, an RV, a mudroom, and a half bathroom. This plan works well as a primary residence, investment property, or a great place for adult children needing a place to stay.
Plan 963-00627

– "The Lakehouse Barndo"

Surrounded by windows and a covered wrap-around porch, this 2-story barndominium would make a great lake house. Its 3,205 square foot interior features soaring ceiling heights, four bedrooms, 3.5 bathrooms, an open floor plan, a large bonus room, a loft, and a mudroom.
Plan 5032-00010

– "The

Metal Barn House Plan

"

The practicality of Plan 5032-00010, along with its metal siding has made it extremely popular with our customers. Offering a guest bedroom, this 2-story, 2,160 square foot plan includes four bedrooms, 2.5 bathrooms, a loft, an open floor plan, and a mudroom.
Plan 5032-00119

– "The Wrap-Around Barndo"

This highly sought after home plan makes the most of its indoor and outdoor spaces. The covered front porch wraps around effortlessly! A wrap-around porch provides a wealth of outdoor living space. At the same time, the garage hosts space for three cars, storage, and a workshop with access to a half bathroom. The interior presents exceptional use of its 2,765 square feet with 3 bedrooms, 2.5 bathrooms, a den, a loft, and an open floor plan. Get to know this floor plan even better with the 360° tour!
Plan 5032-00151

– "The Most Popular Barn"

Beautifully composed of mixed material with a touch of the traditional red color, Plan 5032-00151 is our best selling barndominium. Graced with a desirable wrap-around porch, this barndo design fancies a spacious 2,123 square foot garage with an RV bay and space for a workshop. The interior is outfitted with cathedral ceilings, an open floor plan, 3 bedrooms, and 2 bathrooms. This house plan also offers a loft above the garage and an optional basement foundation. Admire this barn floor plan up close with a 360° tour!
360° interior image of Plan 5032-00151
Conclusion
Now that you've gotten to know our top 20 barndominium floor plans, which one was your favorite? Even if you didn't quite see one that suits you from that list, we carry a range of plans within this style. From small barndo floor plans to plans reaching over 4,000 square feet, we have a growing number of barndominium plans. We also offer modifications for all of our house plans. So you can tweak and change any of our plans to meet your needs. For more information on our barndominium floor plans, contact our knowledgeable customer service staff for friendly, personal, and speedy service!