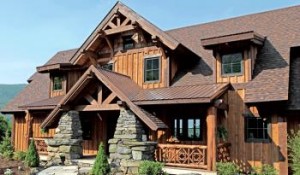 As a company dedicated to assisting our clients with their plan needs, we are please to bring you one of our newest style categories — Mountain Rustic House Plans. Whether you are searching for the perfect house plan to utilize as a vacation property, or for a primary residence, our Mountain Rustic House Plans provide lots of lovely and desirable commonalities that set them apart as some of our most popular plans.
Mountain Rustic House Plans
As you picture your ideal residence, do you imagine a house that incorporates lots of natural materials, including wood planks, stone, and other design features reminiscent of a cabin in the woods? As you browse our Mountain Rustic House Plans, you will notice lots of charming features:
The ability to be built on varying slopes. Many of our mountain rustic house plans (and our other plans designed for mountainous regions) can be modified based upon various slopes that inevitably occur in mountainous regions of the country.
Traditional cabin design. The look and feel of many of the Mountain Rustic House Plans draw upon traditional principles of architectural design, and because they call for the use of natural materials, these house plans have a vintage feel.
Large porches and fireplaces. Many of the Mountain Rustic House Plans available on our website contain large, expansive porches. Many provide wrap around porches, and other house plans include back decks. Additionally, these plans may include one or more fireplaces throughout the house.
Modern, open floor plans. Though many older, rustic cabins have lots of small rooms and limited larger spaces, our Mountain Rustic House Plans provide floor plans with open kitchens, large great rooms, and large windows providing expansive views. These types of floor plans provide opportunities for entertaining and spending time with family and friends.
With our Mountain Rustic House Plans, nature and architecture work together seamlessly to create a look that meshes well with the surrounding area. If you are searching for a Mountain Rustic plan, give us a call! We would love to help you figure out the right plan for your family.