Screened-in porches are the ticket to extending your indoor space to the outdoors. Enjoy the spectacular and unique views of your land by including one of these simple screened-in porch ideas in your next home. Imagine relaxing with a cold glass of lemonade, bird-watching from your rocking chair, and enjoying the breeze without those pesky bugs. That's where a screened-in porch comes in handy! By building a partially enclosed porch in your next home, you will increase the value of your house while also providing a screened-in area to entertain, relax, and enjoy the views of your land.
Reasons Homeowners Love These Screened-In Porch Ideas
Screened-in porches aren't just a southern thing. We are seeing homeowners building these unique spaces across the country for various reasons. Besides adding value to your home, a screened-in porch is also
additional living space

useful year-round in many locations

perfect for entertaining

keeps the bugs away

protects you from the weather

encourages you to get outside
The much-needed advantage of a safe place for entertainment is reason enough to include this space in your next home. A screened-in porch also offers protection from the weather and the bugs while offering a beautiful, comfortable space to enjoy time with friends and family; what more could you ask for? But the overall benefit to including a screened-in porch is added value to your home. By adding a semi-enclosed outdoor area, you are increasing your living space by extending your home outside. More space = more value! You can eat, watch TV, and cozy up to the fireplace all while appreciating the outdoor views and the comfortable breeze.
Disadvantages of a Screened-In Porch
Of course, there are also disadvantages to a screened-in porch. While they do protect from most weather conditions, a screened porch can get wet if the rain is strong enough and at the right angle. This means a screened-in porch is not weather-proof but rather weather-protected. Another disadvantage of a more closed-in area is the fact that your view may be slightly hindered depending on the thickness of the screens' mesh. A thicker mesh grants more privacy from neighbors than a thinner meshed screen will. Either way, you can still enjoy the sight of your beautiful land when you add screens to a deck or a porch, but you may have a small barrier to those amazing views.
10 Screened-in Porch Ideas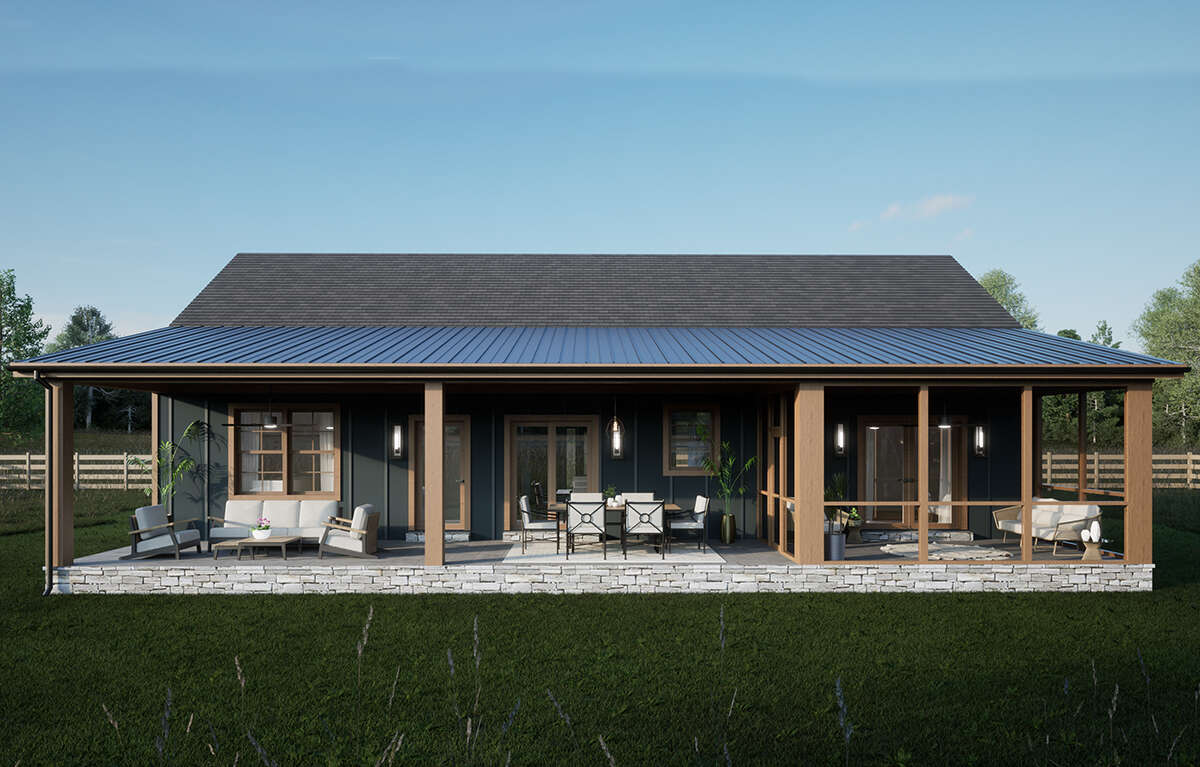 "The Best of Both Worlds" – House Plan 7174-00001 has both a covered back porch and a screened-in porch giving you multiple options for outdoor entertainment. The covered porch runs the length of this house plan with most of it exposed to the outdoors and a third screened-in. This one-story layout allows you to enjoy the screened-in area when the bugs and the weather require it like on rainy days or buggy summer nights. The rest of the porch can be appreciated on those perfect weather days; when you want to feel more of the breeze and sun as you relax outside.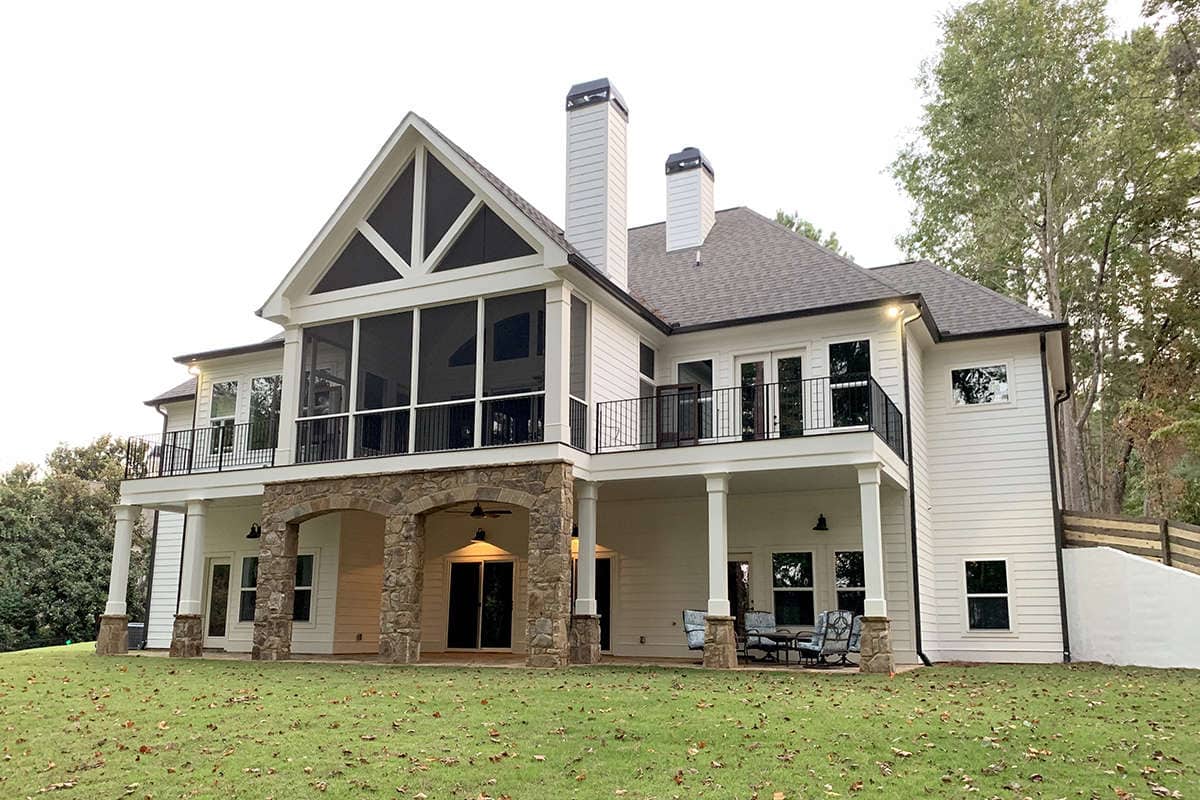 "Perfectly Covered" – With Plan 286-00103, both levels of this Craftsman house plan offer the ability to enjoy the outdoors in a variety of ways. The bottom level has a completely covered back porch that extends the width of the home. This covered porch is perfect for grilling and enjoying the yard. The upstairs area is one of the best screened-in porch ideas because it includes a fireplace for those chilly nights and vaulted ceilings for a stunning, outdoor dining experience. On either side of the screened-in porch are balconies, presenting a unique way to relish in the views of your land.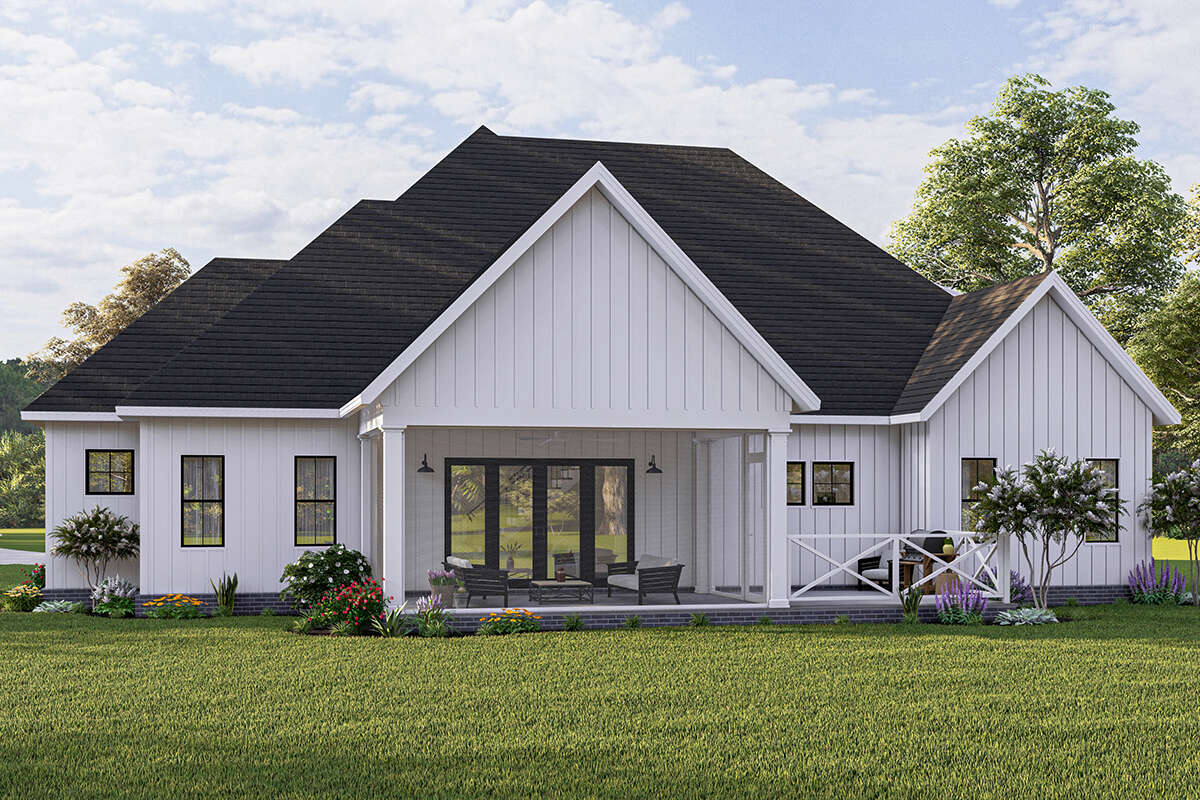 "Year Round Enjoyment": One of the more simple screened-in porch ideas, Plan 6849-00105 gives you the ability to look out your french doors and see the beauty of your backyard. This screened-in porch has minimal design details which provide less hindrance to your views. You can see every detail of your amazing backyard from inside your home or on your porch. Upgrade your parties by bringing everyone out to this fantastic screened-in porch!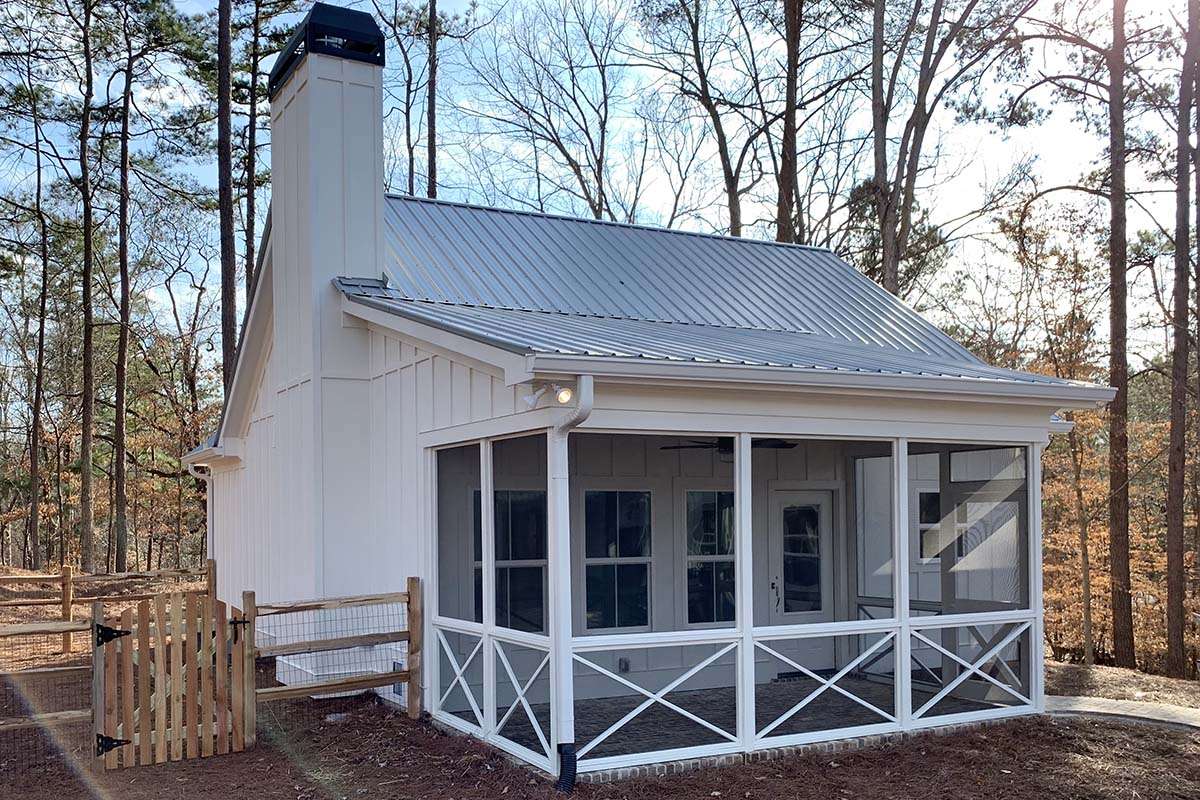 "Small But Mighty" – Are you more interested in small screened-in porch ideas? Plan 286-00090 is a small but mighty house plan with an amazing front porch you have to explore. In fact, the entire front part of this house plan includes a screened porch, providing you with the perfect outdoor space for those summer afternoons and fall nights. This is definitely one to add to the list of screened-in front porch ideas!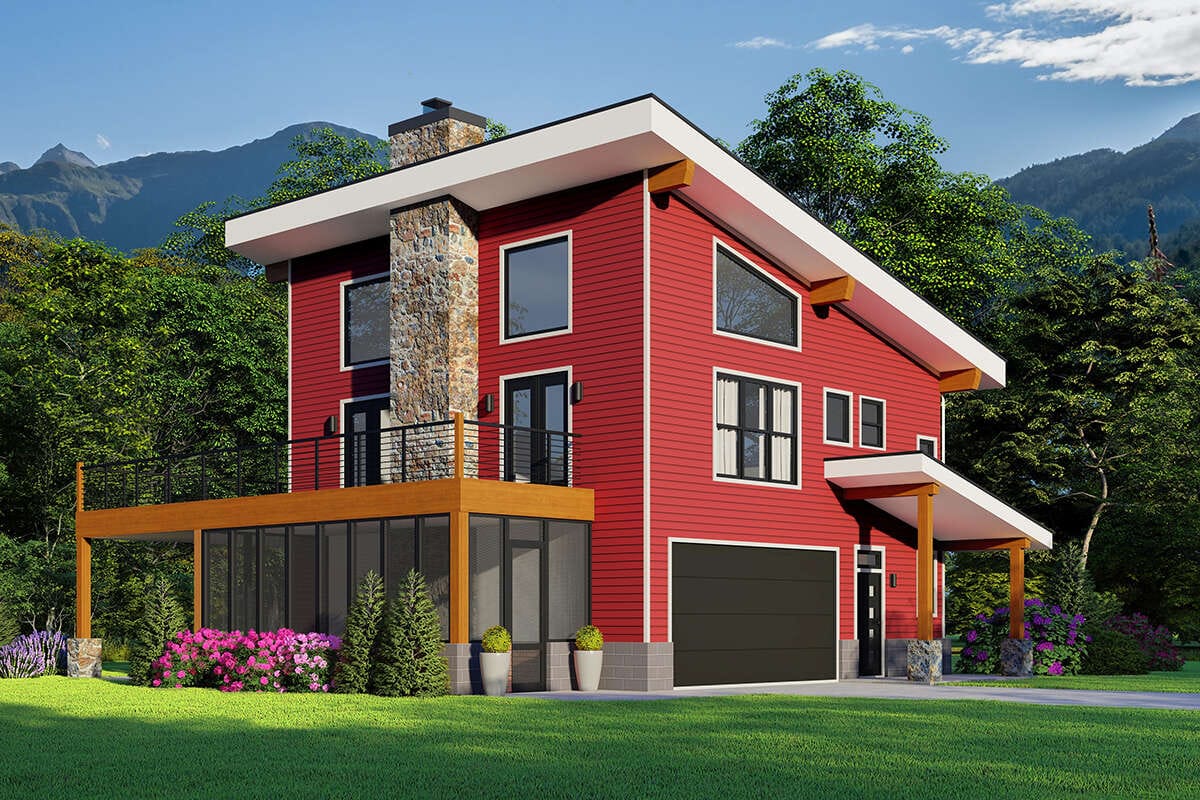 "Live That Modern Life" – Are you a fan of a Modern-style home? Plan 940-00623 offers a classic Modern style design with multiple, exceptional outdoor areas. With this house plan, you can use the large balcony to soak up the sun on those warmer days and unwind by the fireplace on your screened-in porch when the weather is less than ideal. Imagine the comfy nights sitting around the fireplace, appreciating the views, and feeling safe and comfortable in your screened-in area. The design of this screened-in porch is definitely more modern than the other examples with black molding and long lines, creating that slick Modern style.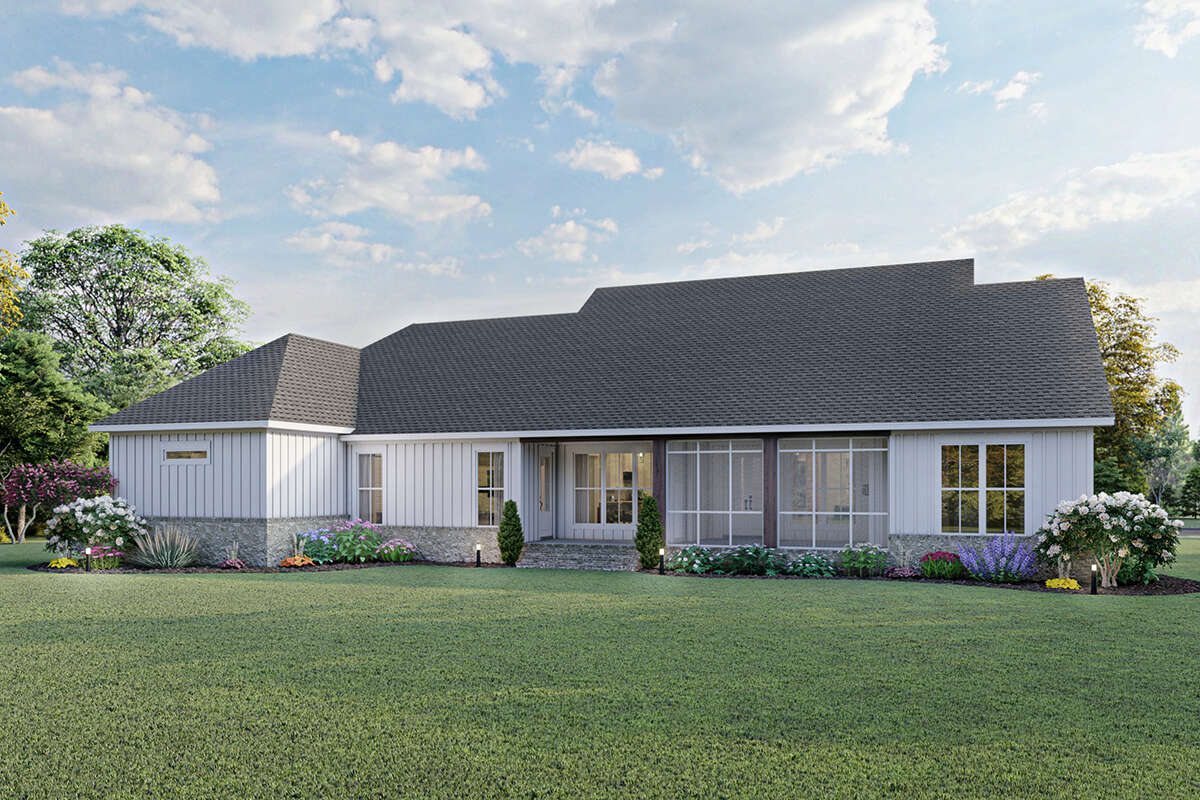 "Seamless Design" – For those that prefer a less obvious screened-in porch idea, Plan 041-00228 offers an excellent solution for you and your family. This one-story house plan features a back porch with molding details over the screens creating a seamless design that blends in with the rest of the house. Most people might not even notice that the area is screened-in at first. Thanks to these added design details, this Modern Farmhouse plan also offers more privacy than most screened-in porches which is ideal for private family gatherings.
"The Ultimate Dream" – When you imagine the perfect outdoor living area, the screened-in back porch of Plan 7174-00002 comes to mind. Featuring a large, stone fireplace, this area is show-stopping with the massive open views, the comfortable seating area, and the vaulted ceilings! Your friends and family will be in awe of this screened-in back porch idea! Not just perfect for entertaining, this outdoor living space makes for the ideal area for a movie night with the kids or a fun board game night.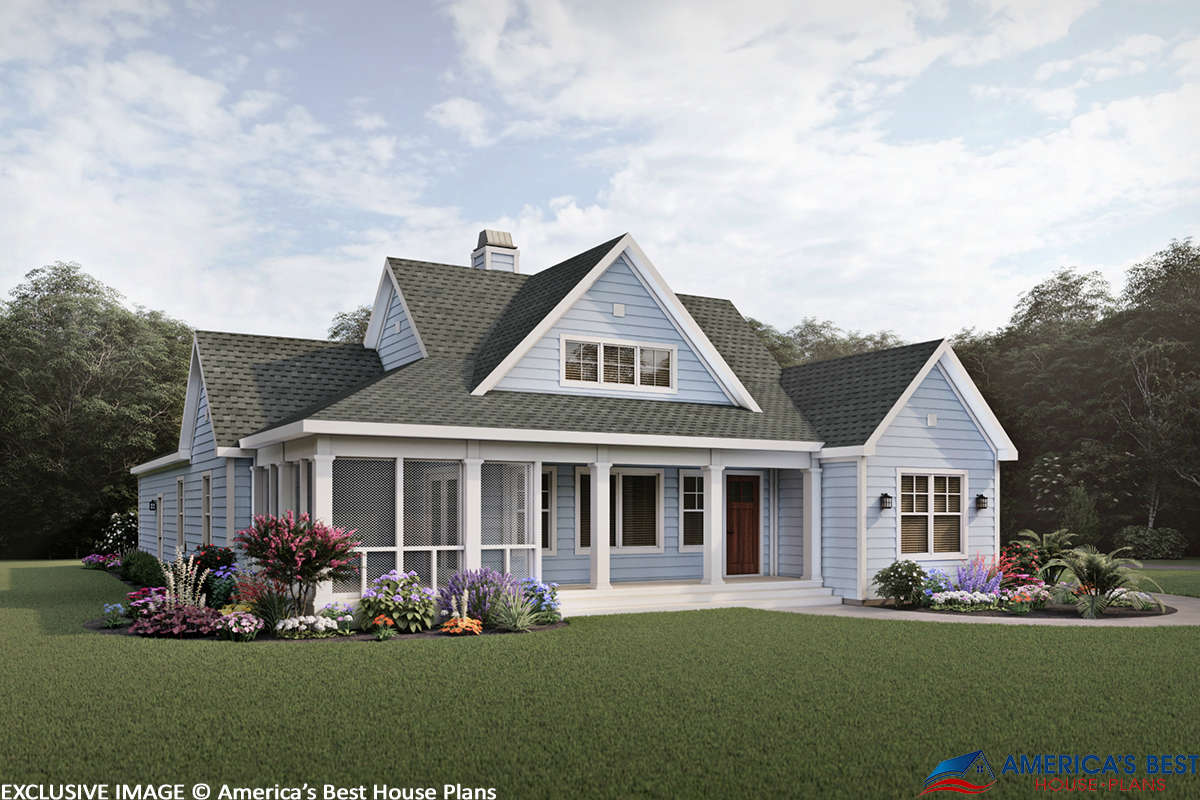 "Face The Front" – Most screened-in porch ideas center around the back of the house. But Plan 3125-00026 evokes some screened-in front porch ideas that you might not have considered. If you prefer the views from the front or side of your home, place your screened-in porch there rather than at the back of the house. This allows you to see the happenings of the neighborhood and be a part of the community, all while protecting yourself from harsh weather and annoying bugs.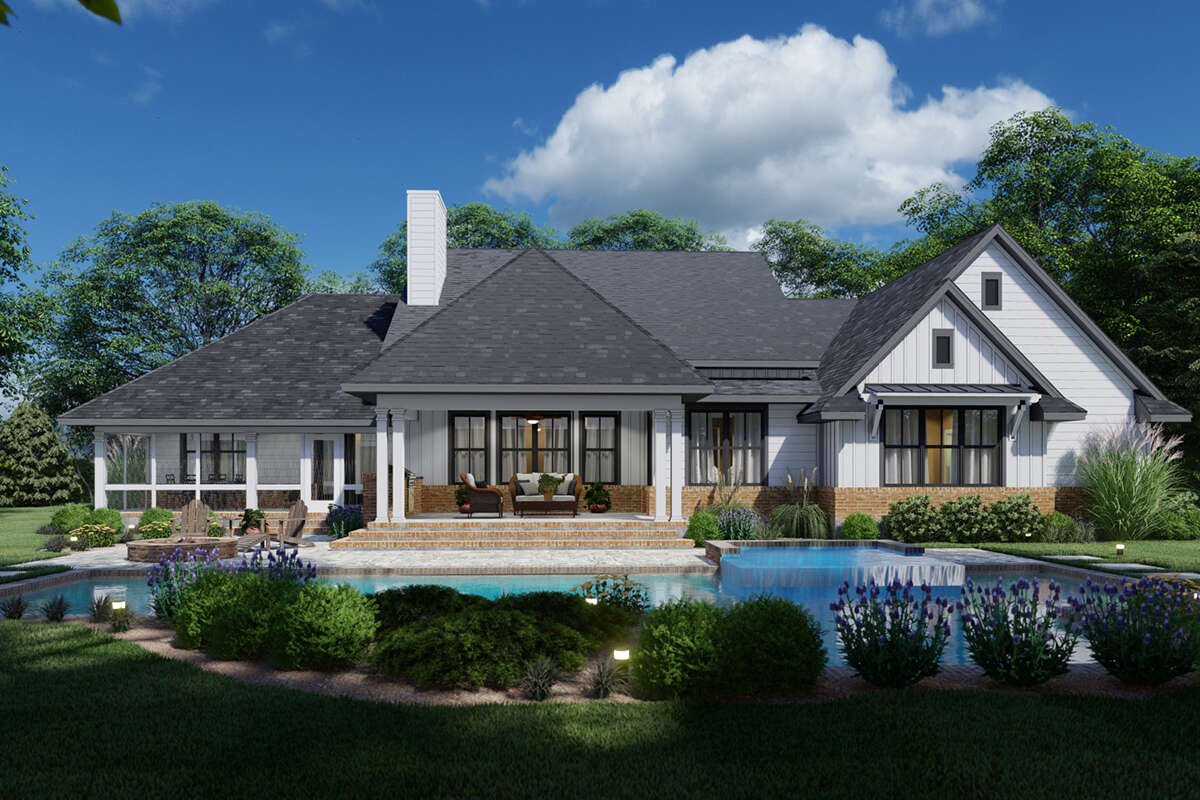 "Room With A View" – Perfect for homes in warmer climates, Plan 9401-00111 offers an inviting screened-in porch idea to make the most of warm weather days. Imagine the summer afternoons dining on this spacious screened-in porch or relaxing in front of that beautiful pool. With this house plan, you can enjoy the covered porch on those perfect-weather days and the screened-in porch when you need more protection from the elements. No matter where you sit, the view of the pool and your land will make for the perfect backdrop to any get-together.
"Live in Luxury" – Plan 699-00128 has a show-stopping backyard including a top-of-the-line screened-in porch! This stunning French Country house plan is covered in brick details and luxurious design elements. If you're considering adding a pool area for the ultimate relaxation, Plan 699-00128 features an extensive outdoor fireplace both on the bottom covered patio and on the top screened-in porch. Talk about the perfect back porch for entertaining! Your guests can explore both upstairs and downstairs while staying warm during the colder months thanks to the fireplace and cooling off during the warmer months if you include a pool on your lot.
After exploring 10 screened-in porch ideas, which one do you prefer? No matter which one is your favorite, these backyards would make any family happy and excited to spend their time outside. You can explore more house plans with screened-in porches on our website. We also have house plans with sunrooms, lanais, and wrap-around porches. As you decide on what you want in your next home, don't forget about the outdoor areas. They are just as important as the indoors!