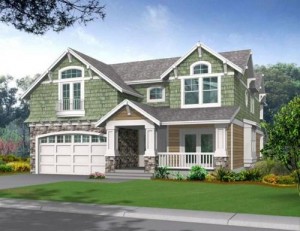 When approaching the process of building a home for your family, it can be difficult to know exactly how big your ideal home should be. Even understanding an appropriate range can be difficult. Where should one begin? What are the important factors to consider when deciding upon the size of home to build?
Factors to Consider
As you decide which house plan is the right plan for your family — along with its corresponding square footage amount — there are several main factors to consider and questions to answer.
What are your goals? What are your main objectives in constructing a new home? If your main objectives include additional space for entertaining, or increased square footage in order to have house guests or more children, etc. the amount of square footage in your home will obviously increase from the house in which you live now. If its the reverse, your square footage will decrease. Typically, your goals will correspond directly with space needs.
Exactly how many bedrooms will you require for the long term? Most house plans have 3-5 bedrooms. Obviously, some have more or less, but these are typically the numbers present in almost all house plans. Think through how many bedrooms you will need — size will correlate.
How often will you really use the office or extra den? If you are thinking about upgrading to a new house, and are strongly considering adding additional square footage over and above your current house, really think about the implications of your decision. It might not be worth the additional expenses to select a larger house plan — then again, you may use the extra space on a regular basis.
How do you use common areas? If your family tends to congregate in the kitchen (most families do — it's the center of activity in many homes), then it may be wise to invest in a house plan that has a large common area with nooks and crannies in outlying areas rather than a house plan with lots of separate rooms. Open floor plans often meet many families' needs for the long term — they combine kitchen with dining with living space, thereby creating a community center. Oftentimes, there are plans that have breakfast nooks or alcoves off of the center of the house, creating quiet spaces for reading or working.
How have you used space and corresponding square footage in the past? Thinking through your previous living spaces helps in the quest to create your dream home and the priorities you will pursue. If things have felt cramped and frustrating for you in previous houses, you will want to take that into consideration for the home you plan to build.
What are your storage needs? If you have lots of sporting goods or fishing equipment, or if you're a sewing enthusiast, or if your children are avid lacrosse players, it will impact the amount of closet space you need.
In the end, there is no magic number — no "perfect" square footage amount per person. Everyone and every family is different. Define your priorities, and plan for space accordingly.