The needs and wants of today's homebuilders are changing, as more and more people want specific features in their new homes that bring convenience, comfort, and privacy. Some of the most popular features we've seen a rise in house plans include a bonus room, a mudroom, and a split bedroom layout. To reflect that change, house designs are becoming more modern, stylish, and creative, optimizing the convenient interior layouts to complement the massive curb appeal of the exterior.
Explore our top five trending house plans reflecting the main features highly sought after by homebuilders.
Cabin House Plan 940-00126
The perfect vacation home for those who love the fresh outdoors, Plan 940-00126 offers a double master suite design with beautiful two-story vaulted ceilings right off the front entry. Homebuilders will love the oversized kitchen island, open floor concept, mudroom, and bonus room. The icing on the cake, however, is the fully covered wraparound porch and balcony off the second master bedroom. This two-story house plan is designed to optimize scenic views and to offer an oversized great room dedicated as an entertainment space where friends and family can gather together next to the cozy warming fireplace and enjoy each other's company.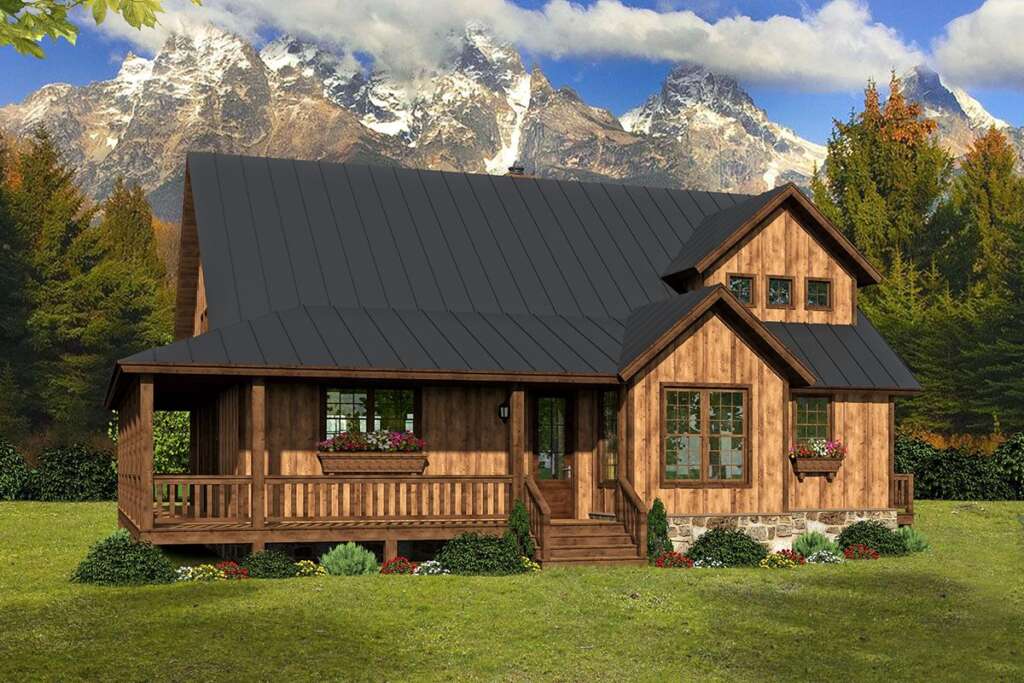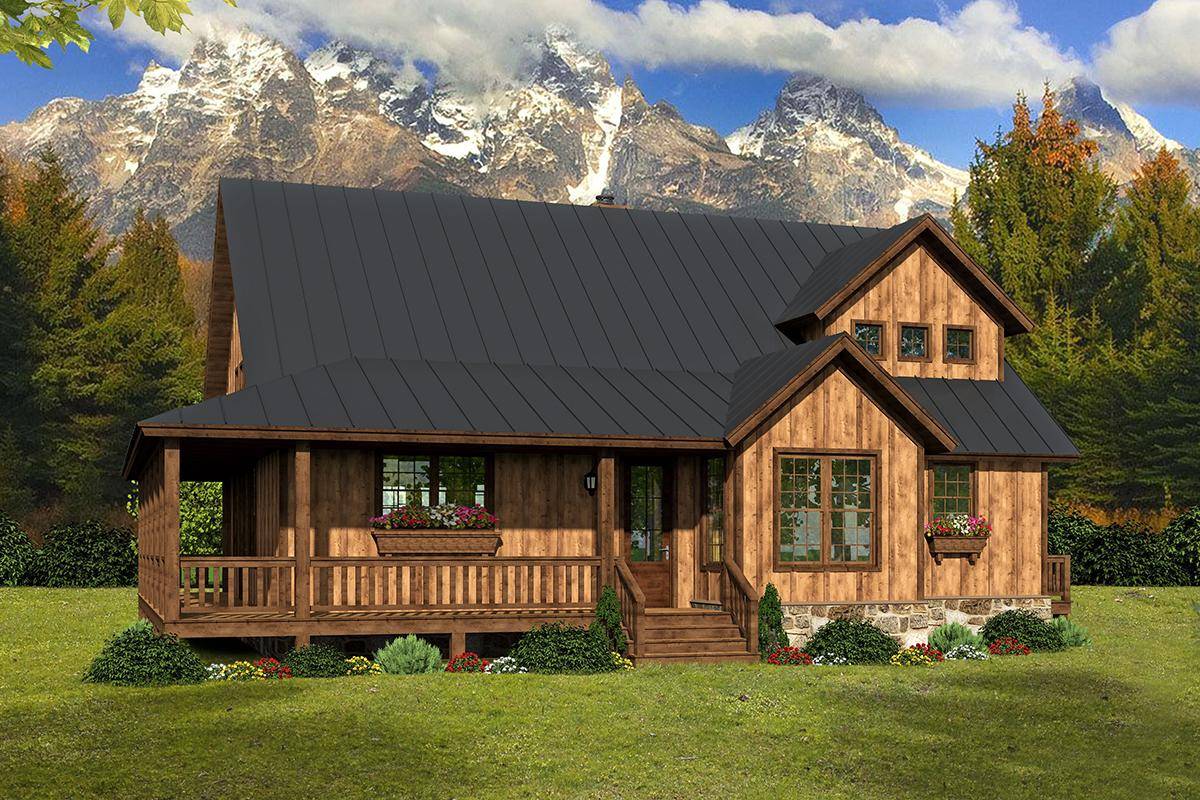 Cabin House Plan 940-00126

With the rise in popularity of our Modern Farmhouse plans, it's no wonder why these next four plans are stealing the hearts of our homebuilders. Its classic white board and batten exterior yields itself to the nostalgia of simpler times and strong family ties that homebuilder's find charming. These Modern Farmhouse plans all feature three bedrooms and two bathrooms with an exciting mix of interior layouts perfectly designed for small families, for a couple seeking to start a family, or even as a downsizer.
Modern Farmhouse Plan 041-00190
A rising star, this Modern Farmhouse plan checks all the boxes of the top features. The exterior offers incredible curb appeal with a welcoming front porch featuring a vaulted ceiling and enough space for rocking chairs or a porch swing and potted plants. Just like many of our popular plans, this Modern Farmhouse details an open concept revealed immediately off the front entry, split bedrooms for privacy, and a sizable rear porch. What stands out about this plan is the convenience of the attached laundry room and master closet as well as the size of both rooms. With a 9-foot ceiling height in the laundry room, there is a wealth of storage space and countertop room to fold clothes, hang up linen, and a sink for pre-washing or hand-washing clothes. In 2,201 square feet of usable living space with an optional bonus room, Plan 041-00190 fulfills the needs of any family.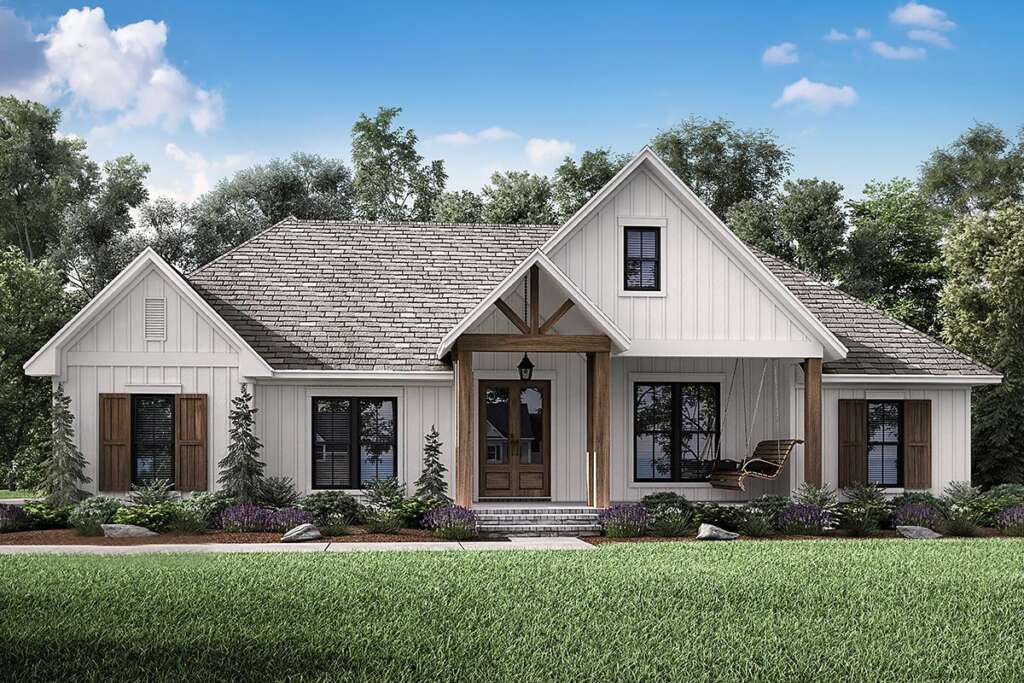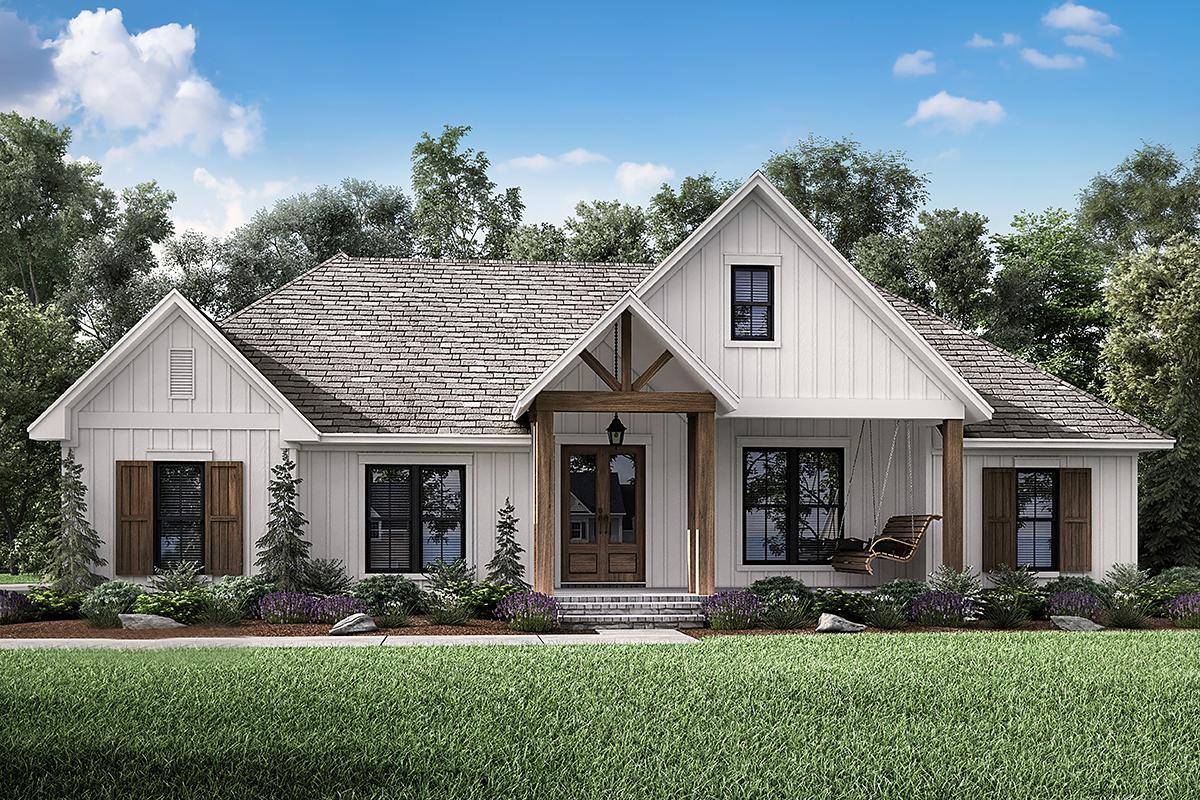 Modern Farmhouse Plan 041-00190

Modern Farmhouse Plan 009-00288
Homebuilders are falling in love with this exclusive Modern Farmhouse plan because its uncomplicated layout and main floor living make it a great home to grow old in. Soaring ceiling heights from the vaulted family room create a wide, airy feeling while the open floor concept offers an uninterrupted flow between rooms. The split bedroom layout is highlighted by the privacy hallways separating both the master bedroom and secondary bedrooms from the main living areas. In addition, the master suite is tucked away behind the garage and has private access to the covered porch, adding a remarkable value to the home.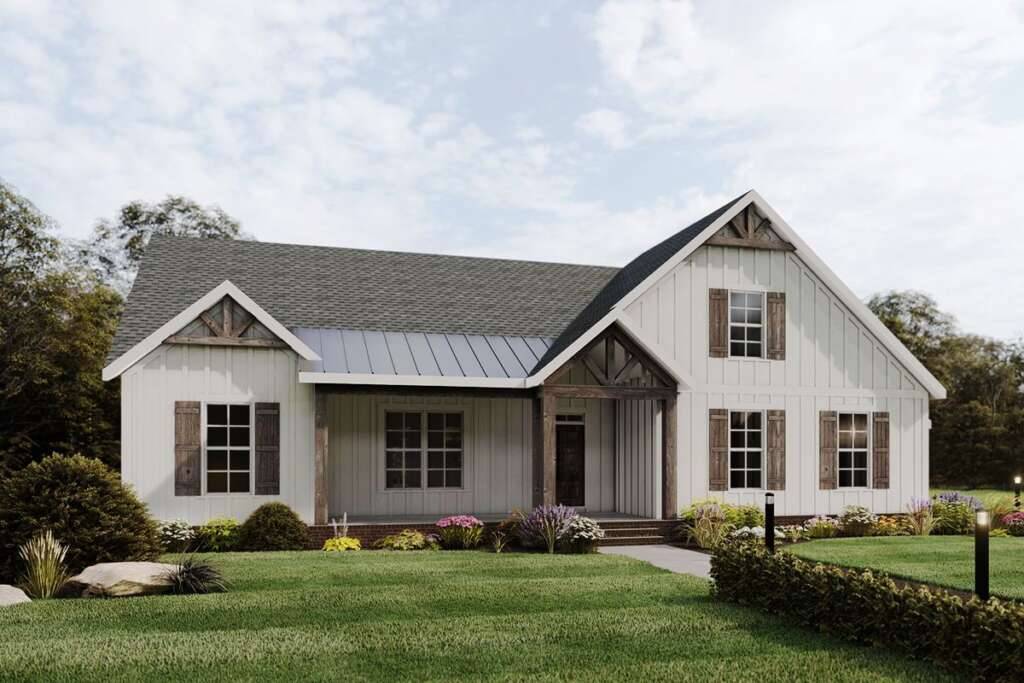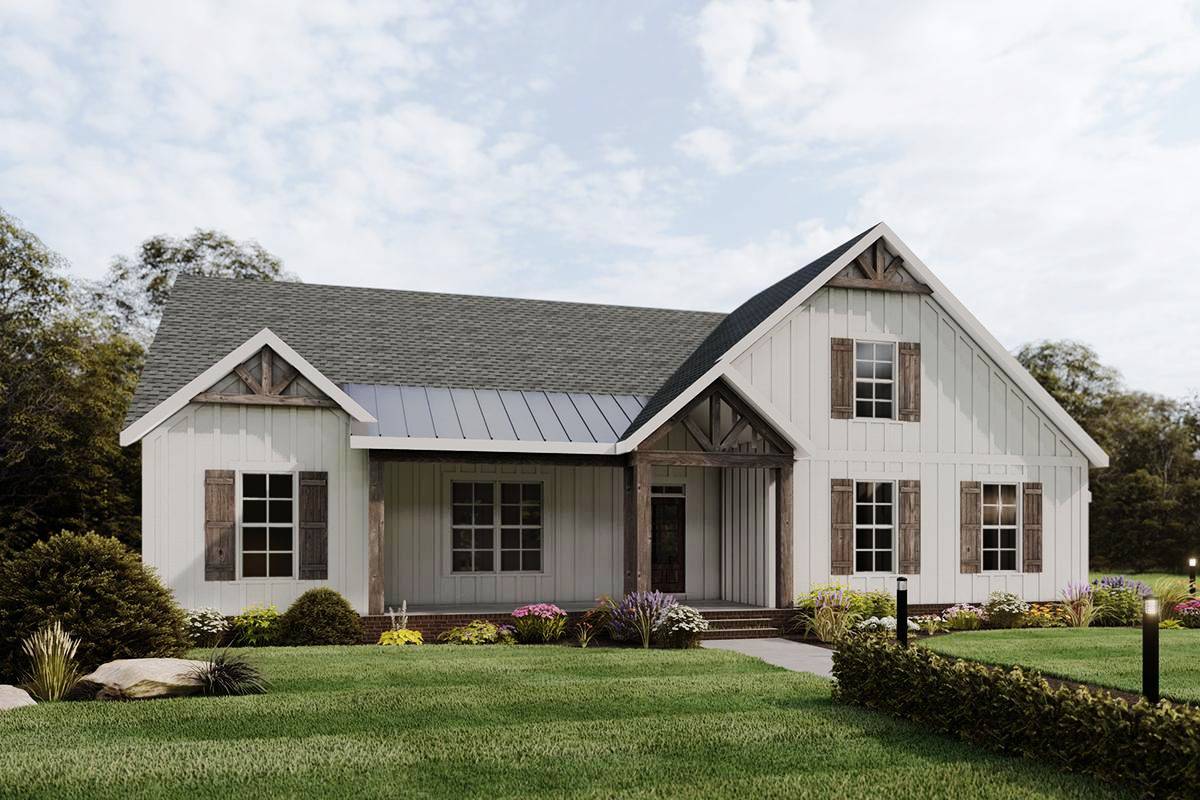 Modern Farmhouse Plan 009-00288

Modern Farmhouse Plan 2559-00815
Plan 2559-00815 is a trending favorite for its value as a simple, economical interior layout with an attractive Modern Farmhouse façade to match. Furthermore, the overall width and depth of the plan allow the home to sit on a reasonable lot size. The 16-foot foyer sets the tone as natural light from the dormer window above the front door pours into the front entry. The vaulted ceiling in the great room and the master bedroom as well as the open floor concept help to make this 1,878 square foot home feel open and inviting. Though this house plan does not have a split bedroom layout, the master suite still retains plenty of privacy from the secondary bedrooms. The dedicated outdoor living area with a barbecue corner wraps up the attractiveness of this Modern Farmhouse plan.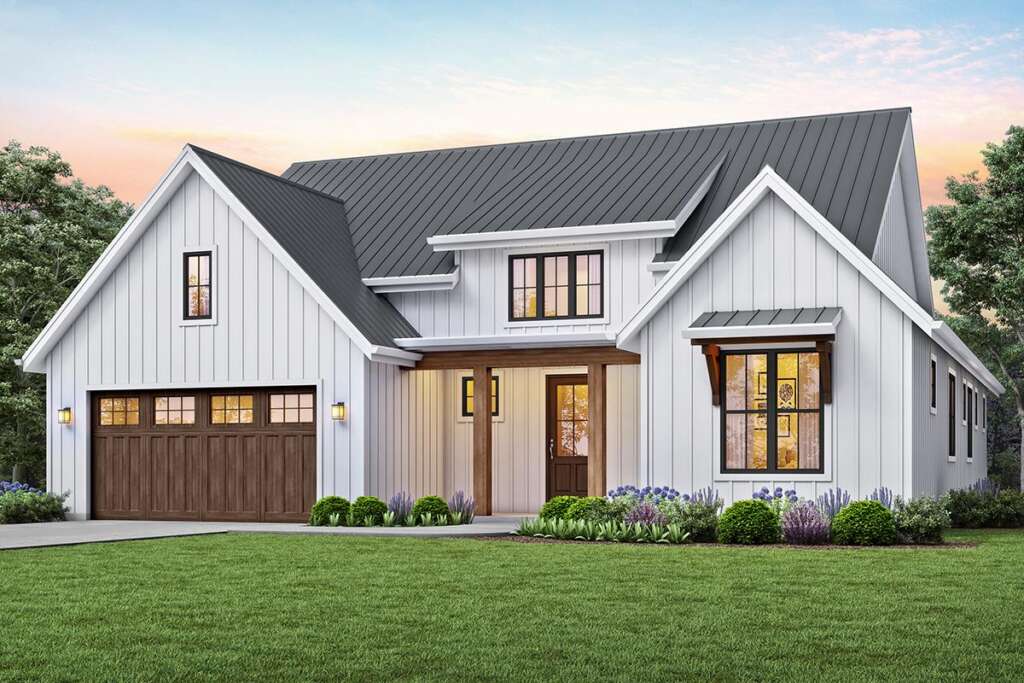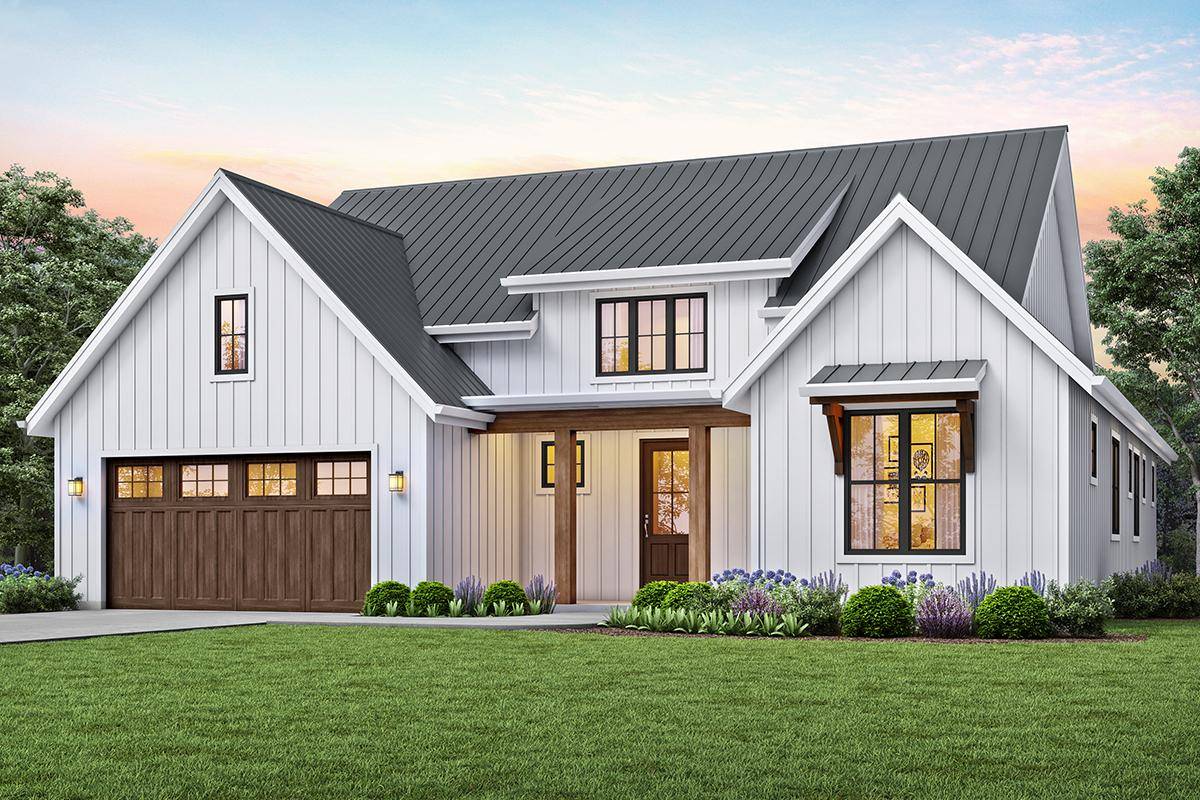 Modern Farmhouse Plan 2559-00815

Modern Farmhouse Plan 041-00206
Wide covered porches, volume ceilings, and large open living spaces are just a few reasons homebuilders are flocking to this Modern Farmhouse plan. Hitting every one of the top trending features, this home design maps out incredible convenience and architectural interest with exposed timber beams and vaulted ceilings creating aesthetic pleasure. The kitchen details a delightful oversized island, window views over the sink, and a large walk-in pantry overlooking the dining area and great room. The split bedroom plan provides excellent privacy enhanced by the hallways separating the rooms from the common areas. Lastly, this single-story home offers an optional bonus room that proposes incredible functionality and endless possibilities.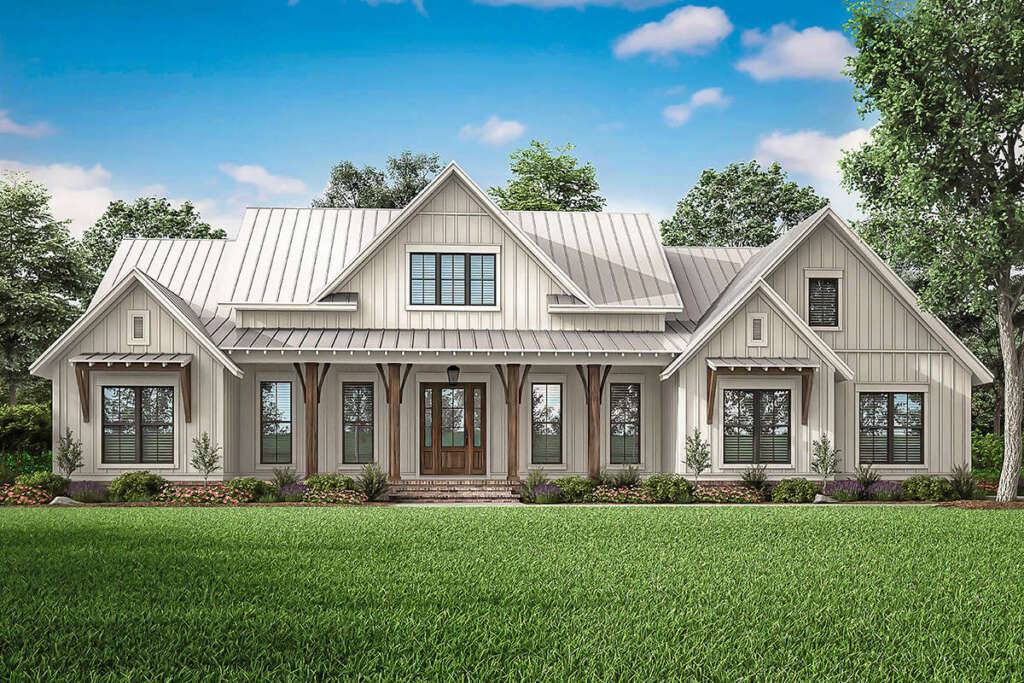 Modern Farmhouse Plan 041-00206

From attractive exteriors to conveniently mapped out interiors, you'll fall in love with these trending house plans. Each one reflects the needs and wants of today's homeowner. Visit our website to learn more about these and other popular house styles. Click here to explore other house styles with the top features.