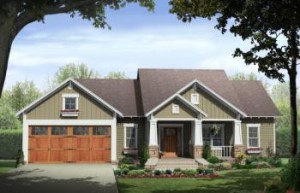 Did you know? Over thirty of the house plans available on America's Best House Plans include some type of video footage related to the individual house plan listed. When searching for a plan, a video can provide a more comprehensive vision of what your dream house could be.
Types of Videos
The house plans that are available on our site are all high quality plans designed by architects all over the country. With a variety of architectural styles represented, the house plans available on our site that contain video footage are among some of our best selling plans. Here are the types of videos you will see:
Video tour. This type of video will take you on an actual tour of a house that has been built out of this plan. It may contain modifications, and you will certainly see the customization process in terms of materials and interiors. However, this type of video will provide a picture of what could be on the property on which you may build. House Plan 348-00175 contains a great example of this type of video.
Video graphic rendering. A graphic rendering will take you on a three dimensional graphic tour of the house plan. House Plan 028-00095, a popular modern house plan, contains a video with a graphic three dimensional rendering of this plan. Though it is not an actual house that is being filmed, it gives those who want to catch a vision for what their house might feel like a greater sensibility of the spaces this plan contains.
Video Walk Through. These videos provide commentary from the architect and photos with renderings from the house plan's interiors. Additionally, these videos feature photos from actual houses that have been built. Videos with these types of "walk throughs" give additional information on these particular house plans. House Plan 348-00169, a lovely craftsman house plan, contains this type of informational video.
As you search for a house plan, those with videos provide additional information that may be helpful as you select a plan that meets your needs. Browse our house plans with videos, and contact us for more information.