Is your current home or house plan missing the perfect garage that meets all your needs? As you search for your favorite house plan, you might notice the multitude of options for garages. Like our house plans, our garages come in all shapes, sizes, and functionality. From front entry to detached to plans with living quarters to plans with RV space, there are many different ways to customize your garage. Additionally, the size of your lot of land will also influence your garage options. Thankfully, all of our house plans can be modified to fit your specific needs and wants.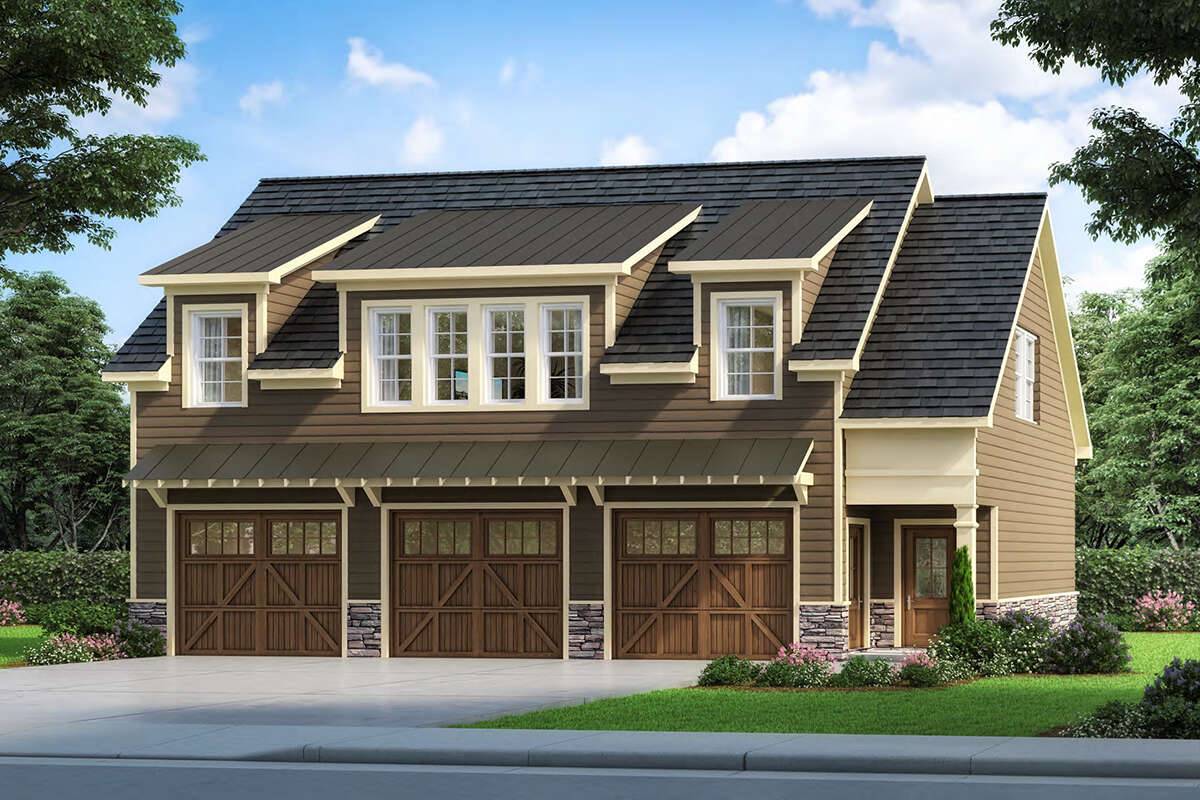 Craftsman Garage Plan 6082-00184
Reasons to Build A Garage
Adding a much-needed garage or replacing a run down or inadequate garage can make a significant impact on your home and your way of life. Garages not only reduce theft of your vehicle and lessens the chances of fading your car's paint job, but they can also protect equipment, boats, and other supplies. Some garages also offer a workshop by providing indoor, climate-controlled storage. A well-built, well-designed garage has the potential to increase the resale value of your existing home.
The garage plans section on our website easily highlights the variety of options each of our popular garage styles offers. In addition to offering garages that solely store cars, our vast growing section features plans that include living quarters, office space, workshop space, and more.
Popular Garage Styles
The placement of the garage is equally important as it can also influence your options. Most options are determined by the location of the entrance to the garage. The majority of house plans include a front entry garage, which is a cheaper option that requires less driveway and a smaller lot. Though to some people, front entry garages create a less appealing exterior but a more convenient garage set up. Consider the benefits of these popular garage styles and how they can contribute significantly to your property's value: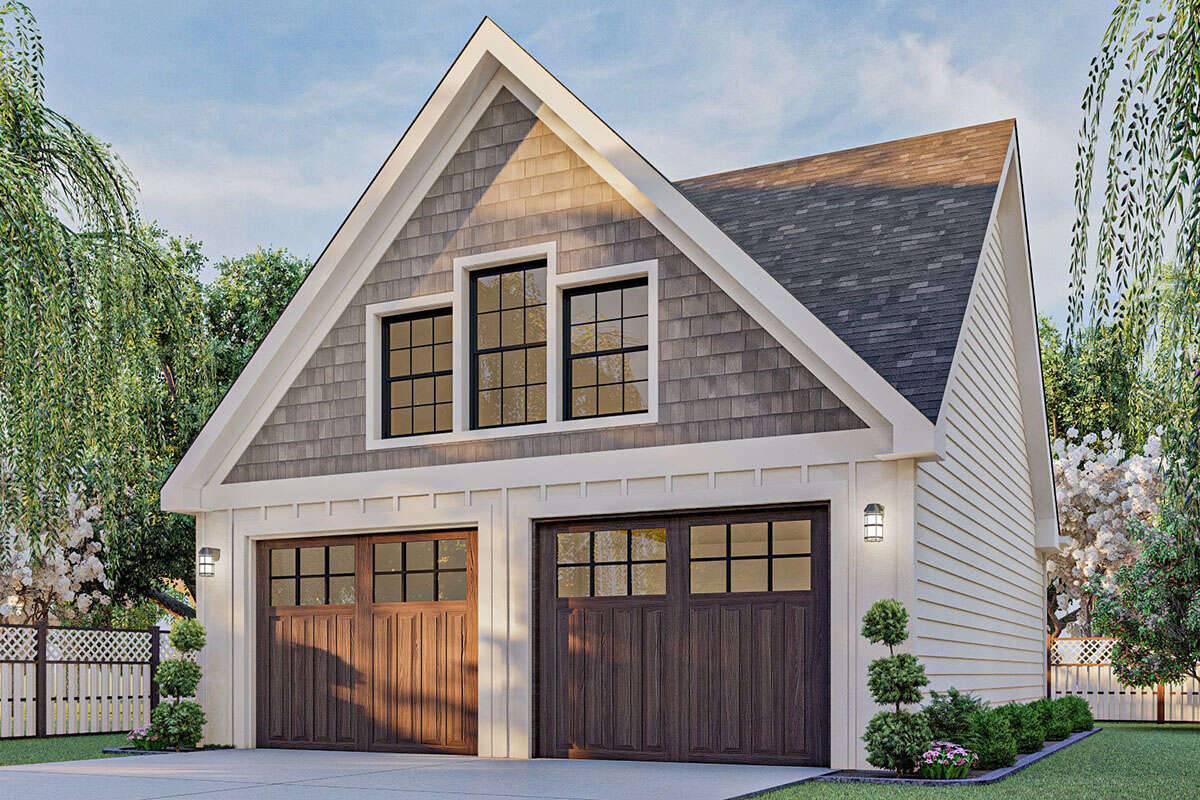 Modern Farmhouse Garage Plan 963-00523 with a free standing garage
The Free-Standing Garage
The free-standing garage style is detached from the home and offers the following benefits:
Increased storage space for cars and recreational equipment

Provides additional living space and a great guest spot for visitors and family members

Many free-standing plans include full apartments, guest rooms, kitchenettes, and bathrooms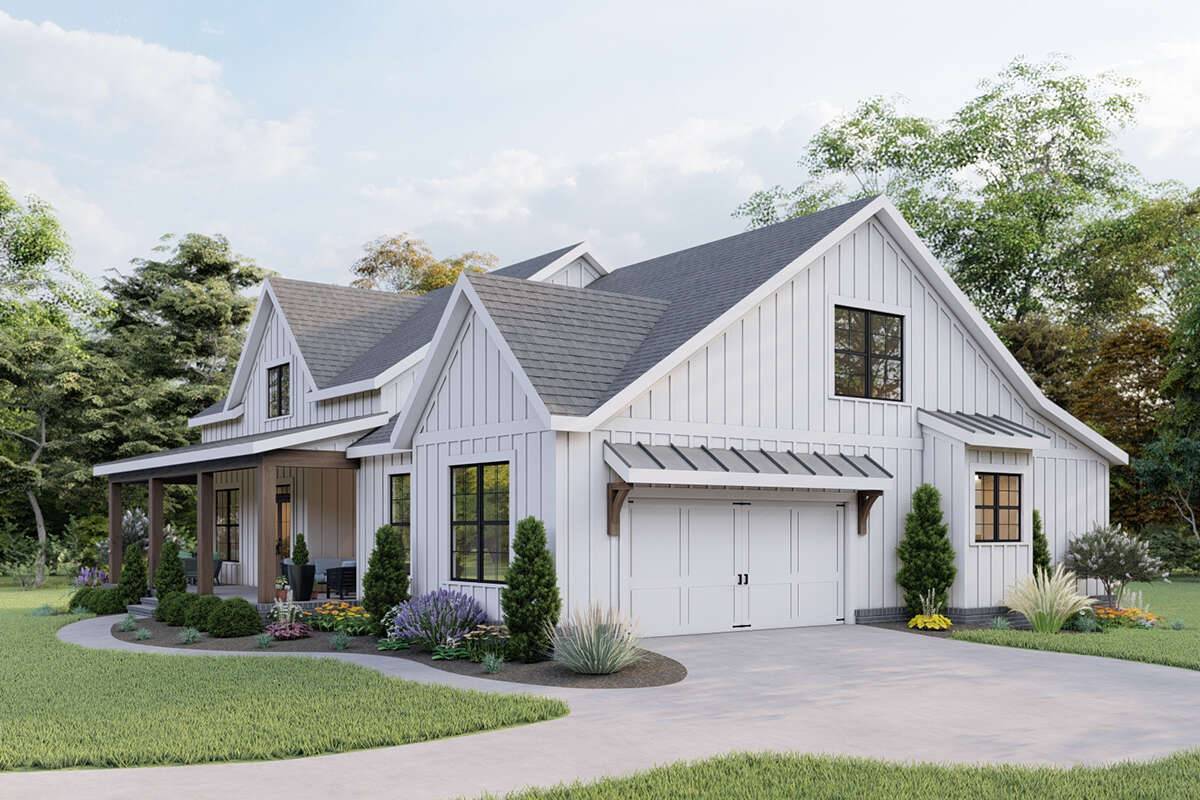 Modern Farmhouse Plan 009-00294 with a side entry garage
The Side-Entry Garage
The side-entry garage moves the garage entrance to the side of the home and is the most popular style among homeowners as it:
Opens up the exterior to include more windows and design features, offering uninterrupted views of the home's front exterior

Offers more privacy when you open and close the garage doors

Offers a greater investment in resale value

Modern Farmhouse Plan 862-00001 with a courtyard entry garage
Courtyard Entry Garage
Designed for a grand entry with a wider, larger driveway, the courtyard garage option opens the front entrance of the home for a welcoming front load garage and offers the following benefits:
Additional driveway space for the possibility of a small, intimate entertaining area

Instant curb appeal with a grand, luxurious aesthetic look

Allowance for glamorous landscape attractions to decorate the home's entrance

Modern House Plan 940-00233 with a drive under garage
Drive Under Garage
Located under the home, the drive under garage offers the opportunity to:
Typically opens to the basement or a larger den area

Allows for the homeowner to renovate later in life and turn the garage into useful bedrooms or offices

Allows for more space on your land for you to take advantage of your lot as you see fit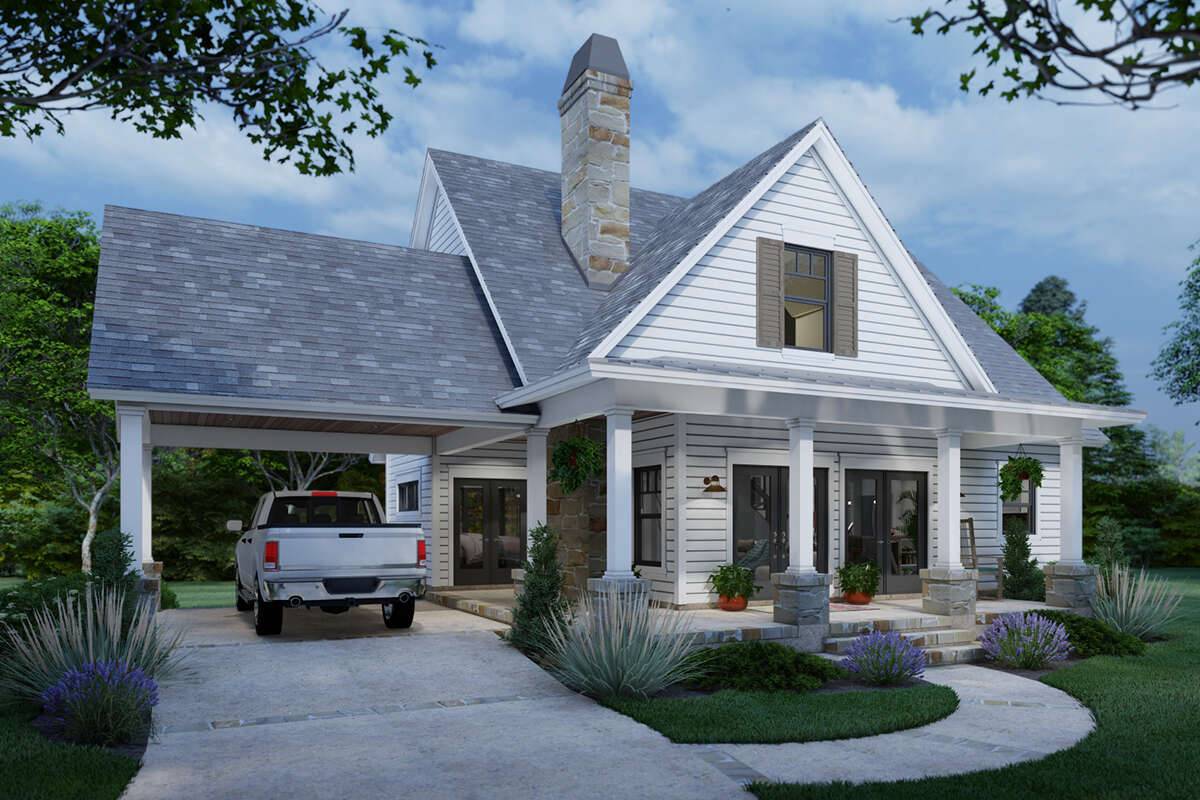 Modern Farmhouse Plan 9401-00113 with a carport garage
Carport Garage
Designed without walls for an enclosure, the carport garage, and grants the following benefits:
Eliminates the cost of building an enclosed garage

Provides more living space inside the home

Can be used as an outdoor porch if you need extra space

Can allow for additional storage space for boats, RVs, motorcycles, etc.
Ultimately, the size and shape of your lot determine your garage options but no matter which choice you pick – front entry, side entry, courtyard, drive under, rear entry, or detached – a garage is a necessary and highly useful area of any home, even if you don't park your cars in them.
Tips for Selecting a Garage Plan
When selecting a plan from our growing collection of garage plans, here are a few tips to keep in mind:
Consider your current and future needs. Is it your goal to have a riding lawn mower in the future? Or a boat? Or multiple cars? It's important to define what you will need in the future in order to select the right size garage plan.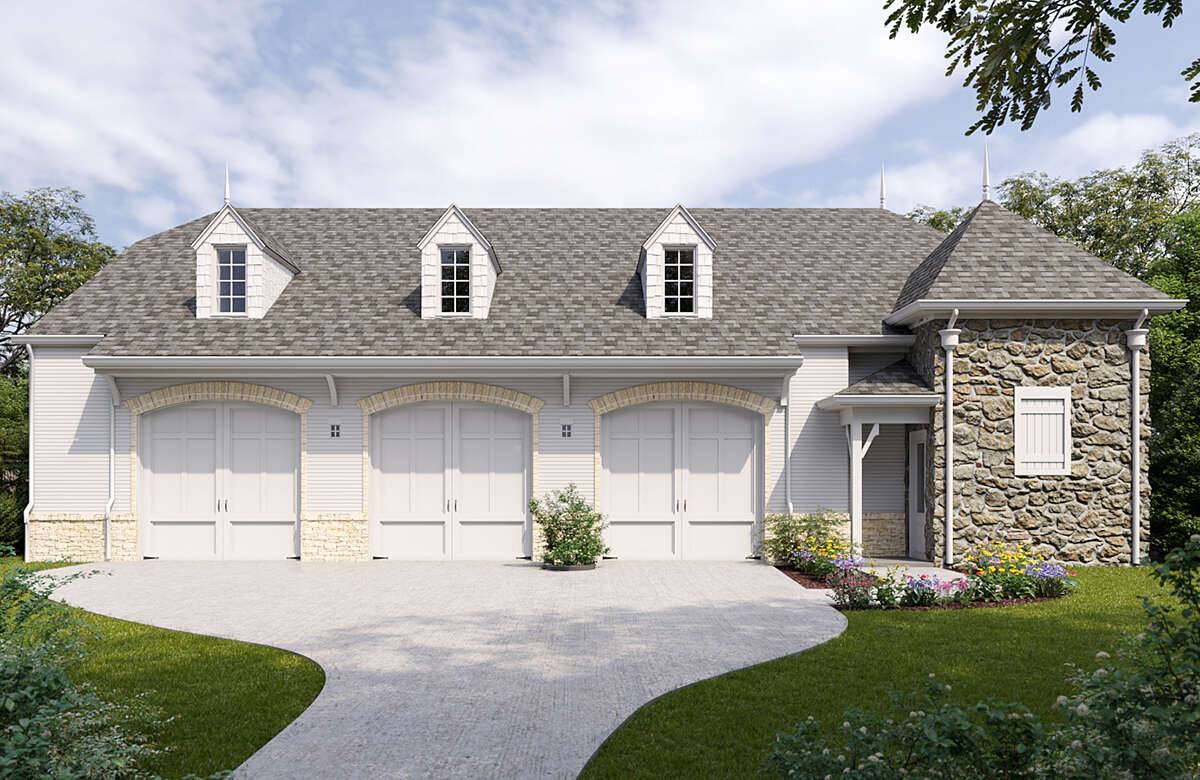 French Country Garage Plan 699-00262
Do you need to include extra living spaces in your garage plan? Do you think you might need an entire apartment area, complete with a kitchen, full bathroom, and possibly a laundry room above your garage? If so, select a garage plan that includes an apartment or living space.

Before selecting a garage plan, confirm it meets your town or county's building codes.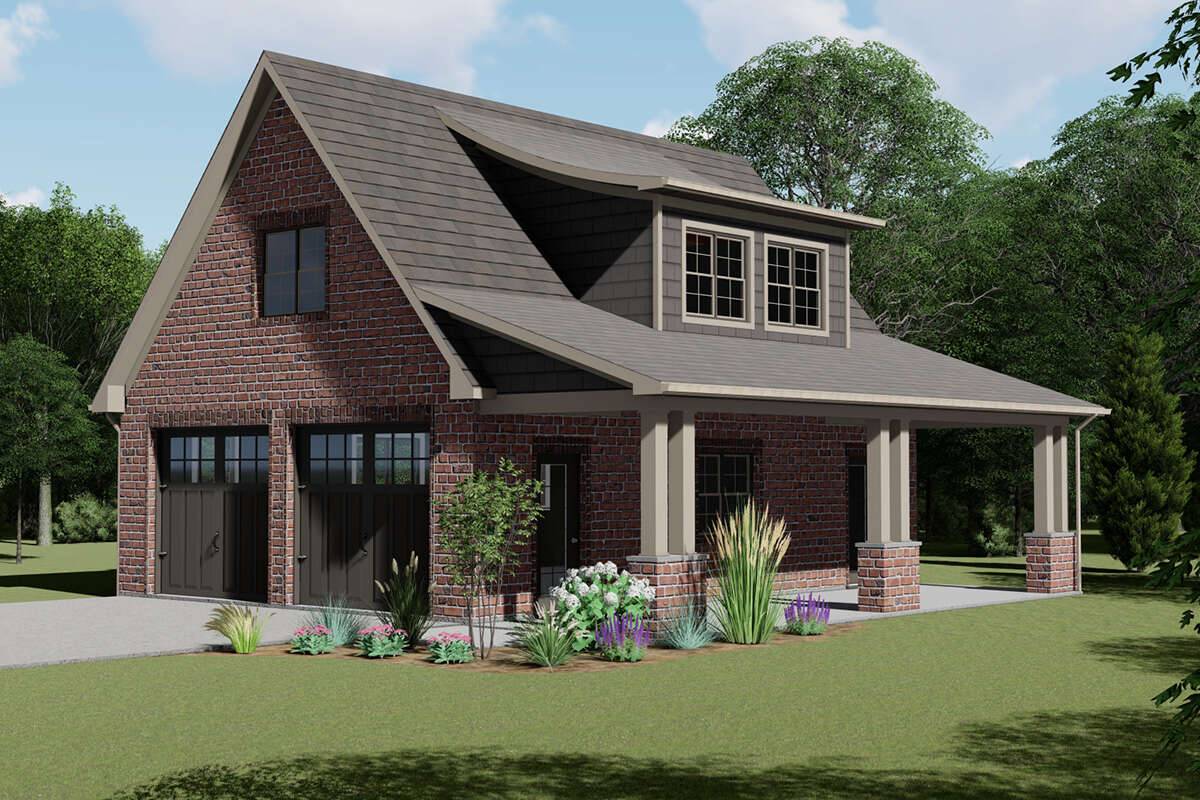 Country Garage Plan 5032-00058
Make sure that the style of the garage compliments your existing home. Selecting a garage plan that fits in with the existing property is important, especially considering the potential for return on investment and resale viability.
If you are searching for the right garage plan for your home, browse our 500 garage plans to find one that meets your needs and fits in with your existing property. Our knowledgeable customer service is ready and available to assist you in any way possible. Please contact us today so we can help you find the perfect garage plan!