Whimsical, stylish, and inspired by elements found in other housing styles, Bungalows and Cottages are less like the Hansel and Gretel house we tend to think of and more like the most charming house on the block. In fact, if your ideal home is classified as a place with a one or one-and-a-half-story layout outlined with grand tapered column beams leading to an inviting front covered porch hanging under low, pitched, gabled roofs chances are your style is either a Bungalow or Cottage style home. These two house styles offer a wealth of advantages in style and design. At America's Best House Plans, we offer a wide variety of Bungalow and Cottage house plans that suit the needs of every family.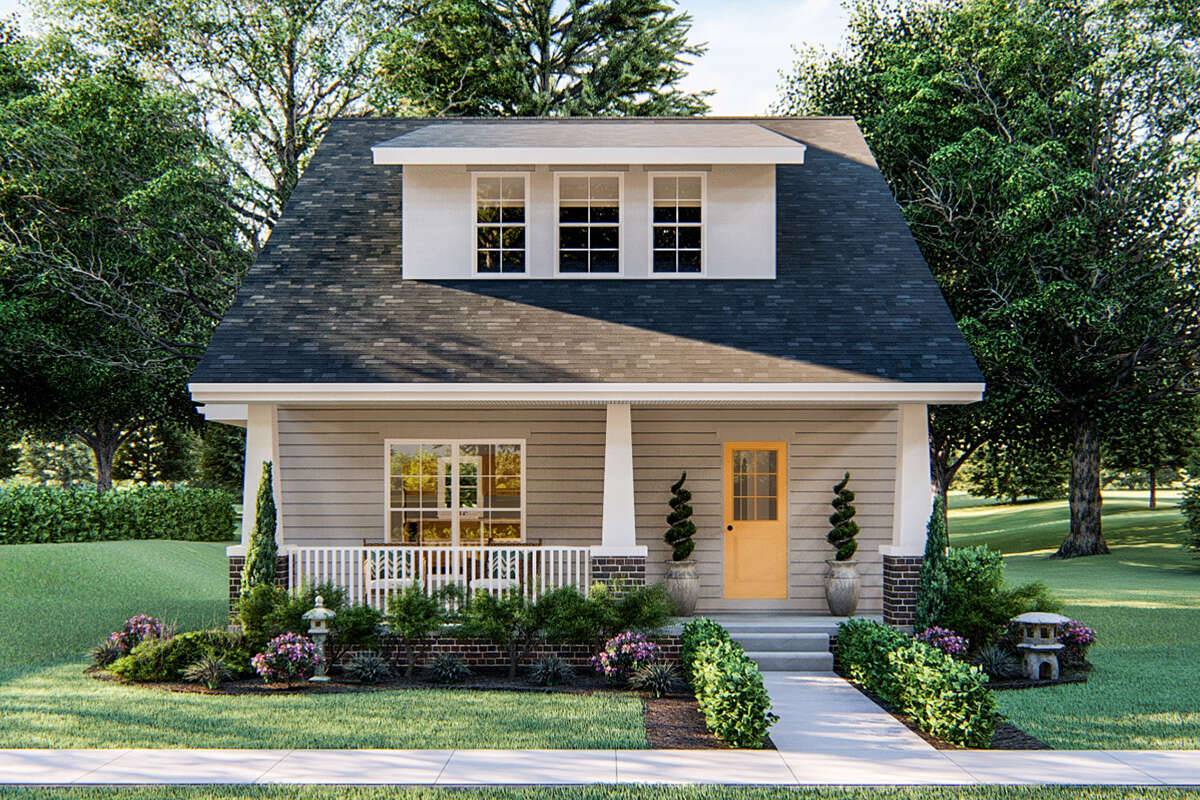 Bungalow House Plans
Bungalow house plans are sometimes difficult to define because they take influence from a wide variety of styles, including Victorian, Tudor, luxury, Craftsman, and Cape Cod. The architectural style originated in Bengal, India, by English officials intending to give travelers an informal, easily constructed, one-story rest house*. Bungalow homes made their American debut in the late 19th century and have remained popular with families who've desired efficient spaces, unique style, and outdoor living areas.

The unique details that have come to define the Bungalow style include:
A low-pitched roof, gabled or hipped, to make for very interesting and aesthetically pleasing decorative features

Deep eaves with exposed rafters making bungalows appear quite large from the outside looking in

Dormer, shed, hipped or gabled windows for more architectural interest

Large, covered front porches often embellished with fine architectural details creating seamless transitions between the indoors and out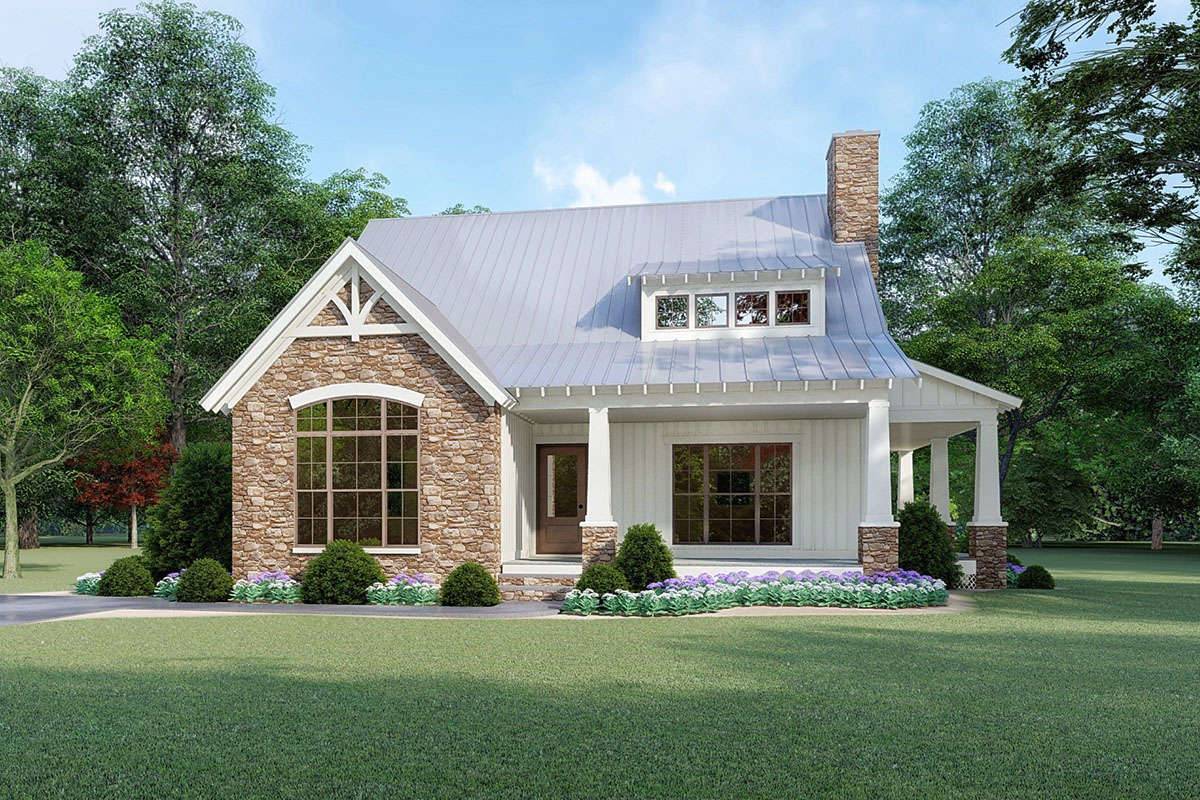 Bungalow House Plan 8318-00119
With exterior details like this, you'll love welcoming guests into your home by creating a warm, inviting, and practical space on your front porch. The key to making the most out of your porch is by adding furniture and decorative elements. A mission-style rocking chair will look right at home on a bungalow's porch thanks to its clean, simple lines. To create a comfortable seating and dining area, outfit your porch with wicker furniture. Add a wicker love seat, coffee table, and chairs to set the mood for a laid-back area, perfect for enjoying coffee or lunch. These natural material vibes well with the Bungalow style, especially if you finish it with traditional colors like terracotta, grey-blue or olive, or leave it with a mid-toned natural finish to complete the homey vibe.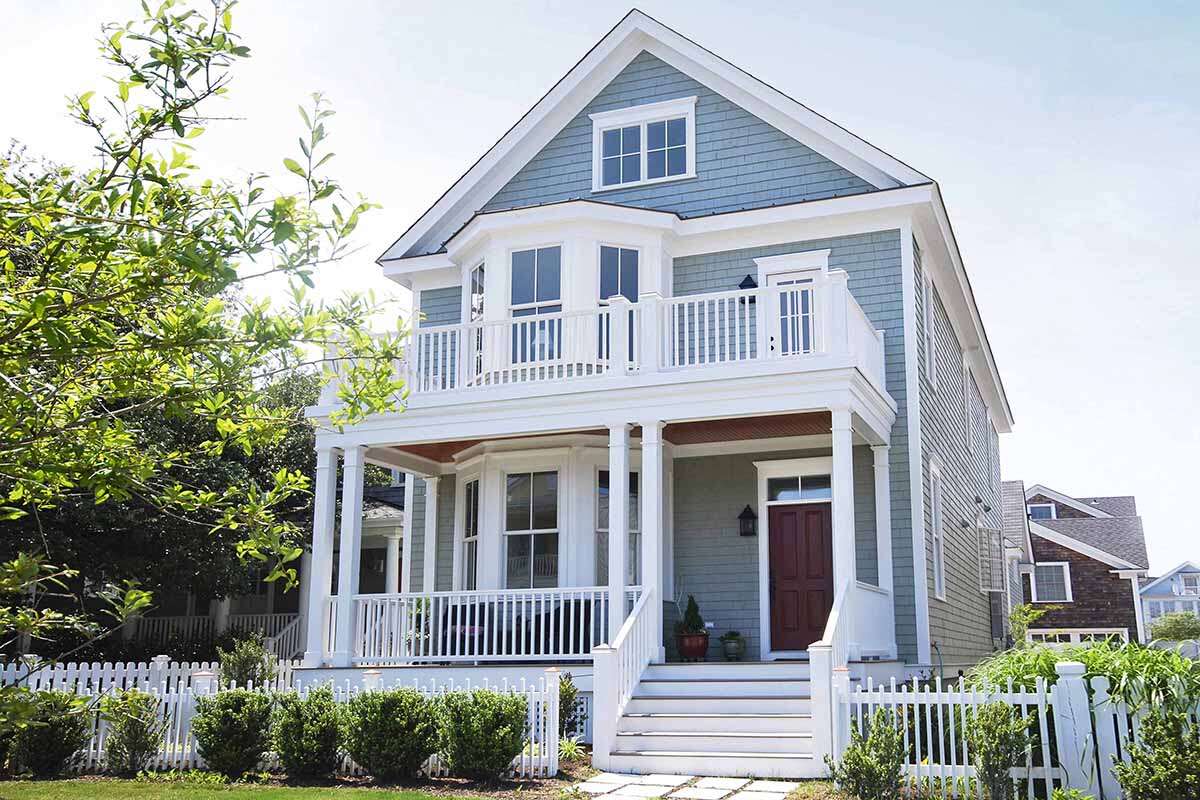 Bungalow House Plan 4534-00014
In addition, the interior meets a variety of needs with a small-to-midsize square footage. Although square footage varies greatly among this style of house plan, many of them provide for a simpler way of life through their use of space. A real benefit of Bungalow house plans is the focus on making every creative nook and cranny work into a cozy, beautifully designed, and family-oriented home. What else defines and characterizes bungalow house plans?
Open floor plans – Bungalow house plans feature free-flowing floor plans with larger open spaces and smaller bedrooms to encourage house inhabitants and visitors alike to congregate in the family room and kitchen areas of the home.

Layout – Typical Bungalow house plans are one to one and a half stories for easy, single-level living.

Creative use of space – Bungalows often incorporate design features such as small alcoves, breakfast nooks, and large fireplaces with built-in cabinetry, shelves or benches on either side.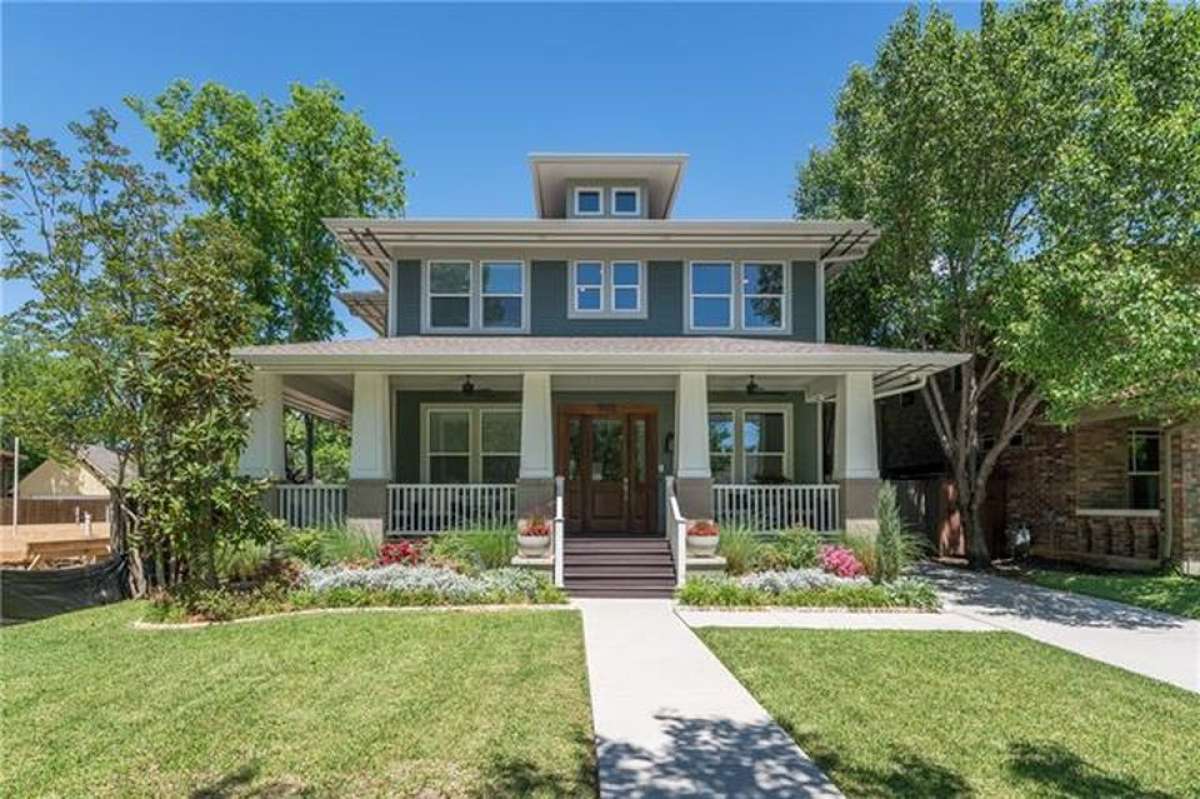 Bungalow House Plan 5445-00337
Building a Bungalow home for your family can be a great way to pursue a more simple style of living. Comparably, Cottage house plans make you feel right at home almost before the house is built. They share similar characteristics of Bungalow house plans with a few unique differences which makes them equally attractive to homeowners. Part of the attraction of the Cottage style to home builders is its vintage and traditional feel and the unique, modern amenities.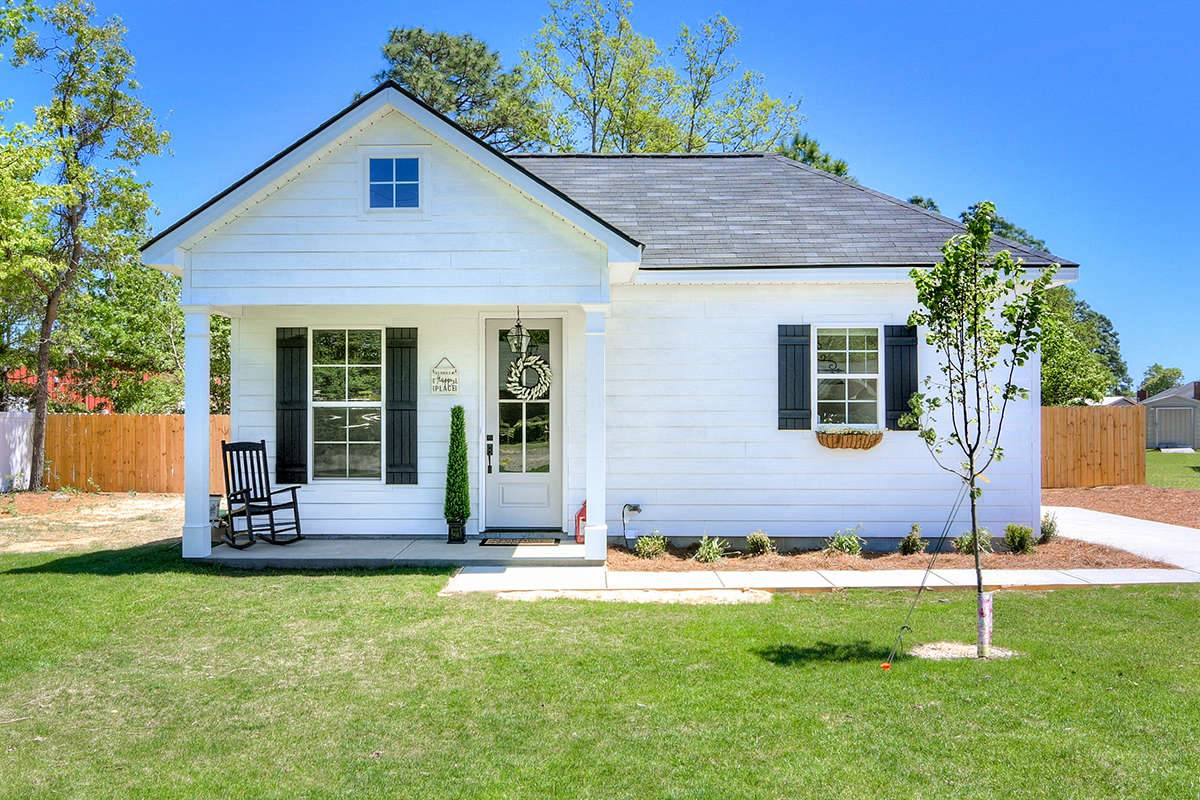 Cottage House Plans
When you hear the word "cottage," what comes to mind? Many people who hear that word tend to think small, quaint, or cozy dwellings possibly used as vacation homes. But many cottages — particularly ones that were historically built as second homes in vacation areas — are anything but small! They have a certain vintage charm, yes, but they are often quite large. Cottage house plans designed today, though, provide a wide range of options in terms of size. The best Cottage floor plans combine styles to include contemporary details like extra storage, open floor plans, and even high-tech gadgets, while also maintaining the traditional feeling through details like small windows, natural touches, and pitched roofs. This combination is ideal for families who want modern convenience mixed with classic style.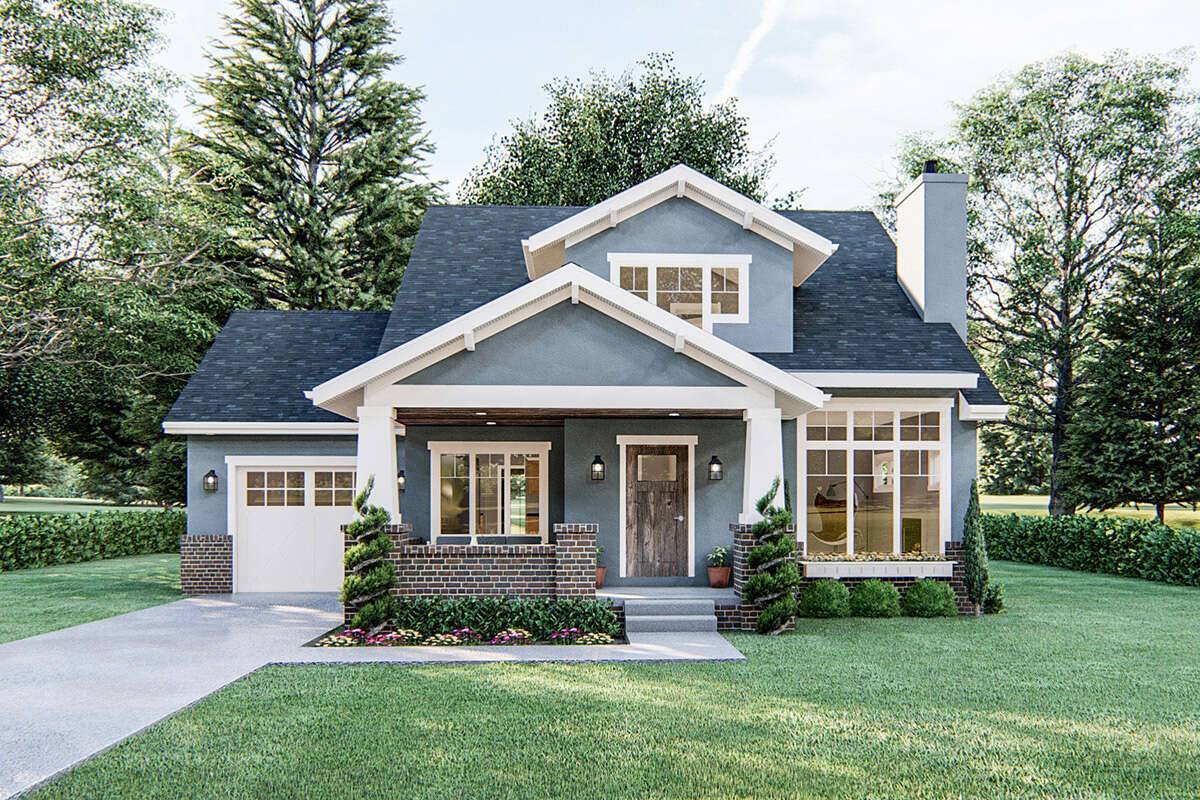 Cottage house plans are commonly united by some of the following characteristics:
Design – Many have steep roof pitches that create interesting lines, welcoming arched doors, and simple casement windows marked by small panes. Natural shake, stone, brick, and stucco are common siding materials.

Versatile dwelling – Cottage house plans provide a great option as either a primary residence or a secondary residence, depending upon your needs. Also, due to their universal appeal, cottages can be a great choice no matter the setting or environment of your building lot.

Outdoor space – Cottages often provide front and back porches where homeowners can enjoy reading, studying, working, eating meals, and enjoying the company of friends and family. Highlight the area by outfitting it with comfortable chairs, a porch swing, and end tables to set the scene.

Open spaces – Open floor plans are not necessarily unique to cottages, but cottages do offer additional cozy nooks and crannies that make them charming on the inside.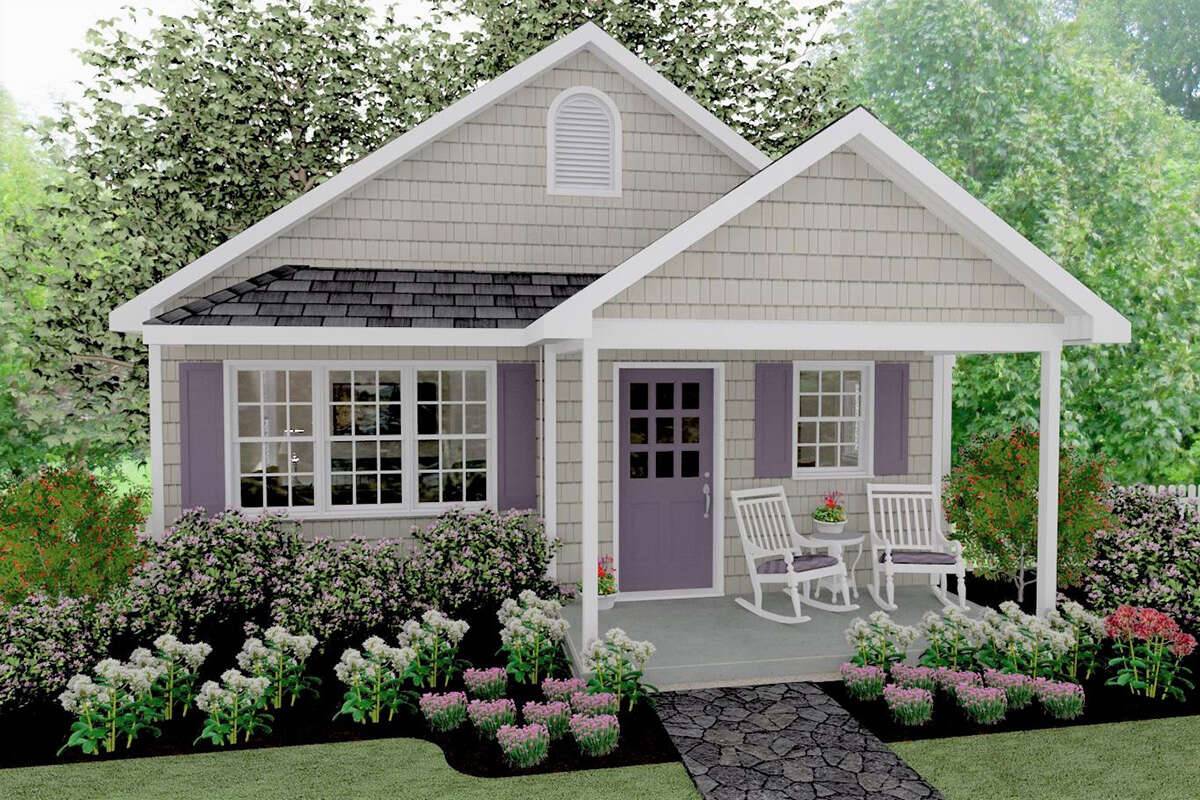 Additionally, Cottage house plans deliver a wide range of styles including, but not limited to, log houses, country houses, and southern houses. The definition of a cottage ranges from family to family, providing something for everyone. This is a wonderful benefit for those looking for a quaint vacation home.

Building and owning a cottage style home as a vacation home often provides an excellent option for stress-free vacations throughout the summer (and even winter) months. Furthermore, the investment benefits, depending upon the location and home itself, can often be significant. Additional benefits of building a cottage home as a vacation residence include:
Vacations without hassle. Imagine never having to wonder where you are going or worrying about booking a hotel. Picture your perfect serene environment where you don't have to go out at every meal, but when you do, you are familiar with all of the best local selections.

Get what you want. When you build a new cottage home as a vacation spot, you don't have to wonder if the home will have everything your family needs. Building means you're guaranteed the home that will fit all your family's needs every time you step inside. When you make the decision to invest in a second home, it is vital to get exactly what you've worked so hard to achieve. Building from the ground-up allows for this high level of customization.

Size and Variety. Cottage style homes fit the mold of so many other styles that they easily fit into a variety of property lots. Moreover, the size of our Cottage house plans ranges from less than 1,000 square feet to 3,000, giving your family the option to find the perfect home.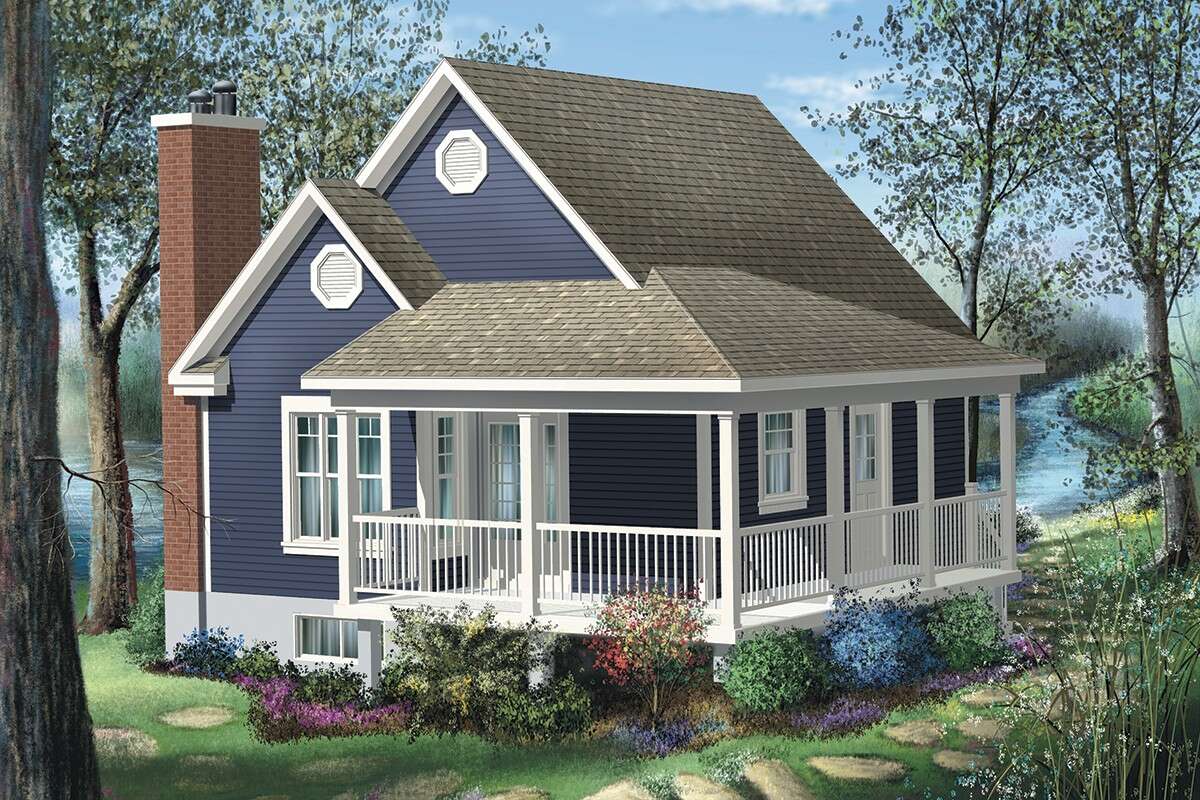 Our Bungalow and Cottage house plans can be summed up in this phrase: charming simplicity with a focus on community-centered living. Many of these house plans favor open floor plans, welcoming porches, and architecturally pleasing exteriors. Consider the benefits of both of these house plan styles if you're looking for a comfortable, charming, and beautifully designed home ideal for families who love spaces with character and a cozy aesthetic. Browse our Bungalow and Cottage selection, and build the home of your dreams!
* Bungalow Architecture of the 20th Century. Antique Home –http://www.antiquehome.org/Architectural-Style/bungalow.htm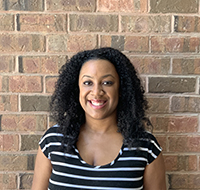 Latest posts by Briana Bronner
(see all)