Searching for the perfect house plan is an exciting but tedious task and you might not know where to start. Picking the "right" home design can be a difficult task because there are so many amazing house plans available. Your options are even more extensive when you realize that every house plan can also be customized to fit your exact wants. While "thumbing through" our extensive catalog to narrow down 19,000+ plans to one may seem daunting, this thrilling task can be accomplished using different online tools.
Apart from our website, social media is the best place to find, research, and collect essential information about your house plan options. You can correlate details about home styles, specific house plans, modifications you love, design details you're drawn to, and specific must-haves, all through social media. But where do you start in your search for the perfect house plan?
Determine Your Requirements
The very first step in your search for the perfect house plan is to determine what you require in your next home. One tip is to always consider your current needs as well as your future needs. Will your family grow? Will you need to house elderly relatives? And then start with the basics. Choose the number of bedrooms, bathrooms, stories, and the range of acceptable square footage that you think your family needs now and in the future. Then answer these questions to determine some of your requirements:
Do you need a 2-, 3-, or 4-car garage?

What about a basement foundation to add extra space?

Is a home office, library, or study necessary for students or work-from-home professionals?

Will you need an in-law suite in the future?

Do you want the primary bedroom on one side of the house? Or perhaps all the bedrooms upstairs?

Are you more of an open concept fan or do you prefer a traditional design?

Does your family need additional outdoor living spaces?
Your requirements may change as you venture through this research process. Knowing the basics before you start your search will help you avoid wasting time searching thousands of plans to find what you need.
Finding Your Favorite House Styles On Our Website
Once you have your requirements, use our website to find the home styles that best fit your family's overall aesthetic. House plans come in such a wide variety of styles and determining which ones fit your life helps to eliminate a plethora of plans you would never like. For example, while the Modern Farmhouse style is very popular, you may be more of a Contemporary or Modern fan. You can use this blog post to find the styles that are right for you and your family: https://www.houseplans.net/news/how-to-choose-a-house-style/.
Once you have a few styles picked out, now you can start looking for plans that relate to that aesthetic and the must-have features that you need in your future home. This is where social media can help.
Pinterest
Let's start with the OG research tool. Pinterest is the best social media site to collect all of your research for your next home. Use it as your vision board! This social media site is where you can corral all of the information you gather from other sources.
Create boards that focus on specific house styles that you are drawn to! You can have as many style boards as you want until you start to dwindle the list down.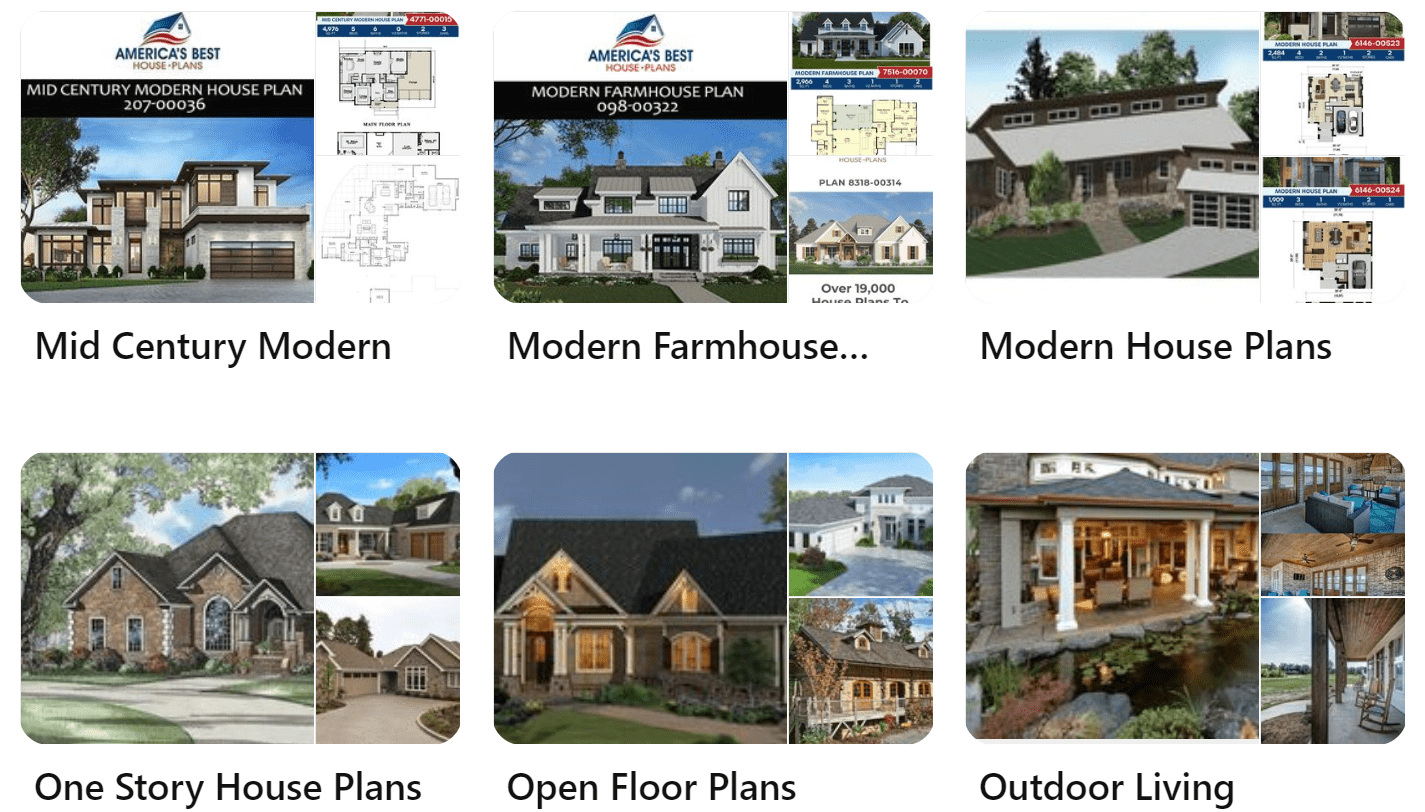 Create a board for modifications you love. If you've seen people talk about changing ceiling heights or adding extra windows, add that to the board for modifications you might use in your future home.

Create a board for design features you like the most, like arched hallways or french doors leading outside. If you want to get really detailed, you can have boards for each room of the house so those design features are organized by area.

Create a board for specific house plans that stand out as you begin your research. Use our website to link to those plans.

Follow our Pinterest account

to see all of our house plans, videos, and so much more! We post daily!
As you collect information from other platforms and our website, keep your Pinterest boards organized so when it comes time to make those important decisions, you are ready!!
Instagram
Instagram is the social platform that provides the option to see real-life images of our house plans and offers the best opportunity to find other people currently building your favorite ones. Instagram allows you to follow families that are documenting their house build from start to finish. This is an amazing asset during the research process because you can see the entire home building experience directly on Instagram.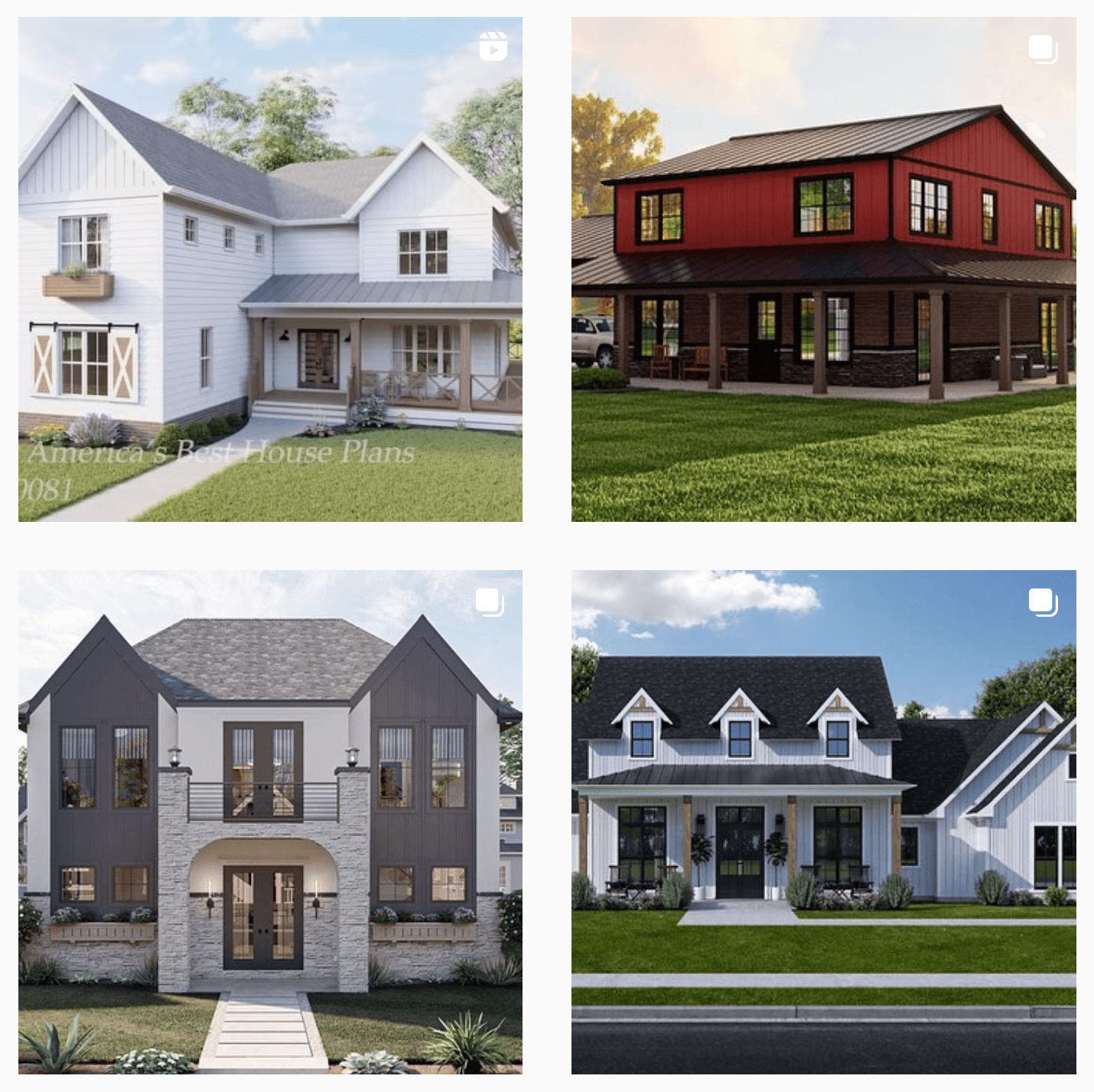 Use hashtags to find other families building your favorite home designs. For example, search #453400019 and you'll find families building this house plan and even some that have already built it. If the profile is public, you can follow them to keep up with how their build is progressing or you can just make a note of the account and keep track of it as they continue building their home.
Instagram lets you see images and videos of the entire home building process as well as the final product. This platform can help you learn more about building a new home and help you decide on the best plan for your family. You can also follow us on Instagram to see our new house plans, virtual tours, and the second our sales start!
TikTok
On this super popular social media site, you can explore videos of people that have built similar house plans to help you determine what you want your exterior to look like and what modifications you desire. Because TikTok is all video, you can see more details and imagine yourself in your favorite house plan. What details stand out to you? There are specific styles that are very popular on TikTok. For example, search Barndominiums and you'll find a long list of virtual tours allowing you to see the details inside and out. Use TikTok to answer questions like these:
What color exteriors are you drawn to?

Do you prefer brick on the outside?

What porch options do you prefer – a wrap-around or just a wide, covered porch?

Do you like having a grand foyer or would you prefer more space for a mudroom?

Where do you like the mudroom to be located – near the garage or the front door?
Use the videos on TikTok to explore every nook of these house plans to determine what you desire in your next home. Our TikTok is full of virtual tours of your favorite designs, showing off every amazing inch of our top-of-the-line house plan tours.
Facebook Groups
We know that building a home is a very stressful time and to help answer the millions of questions you encounter during that process, we created Facebook groups for some of our best-selling house plans. In these groups, you can chat with other people that have built a specific house or are interested in building it. Our Facebook groups are perfect for finding common modifications that might make this house plan even better and determining which materials you want to use in your new home. For example, we have seen conversations about everything from what kind of flooring people are using to where they got a specific vent hood. You can also discuss any issues others are encountering and what they wish they had changed about this house plan. Do they wish they had added more space to the dining room or created a larger garage? You can ask questions, search for answers, and explore photos and videos to determine if this house plan is the best option for you – and what modifications you might want!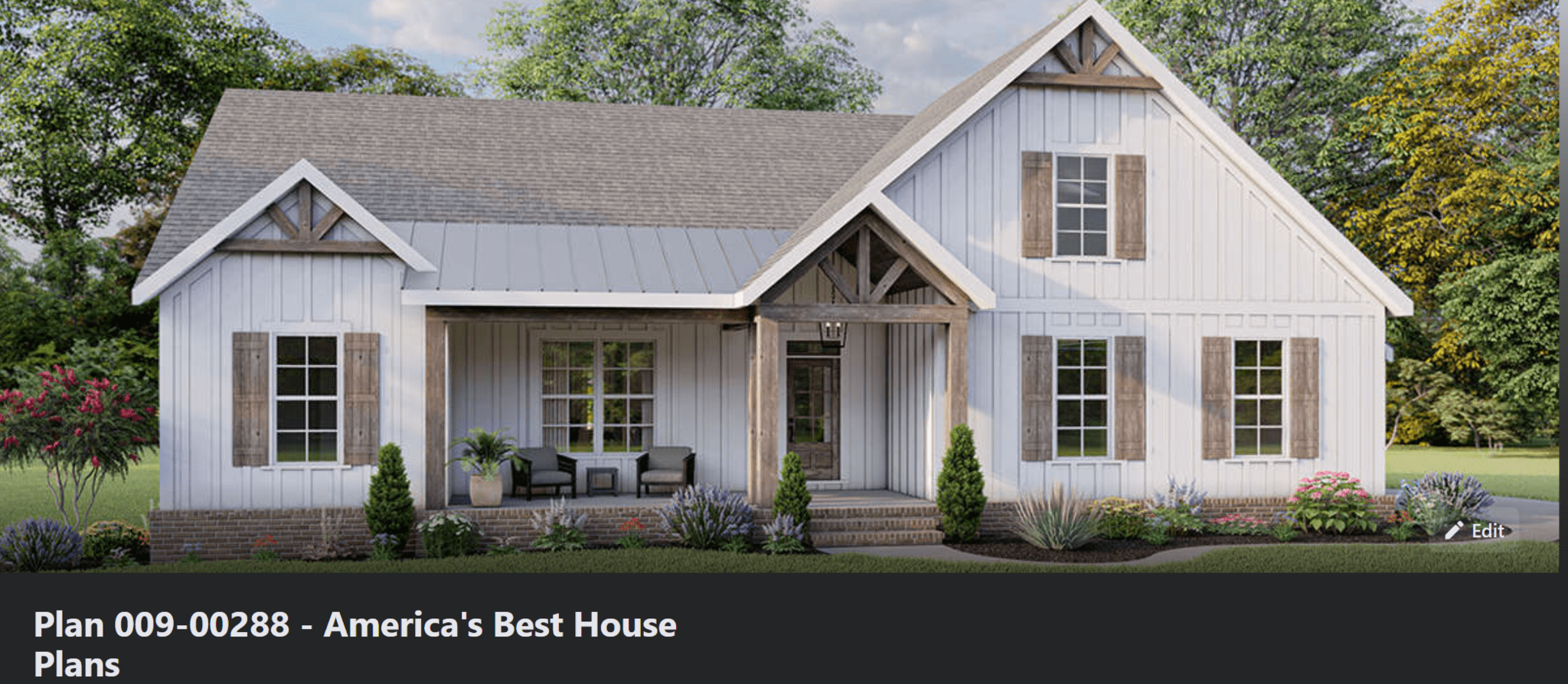 The best part of our Facebook groups is the pictures shared of other families' builds. When you can't imagine what a house plan might look like in real life, our Facebook groups offer images and videos of other's builds showing you all the options possible.
You can explore our list of Facebook groups here.
While you may not have thought about using social media to research house plans, these social media platforms along with our website are excellent tools. They make for the best plan of action to help you figure out your requirements, find your preferred house styles, determine the must-have features of your next home, and eventually, determine which house plans fit you the best. If you have any questions about modifications or specific house plans, our team is here to help!