Last Updated on
Finishing a basement is one of the most cost efficient ways to add living space to a home.  So if you are building a new home and need to add a bedroom, rec room, theatre room you may want to seriously consider finishing the lower level.  Here are five builder tips for saving more money on that new basement living space.
Open Ceiling Design
Instead of installing a drywall or suspended ceiling, one option is to leave your ceiling open and paint it as they do in lofts.  The biggest benefit of this type of finish is the cost savings.  A suspended ceiling can cost $2000-$3000 depending on the size of your space and the type of tile you use.  The problem you run into with suspended ceilings is…what do you do at the beams, ductwork and plumbing drains?  If you lower the drop ceiling to the lowest point, your head room can diminish to a ridiculously low point.  And if you drywall, you end up with soffits around those areas which typically makes the ceiling look choppy and cut up.  
Ductwork Below Floor Joists in Basement
The other great benefit to the painted open ceiling is the extremely easy access you have to mechanicals (i.e. electrical, ductwork, and plumbing) in the future.  If you need to add a cable or electrical outlet in the future, the open ceiling makes the job extremely simple.  If you can't quite picture how this open ceiling might look, check out this picture at HGTV.com.
Minimize Doors
In some cases it is possible to eliminate a duplicate door or two in the finished basement space.  It's possible to save $350 or more on the door, door knob, jamb, casing, and labor to set, trim, prep and paint.  The other great thing about eliminating doors in a space is that it frees up area for furniture and artwork.
Increase Wall Stud Spacing to 24″
In many cases, the new framed basement walls you are adding are non-structural (except for the stair walls).  This means they support drywall, wiring, trim…etc. but no weight from above.  Because these walls are non-load bearing, it's possible to increase the spacing of the wall studs to 24″ instead of the typical 16″.  At $2-3 per stud, the savings can really add up.  If you do decide to go this route, you may want to consider using 5/8 inch thick drywall on the walls instead of ½ inch.  The thicker wall board will provide extra support between the studs.
Stain Your Concrete Floor
One of the concerns regarding below grade levels in a home is moisture.  Both humidity and ground water can cause big damage to new hardwood or carpet.  A great alternative that will withstand any water intrusion is a stained concrete floor.  Staining is a great way to provide a high quality finished look without adding much cost.  Because the concrete is there anyway, the material costs are minimal when creating a stained surface.
Probably the best part about a stained concrete floor is the extremely durable finish that will last for a lifetime.  When done properly, there surface can take just about any wear and tear you can put on it.  And if you are looking for ways to increase the impact of your stained concrete floor, you may want to consider adding sawcut grout lines into the surface.  A ¼ inch cut can help to create a more custom look for a boarder or to give the appearance of stone tiles.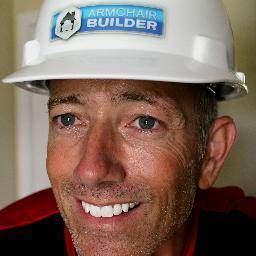 Michael Luckado has built, remodeled, and repaired thousands of homes across the U.S. He co-founded ArmchairBuilder.com to help people save money and time creating their dream home.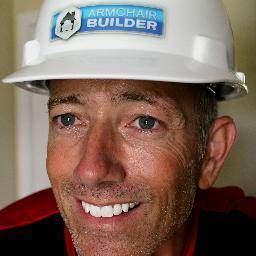 Latest posts by Michael Luckado (see all)