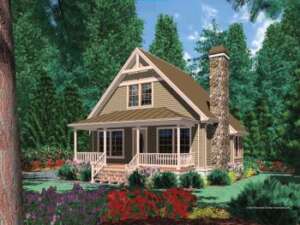 Where do you want to live? That questions has a lot of answers. It could pertain to region of the country, a particular town within your city, a subdivision or neighborhood, or a specific type or style of home. It can also pertain to your own bedroom or suite's position or placement within your house. Master suites are either placed on the first or second floor of homes, and your long term vision for your house can determine which type of house plan you might choose. Here are the three most common options:
One story house plan. Inherent in these types of plans is a first floor master bedroom. People choose to build one story houses for a variety of reasons — they may live in an area of the country in which those type of homes are popular, or they may like the typically smaller size of one story homes. In any case, those type of homes contain the master bedroom on the first floor.
Two story house plan. Many two story house plans place the master bedroom on the second floor. Two story houses are very popular, particularly in suburban areas in which land is relatively minimal. They also keep the bedrooms quiet and separate from the living spaces.
Master Down house plan. These plans — no matter how many levels within the home — have the master bedroom or suite contained on the first floor of the house. There are many reasons why families opt for a master down plan.
Choosing a Master Down Plan
Choosing a master down house plan makes sense for many families for a variety of reasons. Here are just a few:
Keeping the master bedroom downstairs and additional bedrooms upstairs offers a heightened level of privacy for guests or children. Those utilizing the master bedroom suite can enjoy a sense of quiet and calm while others are sleeping upstairs — and vice versa.
Building a house with a master bedroom downstairs is a positive long-term plan for those looking to grow older in the home of their dreams. If you anticipate staying in the home you've built for a long period of time, as you age, you will not need to climb stairs. Your bedroom will be within easy access of living spaces.
Master bedrooms on the first floor are growing ever more popular from a design perspective. Those looking to purchase custom homes search for that particular feature. If you ever consider selling the house you built, having the master bedroom downstairs may prove an attractive selling point.
America's Best House Plans offers many plans with the master bedroom on the first floor. Our website allows easy browsing of these type of homes.