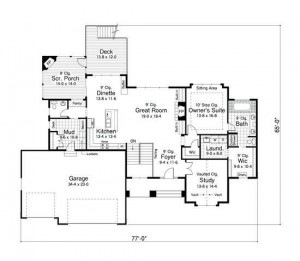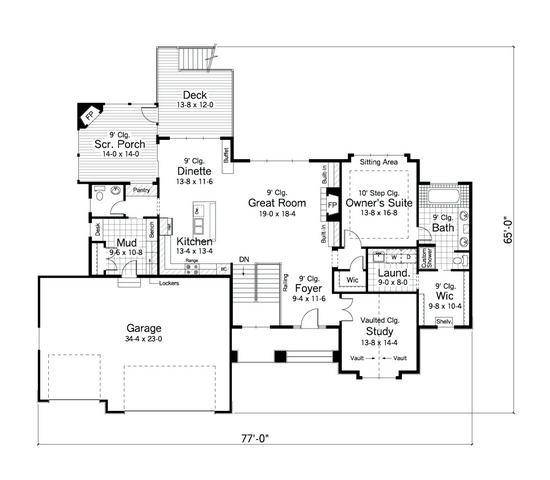 Sometimes, it really is the little things, the simple, that make a home whether in designing your home or in the resale value. While most everyone focuses on the really big ideas or design elements, the simple can make a big difference. And one of these features; a simple design element,  can be a mud room or drop off zone ~ a tucked away, small space near the home's most used entrance. At www.houseplans.net, we offer an array of house plans which incorporate mud rooms into the house plan.
A mudroom can offer a place to sit, storage to handle the clutter of shoes, outerwear, book bags, briefcases; an alternative or addition to the coat closet. The mudroom can provide user friendly storage for the family while maintaining a sense of livability and tidiness to a home; a way of making your home work for you and your family. In today's hectic lifestyle, a sense of peace and comfort can be had in having a room or space dedicated to handle the "stuff" we all accumulate and use in our daily lives without having it interfere with our tidy and comfortable living spaces.
Traditionally a mud room was the entrance used by family members and would be located in the back of the home as a barrier between the outdoors and indoors. Farmers and children would come in from the fields and have a wash basin in which to clean themselves up in; a place to also remove their dirty clothes and shoes. When indoor plumbing was available, the mud room went by the wayside as space was at a premium and the new laundry room was installed towards the back of the home. Of course, today we can offer both a laundry area and mudroom as a barrier to keep the outside from coming inside. With the mudroom located off the garage, think of this as an additional barrier to keeping your home clean, free of clutter and even a way to halt fumes from your lawn equipment from entering your home.
House plan #098-00009 offers the ultimate in mudroom luxury with a 9' x 10' room in which all your storage needs can be handled and is directly situated off the garage. Just imagine before anyone steps foot into this gorgeous home, all dirt, debris and clutter can be left behind. The home offers magnificent detail on the first floor with the addition of the open living spaces, master suite and both a deck and screened in porch for ample outdoor living. An optional 1425 square feet are included with the house plan and offers a truly complete home for your family.
At America's Best House Plans, let us work with you in providing you with an easy-to-clean transition space between the outdoor and indoor areas. Every home has a place where stuff gets stashed, coats are dropped and supplies are hidden and while this traditionally may have been in several areas of your home, we now can provide a one stop area in which to better organize your life.