Last Updated on
As a builder, I'm constantly asked what the best insulation is for new homes. There are so many options available today that it can get confusing for consumers. From fiberglass to closed cell spray foam and everything in between, the options are somewhat endless. But if price is a consideration, then fiberglass shouldn't be ignored. Let's take a look at what makes fiberglass still a good alternative for new homes.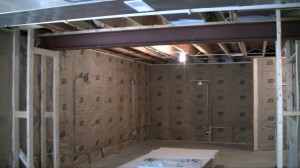 Price
Many of the insulations materials available today are expensive. Fiberglass is one of the least expensive options available and can be one-third of the price of some of the spray foam alternatives. But don't you sacrifice quality with the lower price? The answer is a definite "no." Let's see how it's possible to get an equivalent end product with fiberglass insulation.
Quality Starts on the Exterior
For fiberglass insulation to be effective, it's necessary to have an air barrier on the exterior of all outside walls. This air barrier could be housewrap, a liquid applied air barrier, or even taped sheathing. All of the gaps between the studs, plates and sheathing in the exterior walls of a home must be covered to prevent air from blowing right through the fiberglass insulation.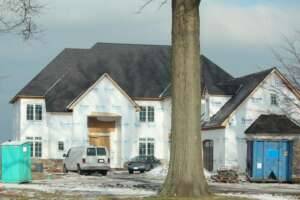 Housewrap used on exterior wall of home
The other quality item needed on the exterior wall is foam, caulk, or tape over all openings. If you've ever stopped by a home being built, you know that all kinds of drilling and cutting takes place while the mechanicals are being installed. Things like exterior electrical outlets, hose bibs, light fixtures…etc. all cause the exterior wall to be breached. So in order to achieve a tight wall, we need to seal up the gaps. Expandable foam does a great job of this and should be completed just prior to insulation to make sure no additional cutting or drilling take place before insulation.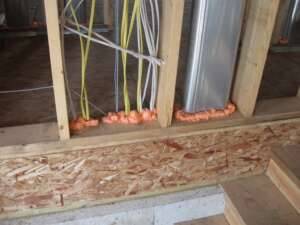 Quality Insulation Installation
So when it comes to fiberglass insulation, a quality installation is all about paying attention to the details. In other words, it's not rocket science and it doesn't take any special tools. A quality installation involves making sure the batts fit tight in the stud bay and do not become compressed. Compressing the insulation takes away its insulation properties. Care must be taken when obstacles are encountered in the wall. Insulation must be carefully cut to fit tight around pipes, ducts, wires…etc. and all voids must be filled.
Fiberglass insulation must be enclosed on all sides for it to be effective. So, all walls that are adjacent to unfinished attic space must have a sheathing installed on the attic side of the wall. Many builders use an insulated sheathing (Thermoply or equivalent) to accomplish this.
So fiberglass insulation can be a lower cost alternative that produces a similar end result as long as a quality installation is performed. Of course if you don't mind spending the extra money, spray foam is a great alternative.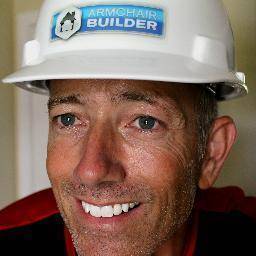 Michael Luckado has built, remodeled, and repaired thousands of homes across the U.S. He co-founded ArmchairBuilder.com to help people save money and time creating their dream home.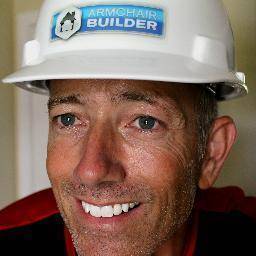 Latest posts by Michael Luckado (see all)