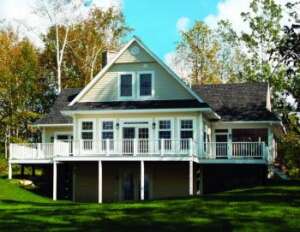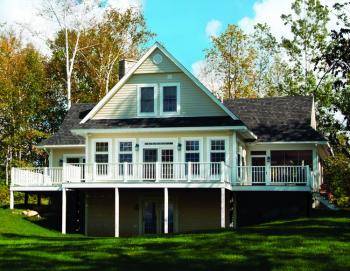 In searching for a house plan for lake front property, America's Best House Plans offers a vast array of potential vacation homes for you and your family. Building a lake front home represents a significant step towards many people's common goals. People build lake front homes with these goals in mind:
Spend more time with family and loved ones. Many people choose to build vacation or lake homes because it provides a quiet space in which to enjoy family. Once the lake home is built, owners often make it available to loved ones to use.
Take time off from often-harried and stressful work situations. Lake houses offer opportunities to spend valuable time free from stress and away from the busy-ness of life.
Surround oneself with the beauty and opportunity inherent in less populated areas. Less populated lakefront areas often offer recreational activities including hiking, boating, fishing, biking, and just plain hanging out outside.
Potential for year-round, primary residence. A lot of people build vacation homes with the understanding that they will eventually live in that home year round. Understanding this specific, eventual possibility impacts the size, style, and type of lake front house that is built.
People build vacation homes on lakes for a variety of reasons, and if you are ready to make that step, outlining your own goals and reasons will help determine the size, style, and specific plan you choose. Additionally, the type of property and area of the country will also help determine which house plan you select. For example, if you are planning to build in a mountainous area of the country, you should plan to select a house that would integrate well into that style of architecture.
America's Best House Plans offers a range of Lake Front House Plans — over 300, in fact — in various sizes and styles. What makes these plans specific to waterfront living, relaxed seclusion, and family togetherness? These features characterize Lake Front House Plans:
Ability to enjoy year-round living. Most lake front houses or vacation homes are primarily used in the summer time, however, many people enjoy having the option of spending time throughout the seasons at that home. Our plans offer the ability to stay at your home all year long.
Large, first floor windows to the rear of the home. Our Lake Front House Plans provide opportunities to enjoy the views while you spend time indoors.
Wrap around porches and large decks. Most of our homes feature large-than-average decks and/or porches. Lake front living must be done outside, and giving space in which to enjoy scenery should characterize lake front houses.
If you plan to build, consider the features you'd like as well as your long term goals. Spending time relaxing and recreating is right around the corner!