For homeowners, building a home allows for the freedom to start fresh. By constructing a forever home from the ground up homeowners enjoy many benefits. Some include customizing their home to get everything they want, personal pride in having constructed their home, and the dream of homeownership, especially for first-time homeowners.
Additionally, building a home introduces a host of questions, concerns, and google searches. We fully understand that building a home takes careful consideration and investing in your favorite house plan shouldn't be taken lightly. Thus, as part of our dedication to educating our customers about our plans, we have pulled together the top five frequently asked questions.
1. Who Are We? What do we do? What is included? Do you build?
Essentially, we are a family-owned online stock house broker. We work with the nation's most prominent and well-known architects and house designers to sell house plans/ blueprints. These hand-picked floor plans meet standard residential building codes and are available for traditional construction.
Who we are NOT
As a stock house broker, we neither sell built homes nor build the actual plans. We are also not involved in assistance with securing the land for the construction of the plans or financing the construction. However, we have house plans for a wide range of situations. We have plans to fit every budget and for every type of land. Whether you are building on a slope, need a crawlspace, a slab, or a basement foundation, we have thousands of plans to meet those needs. Whatsmore, these house plans are available to be built across the country and Canada, as long as they fit your local building codes.
1b. Explain plan packages, additional options, and Right Reading Reverse
When purchasing a plan, you will be prompted to select a plan package, which means you are selecting the method of how plans will be sent to you. Whether you are looking for an electronic copy or a hard copy, we offer a few different options:
The PDF version is the most popular and fastest option. With this option, a PDF copy of the complete set of blueprints will be sent to your email within 24-48 business hours after purchase. The electronic version allows you to print as many copies as you need for your project as well as send them directly to your builder.

The five sets package is 5 physical copies of the complete set of blueprints that will be mailed to your house with free standard shipping. Some plans offer an additional PDF copy along with the physical set to allow for more flexibility.

The 8 sets package is an extended amount of printed blueprints so you can share them with more people involved with your project.

The CAD file is an electronic version that allows you to make both minor and major modifications. This file must be opened by a design professional that has access to the CAD program. Some plans offer both the CAD file and the PDF format as a bonus.

In addition to these standard versions, some designers offer an additional option to include a multi-use license which allows the opportunity to build a specific plan multiple times. The multi-use license can be coupled with any of the versions listed above.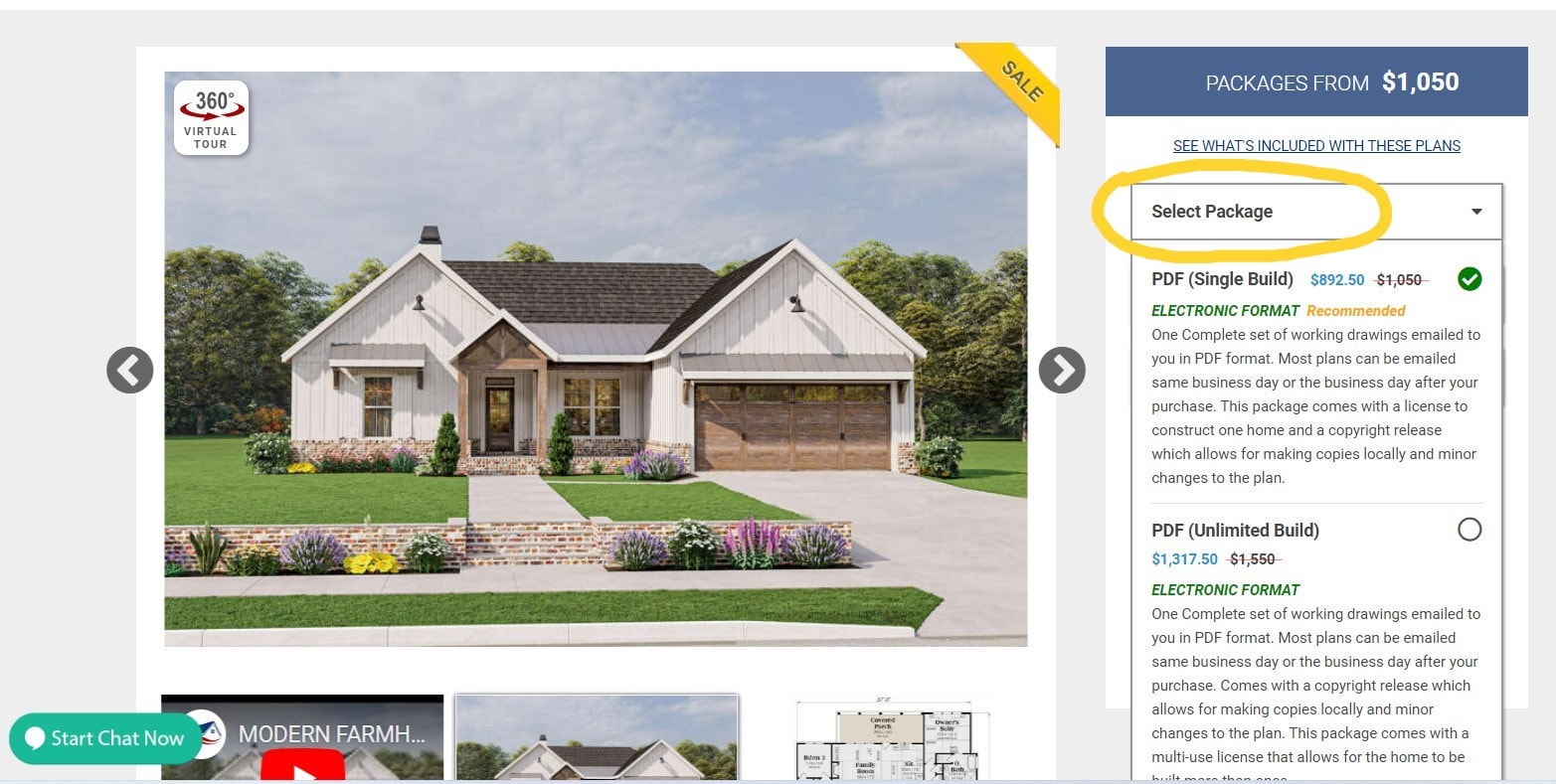 We also offer additional options for each plan including a right reading reverse, either a 2×4 or 2×6 exterior wall framing, and a material list. The following additional options are beneficial to our customers because it allows them to customize their house plan to meet the needs of their lot or building codes.
The right reading reverse allows you to completely reverse the house plan including all the texts and dimensions.

If you need to convert the wall framing due to your building codes, we offer 2×4 or 2×6, depending on which framing is already included in the plans.

The material list offers a complete list of all the materials needed to construct the home. The material list provides both the material needed for each room and the amount needed.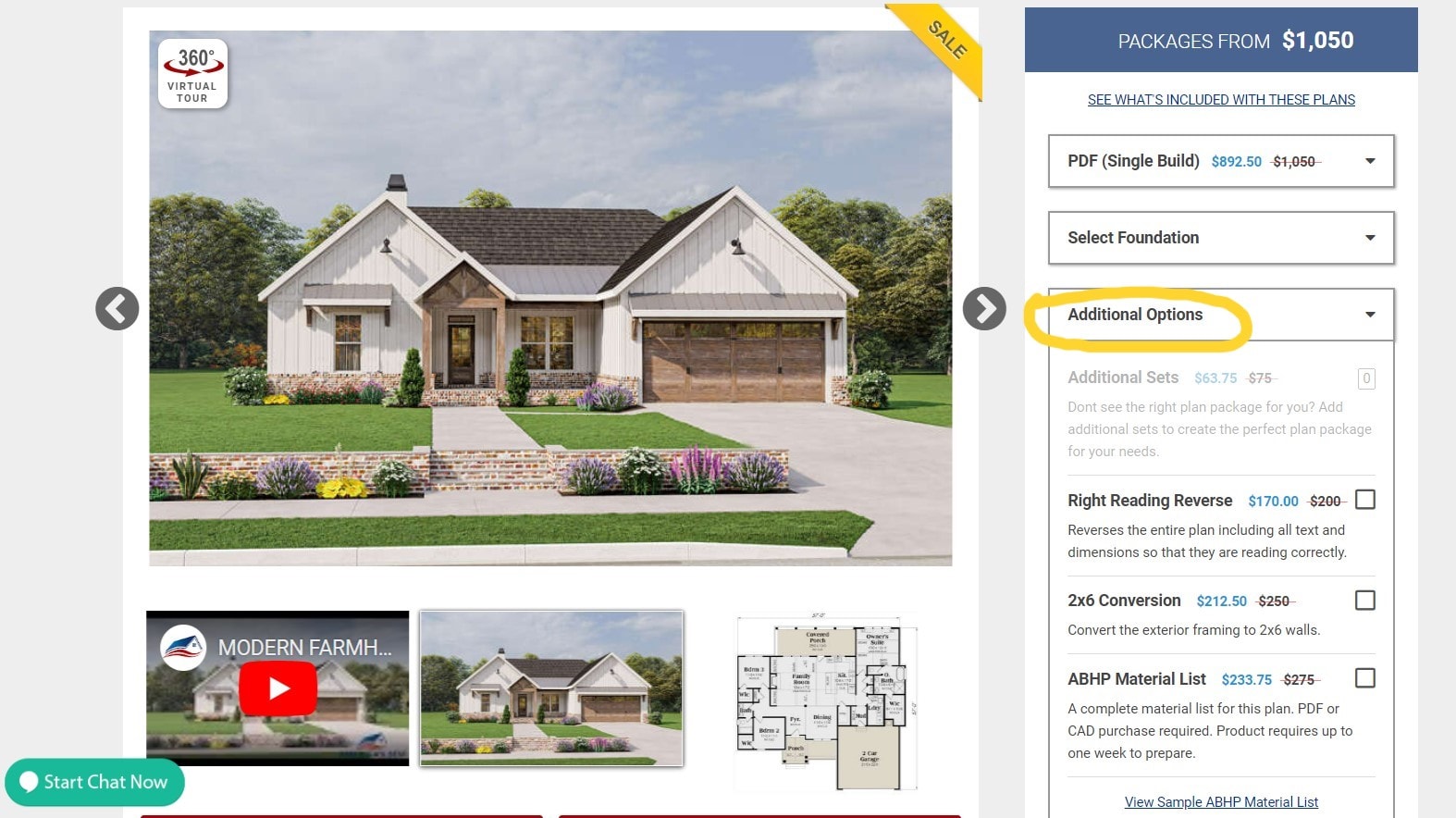 There are a few plans that offer different variations of the house plan, such as a bonus room or a third garage, and the option to purchase those versions will be found under the "Additional Options" drop-down.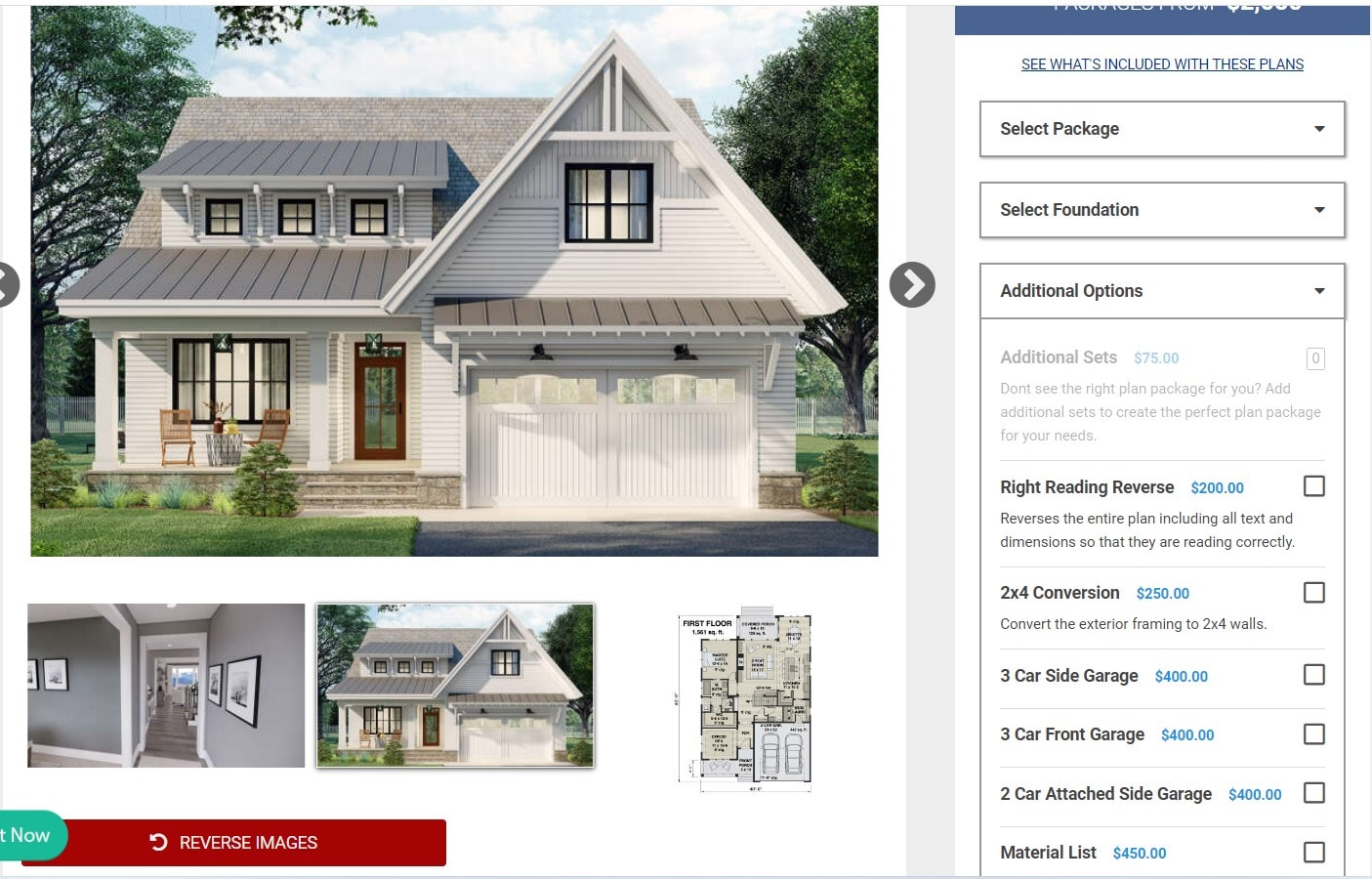 2.Engineering: Are these plans up to Code? Are these plans stamped for my area?
Stock house plans are pre-designed floor plans and therefore they do not come engineered or stamped for any particular area. All of our plans are drawn to be built across the country according to international building standards. They include all the information needed to construct your home; however, it's impossible to design them to meet the specialized building codes for all regions such as energy calculations, wind/snow/seismic measurements, et cetera. Therefore, after purchasing your favorite house plan, you will need to work with your builder, local architect, or engineer to make adjustments to your plans ensuring they meet any specialized codes set forth by your local building officials.
Though this extra step may sound like a lot, it is important to remember that there are many benefits of choosing a stock house plan. One of them is that purchasing stock house plans is considerably cheaper than building a custom home – by the thousands actually. Another benefit is that because they are designed to meet international building standards, they are available to be built globally. Customers around the world have the opportunity to build one of our beautiful plans with the confidence of knowing that our plans are designed by architects with proven plans built globally.
3.Modifications: Can I change/add/omit a certain aspect of the plan?
Your home should feel like your home. Making changes to your favorite house plan can absolutely be done. We offer modifications to all our house plans, whether you need to make a minor change or a major one.
The easy 4-step process starts with you filling out a modifications form found on every plan's detail page. That form can be found under the floor plan drawings. The blue labeled dropdown presents a text box for you to either manually list your modifications or upload a sketch of how you want your plans to look.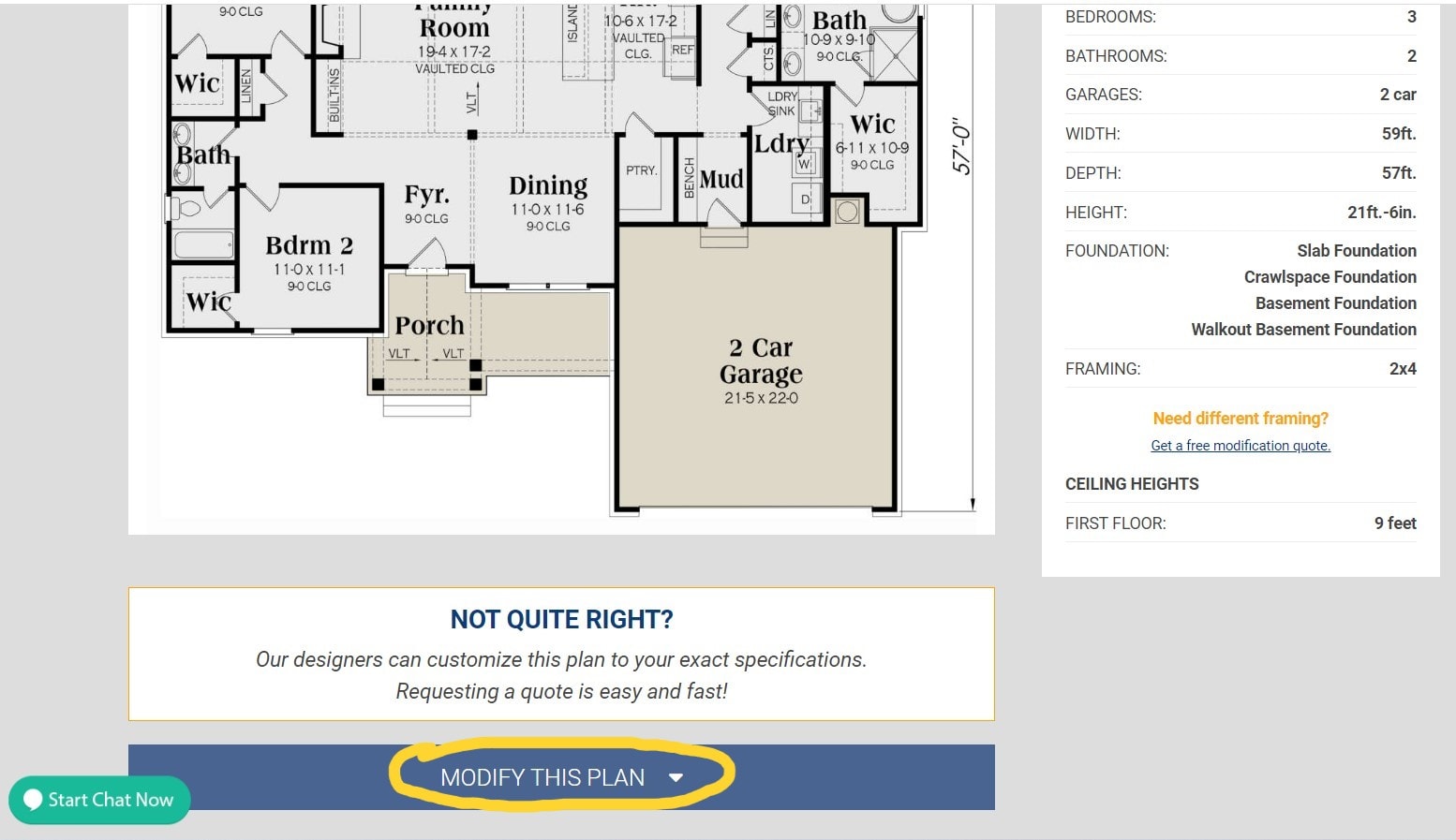 Once the modifications have been submitted to the designer for review, you can expect to receive a return quote within 2-3 business days outlining the time frame needed to complete the changes and the fees associated with those changes. Should you choose to purchase the plan with the modifications, you can do so within 30 days from the date the email was sent to you.
Now, you may be anxious to see what and how the changes will affect the home design before you purchase the plan. We understand that completely, but unfortunately, we receive hundreds of modification requests a month. With such an overwhelming number of requests, it is impossible for our designers to produce modification sketches for every single request before purchase.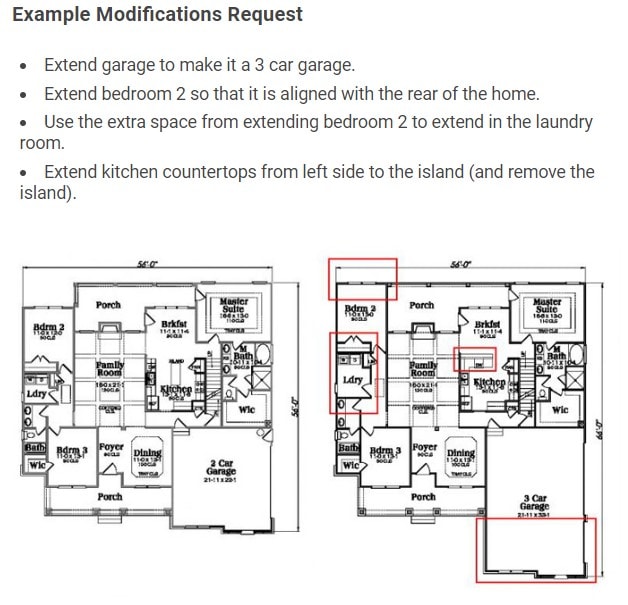 This does not mean that you are purchasing a modified house plan at the risk of being dissatisfied if the plans do not meet your expectations. Far from it! After completing your purchase, the modification designers will start drafting and will send you drafts for your approval.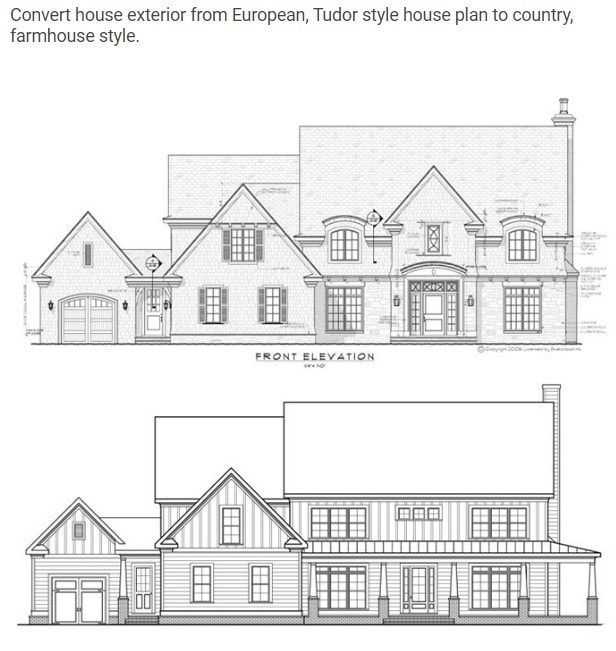 The process differs slightly with each designer but you can expect initial correspondence with the designer regarding your modifications; in the form of either a call or email. From then on, you and the designer will continue to work on the original modifications until you are satisfied with the outcome. Your satisfaction is our goal; we want you to be happy with your changes when designing your home.
4.Mechanical: Where is HVAC/ water heater located? Is plumbing included?
Mechanical and plumbing drawings are not included in stock house plans. Our plans do not include HVAC and plumbing schematics because we do not know the water flow direction or electrical feed entrance. Regulations vary throughout the country for HVAC codes, sewer systems/water flow, and climate requirements; therefore, you will need to contact someone locally to develop those drawings. While some stock home plans may include a simple electrical plan indicating the suggested locations of outlets, switches, and fixtures, as well as plumbing fixture placement, it will be up to your builder, local electrician, or plumber to install these items per code.
Now you may notice some plans do label the placement of the HVAC within the home. Some of our designers design regional plans for states like Florida or Texas and therefore depending on the climate where the home's being built, it's possible to include the HVAC/hot water heater in common areas known to that region. For example, some HVAC units are placed in the attic space, garage, or basement for milder climate areas. You could also use an interior closet for that purpose or modify the plan to include dedicated space for a mechanical room. The best option though would be to consult with your local plumber, builder, or local electrician.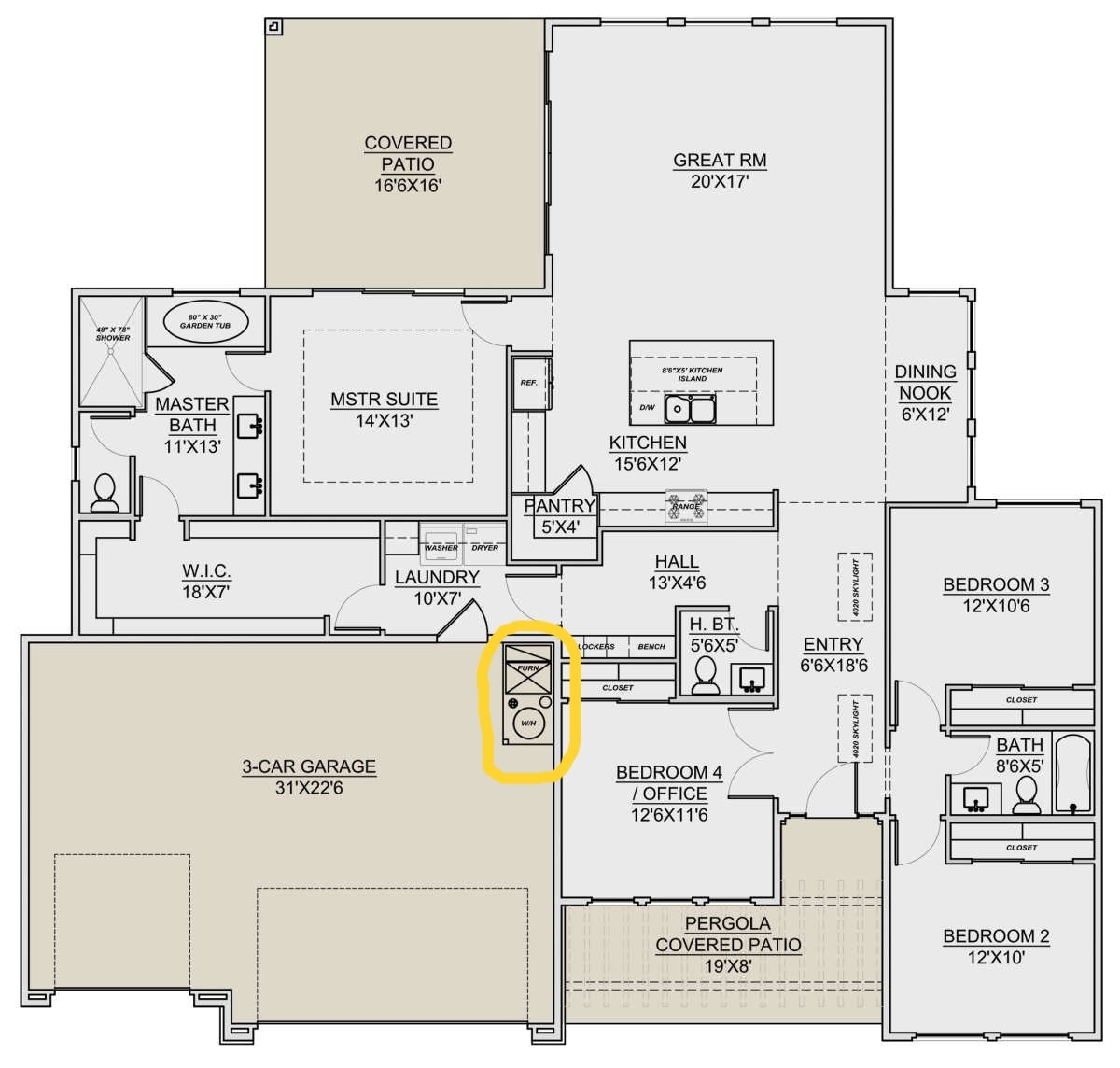 5.Images: Are there any additional images? Do you have customer photos for plan XYZ?
We know that customer photos and virtual tours are one of the best visual tools we can offer our customers to help them envision their lives in their favorite house plan. For this reason, we work hard to obtain photos from our designers, past customers, and builders to provide different options of any floor plan whether it has been modified or built as is.
Unfortunately with the number of plans we have, this is something that takes time. We initially receive all our marketing materials from the designer of each specific plan and promptly load them onto our website. Fortunately, we do have many designers who include photos shared with them from past clients. Some designers will also update older plans with photos when they receive them. However, plans without interior photos mean that we do not have additional photos to share, "real" or otherwise.
Conclusion
Building a home is a stressful time with more questions than anyone could count. As a house plan broker, we seek to make this process as easy as possible. Our top five frequently asked questions will hopefully help you to breathe a little easier before making a committed purchase. In addition to these answers, please take time to read the About Our Plans page as well as the "What's Included With These Plans" section found on every plan's detail page, located under the Cost to Build Report. If you need further clarification, please reach out to our customer service team anytime Monday through Friday 9 am-5 pm EST.