Last Updated on
The design of your new home will affect the type of material that goes on your roof.  A Spanish style home may use clay tiles and a design with a country flair may be best suited for a standing seam metal roof.  But one of the biggest considerations when choosing a material is the roof slope.
Slope and Roof Material
The slope of a roof will affect the surface drainage characteristics of the home.  Therefore, the slope will affect the types of material you use.  For example, asphalt shingles should only be used on roof slopes of 2:12 or greater because they are designed to shed water.  Asphalt shingles do not form a waterproof barrier so installing them on a low slope roof will increase the potential for leaks.  Even though asphalt shingles can be installed on 2:12 slope roofs, most asphalt shingles are installed on slopes of 4:12 or greater.
Determining Roof Slope
Roof slope is stated in terms if the rise to run in inches.  So for the 4:12 example just mentioned, the roof slope will have 4 inches of rise for every 12 inches horizontally.  This is called a "4 in 12" slope. 
The diagram above shows how many architectural plans show a 4 in 12 roof slope.  The easiest way to determine roof slope for your existing roof is to use a level and tape measure.  Holding the level horizontally with the bubble centered, allow the one end of the level to touch the roof surface.  Measure over 12 inches from the point where the level and the roof meet.  From the 12 inch measurement on the level, measure vertically down to the roof surface.  If you measure four inches down, the roof has a 4 in 12 slope.
Roof Slope vs. Pitch
Many people mistakenly think roof slope and pitch are the same.  Pitch is the incline of the roof expressed as a fraction found by dividing the rise by the span (see diagram below).  For example, a roof with a rise of eight feet over a twenty-four foot span is said to have a "1 to 3″ pitch".  This pitch can also be expressed as a fraction of 1/3.  This is not the same as the slope described above.
Roof Pitch
In order to see the difference between roof pitch and slope, take a look at the diagram below.  The roof slope in this case is "6 in 12" or 6:12.  The roof pitch is "1 to 4" or 1/4. 
Slope and Roof Material
We mentioned earlier how the roof slope will affect the type of roofing material chosen.  You don't want to increase the potential for leaks by choosing the wrong material.  Here are some general material selection guidelines for different sloped roofs. 
·         Flat:  Built up roof (a.k.a. BUR=several plies of felt paper with asphalt applied on top), Rubber Membrane EPDM or sheet membranes
·         Slopes  1 in 12 to 2 in 12:  Roll roofing at least 3″ top lap or double coverage roll roofing (a.k.a. selvage roofing). 
·         Slopes 2:12 to 3:12:  Roll roofing or square tab strip shingles
·         Slopes 4:12 and above:  All styles of shingles can typically be used
Be sure to select your roof material prior to starting construction.  Some of these choices may require some adjustments to the framing of your new roof structure for additional support.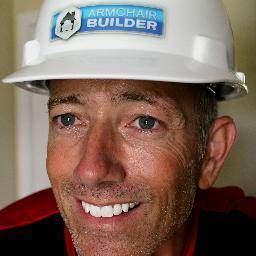 Michael Luckado has built, remodeled, and repaired thousands of homes across the U.S. He co-founded ArmchairBuilder.com to help people save money and time creating their dream home.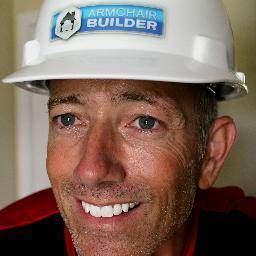 Latest posts by Michael Luckado (see all)