Last Updated on
Whether you are building new or remodeling your existing home, a common question that comes up is the maximum granite cantilever dimension.  Meaning, how far can your granite countertop safely extend past the cabinets or wall below without cracking?  It's a great question as we are all trying to maximize counter space in our new gourmet kitchens.  So let's explore this common kitchen planning issue so you can avoid potential future problems.
Builder Experience
As a professional home builder, I can tell you that in most cases I have placed support under a granite overhang that is six inches or larger.  This has been my personal "rule of thumb" based on experience.  I can honestly say I have never had a problem when using this guide.  Unfortunately, there is no real scientific evidence on my part to support this six inch criteria. 
What the Granite Experts Say
Since most of us hate rule of thumb guestimates, let's check with some of the experts on granite.  The Marble Institute of American says you can safely extend unsupported granite up to ten inches (for 1-14 inch thick slabs) where the cantilevered portion is no more than 1/3 the total width of the countertop.  This last criteria is in place to prevent an unbalanced condition, rather than to a failure of the stone slab.
Desk Openings
A common design element in many kitchens today is a desk area to perform light paperwork duties.  These openings allow you to pull a chair up underneath the countertop for writing, computer work or other home office tasks.  So the question becomes, how far can your granite slab countertop span across a desk opening without creating a potential problem?  Checking back in with the stone experts at the Marble Institute of America, we see that 1-1/4 inch thick granite can span up to three feet from cabinet to cabinet while ¾ inch thick material can span up to two feet. 
Support Options
So what happens if you need to add support to keep your current countertop design?  Here are some of the options available…
Corbels (see photo above) – stylish angled supports that are fastened to the wall or cabinet below the countertop
Posts – there are many different styles of posts that can be placed under the countertop overhang that extend down to the floor
Sub Tops – ¾ inch plywood can be placed under the stone countertops to provide additional support…check with your fabricator for planning
You will want to keep these dimensions in mind when planning each of your countertop spaces.  And to be safe, be sure to give your stone fabricator a copy of your final cabinet layout to get a complete understanding of the requirements for supporting any overhangs.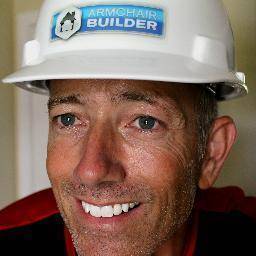 Michael Luckado has built, remodeled, and repaired thousands of homes across the U.S. He co-founded ArmchairBuilder.com to help people save money and time creating their dream home.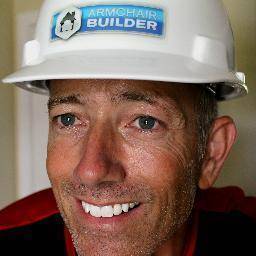 Latest posts by Michael Luckado (see all)