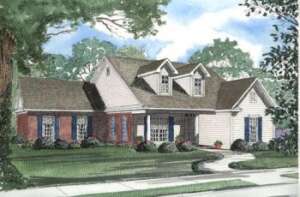 What exactly are keeping rooms, and why are they so popular? More importantly, perhaps, why would you want to build a home that includes a keeping room — what benefit will it have for you and your family? Many house plans today feature keeping rooms; they have grown immensely in popularity in the recent past.
Keeping rooms, in short, are rooms off the kitchen (or sometimes the master bedroom) that are designed as a kind of hearth room or family room. Playing off of the idea (and reality) that the kitchen is the center of familial life, keeping rooms favor sitting areas and often include fireplaces. They feature opportunity for rest, relaxation, and community within the heart of the home: the kitchen. Keeping rooms date back to the Colonial era when families would sleep near (or in) the kitchen when the temperature got cold, as the kitchen was the only heated room in the entire house. These types of room designs have grown in popularity recently because many families are recognizing the reality that the kitchen is often the place where everyone congregates and desire to be.
Many people looking to build a home desire a keeping room because it is a great way to keep everyone close while completing work, making dinner, cleaning, etc. Keeping rooms often have — at the focal point — a fireplace, and sometimes include the family's television set. This room is often very informal, and may feature a couch and/or comfortable chair, along with a kitchen table where family members can eat and relax interchangeably.
Why Build a Home with a Keeping Room?
Keeping rooms can increase the feasibility of resale. Many people look for keeping rooms when they are looking to buy.
Keeping rooms are convenient for families with small children. Children can play under supervision while parent(s) cook in the kitchen.
Keeping rooms focus on community. For families looking to build interaction and community, this is a great way to do it naturally without having to force the issue. Everyone tends to congregate in this room without having to be asked.
Many homes with keeping rooms are greater than 2,000 square feet. However, the additional space is definitely worth the investment when you consider the benefits! Take a look at America's Best House Plans keeping room house plans to select your dream house!