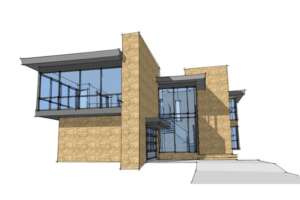 Oftentimes, a common complaint concerning modern homes, is that they can seem cold, sterile and uninviting. So, how do you add warmth, vibrancy and color without adding "stuff" or cluttering up your home? You have obviously made a conscious decision to live the life of a minimalist or live intentionally with less "stuff" so just how exactly do you convey a sense of warmth and vibrancy to your home? Do not become so concerned with de-cluttering your space that you suck the life out of your home. You did not intentionally choose to live in such austere surroundings as a convent or monastery; you just want to incorporate some "life" back into your home. Here are a few ways to add warmth back to your home and create an inviting space without feeling overwhelmed with "stuff."
#1) Use natural materials ~ When your décor and furniture are minimal, natural materials add a sense of warmth and softness to your surroundings. Use nature as your primary source; add plants, branch clusters and other natural materials. Pick up heart shaped rocks on your walks or magnolia seed pods; they are exotic looking cones that offer a myriad of decorating opportunities. You can scour garage sales, thrift stores and home improvement stores for reclaimed wood, linen table accessories, wool rugs and rustic candle holders.
#2) Add texture ~ This is an outstanding way to add visual interest to your home, especially if you have a monochromatic color theme. Look for nubby textured blankets, chunky old quilts and quirky throw pillows and variations of metallic materials.
#3) Lighting ~ Maximize natural light by choosing to have "naked" windows, a wall of windows or sheer, natural materials as window coverings.
#4) Add color ~ Do not be afraid of color; you do not have to paint your living room fire engine red to bring color into your home. Soft, subtle colors like khaki, sand, or egg shell can add warmth without overwhelming a room. Or just add color through your accessories; such as a pop of red on a pillow.
#5) Add personal touches ~ Bring meaningful items into your home décor; little items from traveling, family pictures, and your child's artwork. Just be sure to not overwhelm your surroundings with an excessive amount of personal items; rotate them every so often if you can't bear to pack them away permanently.
Just remember that adding warmth, color and interest to your home doesn't mean adding clutter and being overwhelmed in your surroundings. Choose your décor items with intention and care to create an environment that is soothing and welcoming. Be eclectic; mix your styles, textures and colors. And never forget, that an old, reclaimed farmhouse table with a vase of daisies never goes out of style and is always considered a delightful touch to any home, modern or not.