Last Updated on
Have you ever noticed a car driving down the road and thought, "What were they thinking?" From fluorescent colors to aftermarket bling, people can really do some crazy things with their cars.  Some of these ideas sounded good at the time of creation, but went horribly wrong at some point.  Don't let these same types of decisions spoil the look of your new dream home.  Here are some tips to keep your new home looking like the gorgeous house plan you purchased.
Roof Projections
There are all kinds of things that end up on your roof, including plumbing vents, flues for fireplaces and hot water tanks, and attic vents…just to name a few.  These items can't be prevented but with proper planning and management, they can be a whole lot less noticeable.
All of these roof projections should be installed on the back side of the roof whenever possible.  You heard that right.  Every plumbing vent, flue vent, and attic vent (or use ridge vent instead) should be placed on the backside of your roof to make them less conspicuous.
Take a look at the photo above of a gorgeous custom home.  Do you notice anything on the roof that looks…ahem, less than desirable?  The big shiny galvanized hot water flue vent is right in the center of the roof.  This homeowner put all kinds of money and effort into making the front of this home look inviting and special and yet this big, ugly, metal vent catches your eye when you pull up to the home.
Communication is Key
So how do you make sure none of these unsightly, but necessary, roof projections end up on the front of your dream home?  You need to communicate this to all of your subcontractors properly.  But don't these items show up on the house plans?  No.   Because they are specific to your location and the types of things you put into your new home, the typical set of house plans doesn't show them.
Let's take a look at your hot water flue for example.  Depending on the type of system you go with (i.e. tankless, tank, high efficiency, solar…etc.), the requirements on the roof will be totally different.  Along with this choice comes the actual location of the unit.  Some homeowners will move their hot water heater (and/or furnace) to allow for more open space in the basement for future finishing.  This will change the location of the flue vent.
So the key to keeping your front roof plane clean is to communicate to your subcontractors in your scopes of work and specifications.  Make a note in each of the scopes that projections of any kind will not be allowed on the front roof plane.  This way, the subcontractor will come to you should there be a problem with accomplishing this…before it's installed.
When it "Can't be moved"
There will be times when you can't place a vent on the backside of the roof.  For example, a furnace flue pipe must have a minimum upward slope per code to allow it to draft properly.  So if the horizontal distance from the furnace to the termination point on the roof is too great, it may not work properly.
When your subcontractor tells you it can't be done, ask for a list of alternatives to bringing it out through the front side of the roof.  You may be able to add a power vent to the hot water heater or other appliance to make it work.  Or, you could change the type of unit to allow for venting out the side of the home.  A gas fireplace for example could be vented out the back of the home rather than through the roof.
Another option for you when a projection just can't be moved is to add a chimney to cover the pipe.  These are commonly built for fireplace, hot water, and furnace flues.  Adding a chimney with stone or siding can really help blend the item into the home design.
If all else fails…paint it.  A white plumbing vent (or shiny metal in the case above) against a dark roof really stands out.  By painting the vent black, or a similar color to the roof, it will be harder to spot.  This will help take the focus off of the mechanical systems on the roof and instead, on the front of your gorgeous new home.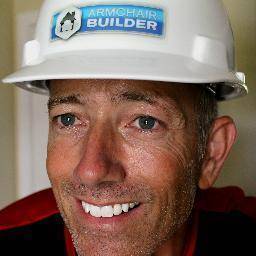 Michael Luckado has built, remodeled, and repaired thousands of homes across the U.S. He co-founded ArmchairBuilder.com to help people save money and time creating their dream home.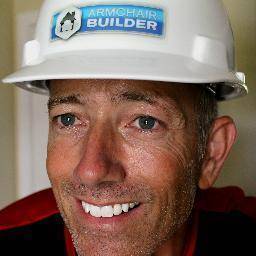 Latest posts by Michael Luckado (see all)