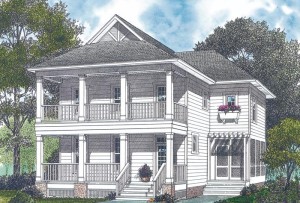 You will experience a sense of calm and timeless beauty when you first view this floor plan. House plan design 3323-00055 evokes a feeling of an era gone by  ~  a time of slow paced living and enjoying your family and home. Casual, yet elegant, this home invites you to come in and stay awhile, whether indoors or on any one of the four outdoor door porch areas. You can envision your family in this home for years to come with its use of compact, yet design friendly, indoor and outdoor living spaces.
This home is a modest 1,950 square feet; however, it is packed with luxury and amenities. Just as you need each dollar of your paycheck to count and be stretched for maximum benefit, this house fits the same requirements with every square foot counted as useful space. The front exterior of the home boasts two expansive porches running the width of the home providing shade and two additional outdoor spaces in which to relax and watch the world go by.  Additionally, the side porch is screened in allowing for the use of outdoor space in even the most uncomfortable weather conditions, whether rain, the heat of the summer or the cool of the fall. Imagine a couch or daybed set up on the porch where you can read, play games with the children or fall asleep to the sound of the rain. At America's Best House Plans, we aspire to offer our customers the best in home plan designs and you can be confident in our desire to meet any design plans you may have when constructing or modifying your home plan.
The first floor of this home offers 870 square feet with an open floor plan. You enter from the front porch into the expansive gathering room where you are able to travel easily from room to room which include the dining room, kitchen and breakfast room.  Additionally, there is a two car garage conveniently located at the rear of the home with a walkway to the covered back porch allowing for easy entry and seamless architectural beauty to be uninterrupted at the front and sides of the home.
The second floor of the home offers a truly luxurious master suite including the upstairs covered porch for easy access to the outdoors. Additionally, there are two bedrooms, a bath and an ideally situated laundry room upstairs. This home offers the finest in aesthetically pleasing details both on the exterior and interior of the home for you and your family's enjoyment and is easily designed for the discriminating home owner no matter where they may be located.  By allowing https://www.houseplans.net to work with you as one who appreciates the sense of simplicity and history of a time gone by, we will strive to make your experience equally simple and rewarding.