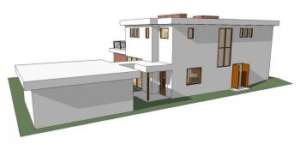 Do the words "work from home" make you imagine blissful days of no commute, working in your sweats and having your only co-worker be your dog? If that sounds better to you than battling traffic and sitting in a stuffy cubicle all day, you'll love the modern house plans that include a home office at America's Best House Plans. Even if working from home full-time is not an option for you, you'll still enjoy having a space in which you can focus on projects at home, do the family budget without interruption or pursue your own interests.
Follow these tips to create the ideal home office space in modern house plans.
Choose a Great Location
Modern house plans include home offices in various locations. Some have offices off the kitchen or dining room while others incorporate them into the second floor. In addition to considering how much space you will need, think about the location of your home office carefully. An office off the kitchen may be conducive to working while dinner is simmering, but an office tucked in a corner of the second floor may result in fewer interruptions.
Ample Electronic Connections
Modern house plans include electrical plans that show the location of every light switch, outlet and lighting system. If you work from home, chances are you will need ample outlets for plugging in your computer, charging your smartphone and running a fax machine. Make sure the room you choose to make into your office has plenty of connections so you can work effectively.
Ample Storage
Maintaining an organized space is essential to being productive at home, and many modern house plans that include home offices offer ample storage space. To make organization easy, look for house plans that include built-in shelves or other space-saving storage options.