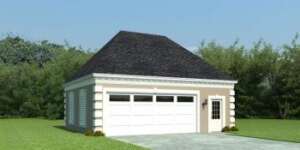 What does your property need? Are you considering building an outbuilding to meet your changing needs? Selecting and building a well-designed garage can contribute greatly to your property's value. America's Best House Plans offers a wide range of garages in sizes and styles.
Tips For Selecting a Garage
When selecting a garage from our over 200 plans, here are a few tips to keep in mind.
Consider your current and future needs. Is it your goal to have a riding lawn mower in the future? Or a bigger boat? It is important to define what  you will need in the future in order to select the right size garage.
What type of living space would you like to include? Are you considering building a living suite complete with a kitchen, full bathroom, and possibly a laundry room? If so, select a plan that meets your needs.
Before selecting a plan for a garage, confirm it meets your town or county's codes for building. Seek out permits, and make certain that the size and features fit in with the codes in your town.
Make sure that the style of the garage compliments your existing home. Selecting a plan that fits in with the existing property is important, especially considering the potential for return on investment and resale viability.
Reasons to Build a Garage
Building a garage can be an important process to pursue, particularly if you do not currently have a garage incorporated into your property. A free-standing garage can accomplish the following for your property:
Increase storage space for cars and recreational equipment. Garages can protect equipment, family vehicles, and boats, and provide indoor, climate controlled storage.
Provide additional living space for visitors, renters, or family members. Many garage plans include guest rooms, kitchenettes, and/or bathrooms.
Increase the value of your property as a whole. Well-built, well-designed garages have the potential to increase the value of your existing home.
If you are considering building a home or out-building, browse America's Best House Plans garages to find one that meets your needs and fits in with your existing property. Please contact us with questions regarding our garage plans. We would love to help you!