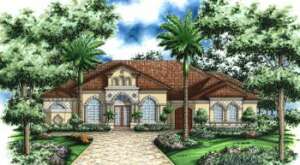 How do you want to portray yourself and your values to others? Do you desire the loveliness of a unique, luxury residence? What are some of your main goals and objectives in building a home? Luxury house plans offer those looking to build some amazing, lovely features, and depending upon your goals, could present a wonderful opportunity for you and your family!
What Defines A Luxury House Plan?
Many intangibles define luxurious living. Even though luxury house plans have no set architectural style or square footage limits, there are several qualities that define luxurious house plans:
Open floor plans. Many luxury house plans contain an open floor plan with high ceilings and grand entrances. With architectural designs focused on making large, impressive spaces central within the home, luxury houses are easy to use for large parties and entertaining.
Progressive technology. Luxury house plans often integrate technological features into the very blueprint of the home. For example, many of these homes have a centrally located server that controls heating and cooling, lighting, and audio visual technology throughout the home.
Craftsmen features. Luxury homes are unique, set apart, and often feature superb details interwoven into the very design and layout of the home.
High quality materials. The luxury house plans that America's Best House Plans offer recommend the highest quality materials possible. These top of the line materials create an ambiance of luxurious living.
Luxury house plans offer so much — a look and feel of elegance and attention to detail.
Why Select a Luxury House Plan?
What are some of the main reasons to select a luxury house plan? Many people select these type of homes because their design is focused on elegant living. When you make the decision to build a home, it is important to build for the long term. Many luxury house plans were designed and created with this vision in mind. What is the home you imagine and long for? What are your goals for your home? Depending upon your answer to these questions, the luxury house plans our site offers may provide your family with an ideal solution.
What are a few of your main objectives in building a home? You've most likely dreamed and planned and thought about this opportunity for several years. A luxury house plan offers attractive design, attention to detail, and elegant living.