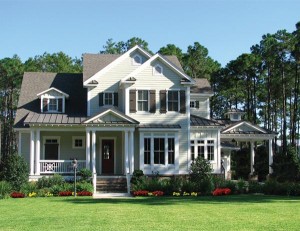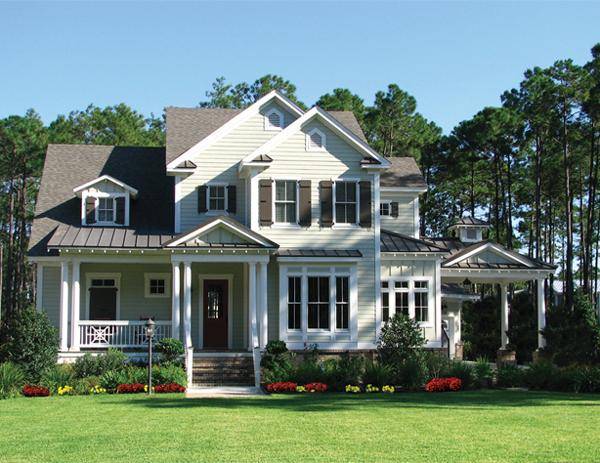 At America's Best House Plans, we constantly strive to offer the best in house plan designs and house plan #699-00008 is an example of our commitment to design excellence. If your desire is to build and own a home in a classic style, this is the house for you. The exterior beckons you to come and explore what lies inside with the beauty of the columns, front porch and porte cochere offering the idea of an era gone by in classic country homes.
A porte cochere is an architectural term for a porch or portico like structure at the main or  secondary entrance to a building through which a carriage or motor vehicle can pass. It literally means "coach door" and was originally intended to be either an entrance or gateway to a building large enough to permit a coach to be driven through it into the interior courtyard.  The roof was designed to be large enough to accommodate a carriage and later, a motor vehicle in order to provide shelter for guests arriving or departing the vehicle. These gateways or entrances to the home were common features of homes and palaces built during the Renaissance such as the reigns of Kings Louis XIV and XV of France. Other well known homes and public buildings which include a porte cochere are Buckingham Palace in London and the White House in Washington, D.C. Today a porte cochere is often used as an entrance to public buildings where people are delivered by their drivers.
Home design 699-00008 is a beautiful and inviting design both for the home owner and guests. As you drive up to the home, you are immediately drawn to the architectural design elements. The front porch invites you into the home and balance is maintained with the porte cochere on the opposite side where you can almost see the horse carriage coming through. If you were to drive through the porte cochere, you will find the garage in back accompanied by an additional cart or hobby space. The first floor lends itself to entertaining on a grand scale with its large open spaces including a grand room, a gallery, generous kitchen and another large porch on the back of the house. A 12' x 15' sunroom leading to the porte cochere is also beautifully situated on the first floor. The master suite is found on the first floor while the remainder of the bedrooms are located on the second floor level. This house plan while evoking images of days gone by lacks nothing in the way of modern conveniences and will offer you a lifetime of comfort and detail.
At www.houseplans.net, we offer the finest in details and modifications, if necessary, to assist you in attaining the highest of standards in finding and purchasing your home plans. Please contact us at your earliest convenience so we may be of assistance.