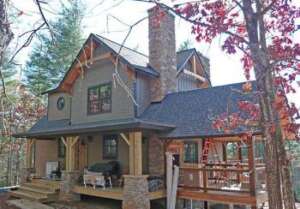 You have invested time, money, and energy into building a second house. You selected a high quality house plan, and proceeded to build the vacation house of your dreams! What's the logical next step? Filling your completed vacation house with the right furniture, interiors, and decor can be an overwhelming task. What are a few practical ways to get your vacation house completely filled and with a cohesive design, so that when you arrive, you experience complete relaxation and a sense of peace? What are some important considerations when decorating your second house? Today, we bring you a few tips for decorating your vacation house.
Your Second House's Decor
Here are a few considerations for your second house's decor and interiors:
Rentals. Will you be renting out your second house? If so, consider placing high quality interiors that can stand a high amount of wear and tear. Do not place antiques or family heirlooms in your vacation house.

Visitors. Who will be using your vacation house? Will your second house be filled with visitors, family members, and friends? Depending upon usage, you may want to go in various directions in terms of decor.
Professional. Consider hiring a professional designer to assist in selecting interiors for your second house. A professional designer will be able to create a consistent, cohesive look that will work for your family and your own situation. He or she will be able to carry the look and feel you want throughout the entire house and take the guess work out of the design process.
Personal details. Incorporate personal details into the design of your vacation house. It should feel new, fresh, and peaceful, and still include personal details that will make your new vacation house a home for you and your family to visit often!
As you research and select interiors for your vacation house, enjoy the process of creating a sanctuary! Stay on task as you work towards the end goal, but take your time and enjoy creating the vacation house of your dreams.